Atlantic Canada has had ties with Ireland since the early 1800s when pre-famine immigrants arrived to find better opportunities. At the moment two cities in New Brunswick are vying for the honour of being the most important Irish one in the province. Saint John bills itself as the (self-proclaimed) most Irish city. Miramichi, which hosts an annual Irish festival every summer, claims to be Canada's Irish capital. Modern New Brunswick is made up of a mixture of native Mi'kmaq, French Acadian, Irish, Scots and Loyalist English who fled the US during the Revolutionary War. Other cultures have since joined them, but the Irish tradition is still strong here.
Thankfully the perception of the Irish here has changed over the years from the Hollywood stage Irish and the stereotypes of heavy drinkers and fighters. There is now a search for a more authentic Ireland.

Many of the participating poets, nine of them, have Irish ancestry, at least on one side, and are exploring their roots.
ATLANTIC CANADA POETS – HOMAGE TO IRELAND –FOR IRISH POETRY DAY 2023
SANDRA BUNTING writes poetry, fiction, non-fiction, and journalistic articles. She grew up in northern New Brunswick and was awarded a BA in Radio and Television Arts from Toronto Metropolitan University and an MA in Writing from the University of Galway, Ireland. After working for CBC News, Toronto, she moved to Europe and lived in the north of France, Madrid, Dublin, and Galway. She returned to Canada in 2011. In her academic career, Sandra facilitated creative writing classes at the University of Galway, where she also set up and managed the Academic Writing Centre. She taught English as a Second Language there and was involved in EFL Teacher Training. She serves on the board of the Writers Federation of New Brunswick. In 2012 she was awarded a Glenna Luschei award for poetry through the 'Prairie Schooner', University of Nebraska. She was runner-up for the 2006 Welsh Cinnamon Press.
Sandra holds both Canadian and Irish citizenship, and left Atlantic Canada many years ago to live in Galway for almost 25 years. Sandra returned to the
Maritimes a while ago, but still wants to retain a creative link with Ireland and encourage greater dialogue between poets of the two countries. Still serving on the editorial board of the Galway-based Crannóg literary magazine, Sandra is a member of the Galway Writers' Workshop and runs a writing and editing service at Gaelóg Press.
ELIZABETH BLANCHARD lives on the Northumberland Straight in New Brunswick, Canada. Her short fiction has appeared in a number of Canadian literary journals and two anthologies. She won the Writer's Federation of New Brunswick literary competition for short fiction and was awarded a Creation Grant for the literary arts by Arts NB. She co-edited the multilingual poetry anthology Cadence voix féminines females voices (Frog Hollow Press, 2020) with Kayla Geitzler, which showcases twenty-five New Brunswick women poets and translators. A 2021 finalist for the David Adams Richards Prize, she was Assistant Fiction Editor for The Antigonish Review and currently sits on the Board of Directors for the Frye Festival.
HEATHER BROWNE lives in Fredericton, New Brunswick, Canada where she has written short story and poetry for over thirty years. She visited Ireland for the first time in 2019, a lifelong wish to visit Donegal and Meath in particular. Some highlights of her visit are featured in the poems "Footnotes to a Message" and "Feeling at home in Fore, Ireland because". SANDRA BUNTING writes poetry, fiction, non-fiction, and journalistic articles. She grew up in northern New Brunswick and was awarded a BA in Radio and Television Arts from Toronto Metropolitan University and an MA in Writing from the University of Galway, Ireland. After working for CBC News, Toronto, she moved to Europe and lived in the north of France, Madrid, Dublin, and Galway. She returned to Canada in 2011. In her academic career, Sandra facilitated creative writing classes at the University of Galway, where she also set up and managed the Academic Writing Centre. She taught English as a Second Language there and was involved in EFL Teacher Training. She serves on the board of the Writers Federation of New Brunswick. In 2012 she was awarded a Glenna Luschei award for poetry through the 'Prairie Schooner', University of Nebraska. She was runner-up for the 2006 Welsh Cinnamon Press.

HÉLÈNE DEVARENNES is the author of 9 published children's books. Two of her books are trilingual, in an effort to respect the language of the land. In 2019, Hélène was awarded the Dr. Marilyn Trenholme Counsell Literacy Award for published author. She is one of eight artists currently taking part in an initiative to bring art and artists in daycares in New Brunswick. She is currently working on her first book for adults, a book where women across history will be celebrated. She has written social study material for schools that create a place for each culture sharing the lands of New Brunswick and of Ontario. She has been working closely with several First Nation communities for over a decade in education. At the same time, she works with settler society, offering workshops on reconciliation, building relationships, and the role of literature in creating a mutual understanding. Her work has taken her across Canada and in Europe.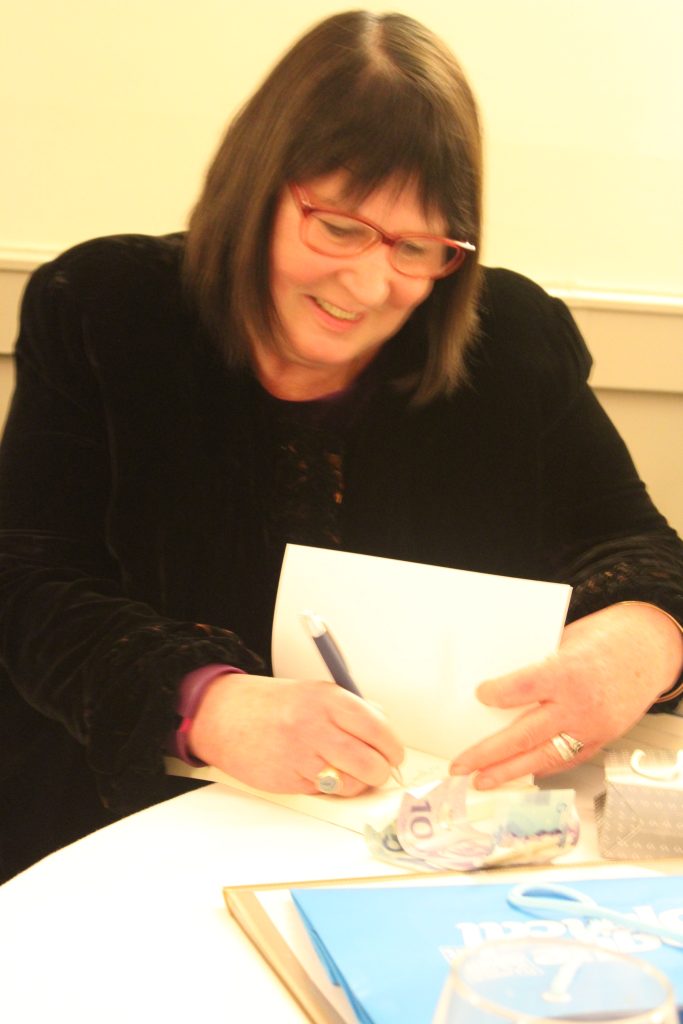 KIMBERLY GAUTREAU is an Irish Acadian poet living in Moncton, New Brunswick. She has written two poetry chapbooks, published by Elbow Press. Recent work has appeared in the anthology Cadence: Female Voices, published by Frog Hollow Press. She longs to visit Ireland again.
JENNIFER HOULE is the author of two award-winning poetry collections, The Back Channels and Virga (Signature Editions). Her first children's book, Un logis pour Molly/A Home for Molly was published by Éditions Bouton d'Or Acadie in summer of 2022 in both French and English. In 2017, The Back Channels won the J.M. Abraham East Coast Literary Award for best collection of poetry. In 2020, Virga received the Fiddlehead Poetry Prize from the New Brunswick Book Awards. She lives in Hanwell, New Brunswick.
KATHY MAC recently retired from running the creative writing program at St. Thomas University in Fredericton, NB, Canada. She received a Community Impact Award there for co-running the Odd Sundays reading series from 2016-2022. She's published three poetry books, one book of essays, and two of writing instruction; most of them which were nominated for, and several even won, some regional or national awards.
ROGER MOORE is an award-winning academic, teacher, poet, and short-story writer who migrated to Canada in 1966. He has lived in New Brunswick since 1971. He has published more than 40 books and chapbooks of poetry and prose. 175 of his poems and short stories have appeared in 25 Canadian magazines and literary reviews. Roger is a member of TWUC (The Writers' Union of Canada) and the WFNB (Writers' Federation of New Brunswick). He is a miembro colaborador of IGDA the Institución Gran Duque de Alba, Ávila, Spain) and a member of the Consejo Honorífico of La Perinola, the Revista de Investigaciones Científicas
Quevedianas (University of Navarra, Pamplona, Spain). He has retired from academia and now writes full-time in Island View, New Brunswick, Canada.
NANCY KING SCHOFIELD comes from Saint John, NB, and received classical training in music for twelve years. She graduated from Mt. Allison's BFA program in 1991 and since that time, has held over a hundred exhibitions. Her visual art has been used for various book covers and is part of art collections in Canada, the United States and Japan. She has founded two writers' groups that together number twenty-six members, "Women Who Write" and "The Breach House Gang". Schofield also co-founded "Galerie 12" at the Aberdeen Cultural Center. Her poetry is frequently included in public readings and has been part of several anthologies. She was awarded a WFNB first prize in poetry in 2010. Her studio is in Grand Barachois, close to the ocean and surrounded by nature.
DAUGHTER OF JAMES OF MARGARET OF JOHN OF BALLINASCREEN
By Elizabeth Blanchard
Pare the skin thin, you worried
save the flesh, your words taut as the thumb-push
and draw of my blade, peel coiling
into the gaunt eye
of disapproval beading
on your skin
kettle-flushed and flour-smeared
you thickened the drippings, powdered
the milk —but never your face—lashed
your apron tight to keep it all
from unravelling
tattered threads of the martyred
saints your grandmother taught you:
mend the hole till
it holds its stitch
her thimble finger bent
on our rubber souls scuffing the aisle
single file, we raised our faces
to the priest, to God sliced small
on our tongues— unworthiness meant to be swallowed
whole, on fasting knee
you foraged the night for salvation, thumb-worn
Hail Marys on your lips—how do you feed a hunger
two centuries deep, the length of a coffin ship
tell me—what was left on the earthen floors
of Ballinascreen
that hollowed the bones of four generations
brónach longing cast as guilt, or
was it the dull pang of exile
that stropped devotion
into the dry socket of duty
what would you have found—tell me
had you and I sailed back across the sea, sunk
our palms into the mossy fens, unearthed
the bellows that fired
the red of your hair
would you have cured the goatskin
for the drum, drank from the horn, pressed
your ear to the divine
of the slant rhyme
filigreed it
into the sleeves of the dress you wore
at my wedding—when you danced
and danced——tell me, Ma
would you have finally been free
to peel the potato thick.

FEELING AT HOME IN FORE, IRELAND BECAUSE By Heather Browne
crows on the worn sills of windows
flew up with rich winging.
Because ruins tell a story. The stones of Fore—
each one, a light shifting.
Where the long grasses tickled my bones,
and wild flowers hid behind vining
I was young again and October was on summer loan.
Cows, late afternoon, returned for milking.
Their bells called to other coppery sounds
I'd known. To paths deep-dug and reeling.
GETTING ONE'S GOAT By Heather Browne
A goat stood in a tree, right in my eye.
He stood for something grand, something more than
your regular run-of-the-mill goat.
More irregular, say, than the popping up of toast,
Or the sun rising full blast after the storm
In Chonamara. We had battened down.
Apples, or a few tender leaves
Goaded him, never shaking his will.
I don't want to make too much of it.
Too much and the praisers among us see signs.
Child-like ones write skipping-rope rhymes,
And the desirous search the World Wide Web
For "goat". They end up in rabbit holes.
The Chonamara brochure? No note of this sight.
But there it was. A creature on four points.
A holy dove, high as a kite.
P.S. As if my message didn't fully evoke
This scene, my husband's recall is three lofty goats.
Possibly, three goats in three separate trees.
Of course, at the time, he had driven, him and me
Along winding roads for weeks, declared as "mad" those folks
who'd sped by on such narrow lanes.
He'd just got the lighting of peat right.
It smouldered during the hurricane.
It must be said, he'd downed a few pints of stout.
Perhaps, best to suspend this footnote?
Whitethorn By Sandra Bunting
A whitethorn tree,
alone on a little Connemara hill
surrounded distantly
by friendly co-conspirators,
Holly Hazel Beech.
Tangled among your thorns
like a battered piseog,
I rest captivated by singing at night,
not by the blackbird
that plucks your ruby fruit
but by your own voice
that rises up from the deep below.
Gentle bush, May tree,
blossoms of white,
petals,
five for evolution,
five for freedom,
five for lessons learned.
Branches bent from restless wind,
hands gnarled
closed in a twisted fist,
thorns protruding
KEEP AWAY KEEP AWAY
The leaning tree, lone tree,
Whitethorn.
Let me slip down your contorted trunk,
ladder down to your knotted roots,
that dig into poor soil
FAERY TREE
nourished by constant Galway rain,
regular watering an understatement.
Let me go deep into that other world,
alone together
to pinch a bit of unearthly grace.
Put back the magic in our everyday world.
TIMELESS SONG By Hélène Devarennes
Songs from far away
Are rooted inside my heart
Some I know so completely
Others are whispering echoes.
Which songs are mine
Which songs are my grandmothers'
Does it even matter
They are but one timeless song
Some days, dark angry notes
Weave their way into my mind
Will I find a path through the noise
Which lullaby can wipe away
the blue notes of their tears
Some days, whimsical notes
Knit their way into my steps
Will I recognize the patterns
Will I know how to dance
The red notes of their dreams
My body knows this timeless song.
On boats they came to the New World
My Acadian grandmothers
Bourgeois, Cormier, LeBlanc
My Irish grandmothers
Kuessy (Caissie), McLaughlin
All were seeking a better life
My Acadian grandmothers
Deported from their homeland
Separated from their babies
Houses burned down
The land called them back.
They remembered the resilience of the timeless song.
My Irish grandmothers
Fleeing Penal Laws
Fleeing a famine
To meet grinding poverty
Hardships on both continents
They recalled Grace O'Malley
They remembered the power of the timeless song.
My grandmothers
Hearts bleeding because of them
Memories keeping traditions safe
Hands praying to the same God
Foot tapping to the beat of the fiddle
Weaving a crescendo of possibilities
With their strings of love and grief and ingenuity
Still
the timeless song wants more
a new voice is called to sing the chorus
Learning to love my grandmothers
Learning to understand their verses
Untangling unique rhythms
And then
A heart learns the song of life
Mine
Theirs
My daughter
The timeless song is honoured once more.
THE SWAN By Kimberly Gautreau
The speckled glass door swings open, and Mother
greets us in bright magenta, and pearl lustre.
The spacious wingspan of this regal cygnus.
You enter its fine feathering, its long neck of rooms.
Luminous light spills through high, arched windows.
Its white shears flap and sigh in spring's lilac breath.
The chandelier's prisms catch this light,
gild the polished floors, the still surface of a cottage lake.
The swan covets the loving balm of my mother.
The mantel harbours collages of grandchildren,
ceramic angels, and loving ghosts in silver frames.
Listen to the hallway's hush, where the wall clock ticks.
Its elegant tongues clicking, a miniature oak chapel.
As mother pours tea, and butters toast.
As mother pours tea, and butters toast.
At night, when slumber cottons my mother's mind,
a sly thief hovers there, steals her trinkets of brightness.
It snuffs out her familial candlesticks. Heirlooms tarnish.
In long-casted shadows, her father's silent fiddle and bow.
The delicately cruel brass workings of this stolen song.
I listen to that incessant ticking. Listen to that incessant ticking.
A feather falls each time.
Resplendent wings quiver and prepare for winter.
I frantically stash crucifixes, lipsticks,
and all her perfumed stories, like crumpled silken scarves.
Mother wakes on the faithful tuft of faded Irish linen.
Her ancestor's fine threading disintegrating in her mind's hands.
Trembling, I pour steaming amber into her tinkling cup.
My very bones sense tsunami. It is her last morning tea.
I memorize everything. I memorize everything.
The chapel clock chimes noon.
The swan bows its fateful neck. Pauses.
Startling white wings swoop into determined flight.
Cradled in its breast, a mother's home,
a daughter's nest and is gone.
IN THE GARDA SÍOCHÁNA MEMORIAL GARDEN By Jennifer Houle
Dublin, June 4, 2015
Into this memorial I've wandered,
on my last day here, disconcerted
by losses – the multitudes I shelter
with a careful grace I labour
to convey. Why today? I harbour
too much. Failures, lessons, lovers,
half-felt horror at all of the murders
reflected in petty cruelties, superiors
(superiors!) dangling walking papers
and the names of those never
seen again. Roads we sauntered
hopeful and unmoored, rumours
we never confirmed, heartfelt letters,
bottled-up questions furled & re-furled,
hurled into tides that promised no answers.
But answered! miraculous, deep in winters
plagued by ice storms, blizzards
and many missing – whatever
the figure, along with our brothers,
sisters, late and lost, my register
goes crazy, oscillates, falters,
gets written over and over
and over, buckets of wash water
emptied and filled again, lather
frothed up, wetting the blotter.
At Drumcliffe, in Sligo, I was less somber.
At Glencar, I indulged a rapture,
felt my sublimity, hurt with laughter.
Horseman, I wish I was even-tempered.
I cast an eye now cold, now hotter.
Why bother with titles, why bother
with claims to importance, offers
of assistance, poems, pins, war
memorials, statuaries, bowers
dedicated to victims and soldiers,
captains, leaders, noteworthy followers?

Not a one of them passed by – or over.
Here I stand in an arch of flowers:
high white roses for fallen officers.
I long chiefly for my powers
of description to resurge. I'm dour
about struggles that don't matter
to the dead, to the sufferers.
Who am I now among such towers?
No offended gardai glower
at my insufficiencies, my lowered
looks. My interiority is covered.
Whatever I revile or revere
is mine alone to ponder
alongside a blue glass sculpture
of an ouroboros spiral, captured
tail of the snake a reminder
of cyclicalities, my own failures
the sort of weaknesses shared
by the masses and far better
angels than I, the great mothers. . .
Forgive me painters, poets, sculptors.
I struggle to embrace what is proper.
I think I do have a warmhearted
nature, deep conviction, will to render
tribute to the fallen, deliver
supplies, to imagine others
and meet, at times, on their turf,
their terms. To fully consider
every story, allow for error,
be wary of monoliths, orders
that exclude. Folly. Not to cater
to limitations, comforting borders,
recollection's lines and strictures

in our capacities to be dreamers,
in our capacities to honour.
I would like to be bewildered
by good health and spirits squandered
shirking the impulse to be kinder
when moved by a difficult wonder:
a pain in the heart, untempered
by meaning. Don't go under,
I urge myself. My love does blunder

but I have it to confer, to aver
in the form of a wish, perhaps whispered
at first, but I'd rather a clamour
if I can get there, muster,
strive, in a conscientious manner,
to respond, to mete and measure
what I can afford, to proffer
a little more of my leisure
if it will help restore the disaster-
struck. Gardens of pleasure
must also feed us, suture
the lives that have ventured
into their hedges: creatures
in search of possible futures.
One by one, to free, to further
souls who will not be remembered
by myself or by my kindred.
Gyres do persist unhindered.
THE DAY YOU DROVE By Kathy Mac
The day you drove to the western edge
of this eloquent isle, and I did not,
I stood in line half a glass to see
St. Mark's page in The Book of Kells.

Twelve hundred years old and still
more clear than the tattoos scatter-graphed
over your skin. Words you couldn't read
when they were inked. When you learned,

you hid them in interlaced leaves,
thorny reminders of a feckless past,
of tracks that looped up your arms,
of the tongue no needle can fix.

You spat out words, rough but true,
that taught me to walk away from you.


CLASS TRIP TO IRELAND By Kathy Mac

Freed of responsibility for her little brother,
this one went out, just the once
and lost her passport.

One whose mother nurse-needles her
visited a hospital
found comfort there.

Sun or rain,
the one who drinks
drank more.

One whose parents told him "This is
a really good phone. Don't lose it."
lost it.

One who perfected "alone
and palely loitering" got bored,
started looking around.

When one finally got a room
with a door she could shut,
she opened up.

Two, absolutely
wrapped up in each other,
welcomed all callers.

Galway's inchoate sadness
became paranoia in Derry,
hysteria in Bushmills.

In Dublin, we slept.

ANCIENT CIRCLE By Roger Moore
When we two came together we closed an ancient
circle and became one with the standing stones,
those forces of nature that measure seasons and time.
We too count the years, harvesting them in baskets
hand-woven from lilies, lupins, fox gloves, blue bells,
and wild flowers plucked from our country ways.
Now, with the passing of the years, we wait
and watch while the slow snow settles, white,
on the circle's sarsen stones and time weaves
its crow's feet into the corners of our eyes.
Blessed in the sparkling sunset of our lives,
we will the garden trees to twinkle with stars
and flowers to burgeon in their flowerbeds.
We sit together and listen to the hummingbird's wings,
while the yucca builds and hollyhocks grow in the sun.
"When two people come together, an ancient circle closes between them." John
O'Donohue, Anam Cara, p. 33
ERRATIC By Roger Moore
Plucked before my time
by some glacial hand,
that tore me from my land
and deposited me on
this foreign shore.
Long did I languish,
worn slowly down
by wind, rain, ice, snow.
Now I am carved anew
and learning to grow.
The old land rejected me,
wouldn't let me back.
This land had no choice,
but I found I had lost all
notion of a distinctive voice.
Now I belong nowhere, a stranded
immigrant, I cannot return.
Neither can I call this place home,
and yet I have sent my roots
deep into its landscape.
I have grown into it,
become one with its seasons,
accepting its long hours
of silence, with white snow
falling upon darkening trees.
"As these massive glaciers moved, they transported stones with them and some of
these stones were hurtled from the glacier, these displaced stones were known as
erratics." John O'Donohue, Four Elements pp. 156-159.
LANDSCAPE By Roger Moore
Your face: a landscape
looming out of darkness,
a mapa mundi in the light,
your heart spread out.
My eyes trace the contours,
follow the ups and downs
of your existence, track crows'
feet, crinkling by your eyes.
Time has carved, molded,
sculptured your features.
Wind, snow, wet weather,
sunlight, each has left its mark,
a wrinkle when you frown,
a dimple when you smile.
My eyes want to rest here
for a while, take in the tracks,
pause at the passes, climb hills,
descend into valleys and dales.
Such beauty spread before me.
Such a joy to contemplate
the way you are able to show
the paths I have walked of late.
"It [landscape] is the most ancient presence in the world, though it needs a human
presence to acknowledge it." John O'Donohue, Anam Cara, p. 37.
SKY WOUND By Roger Moore
Some scoundrel has wounded the sky.
Staunched by day, the sky-blood flows
freely at dawn and dusk, staining the earth.
Poor, bruised sky, such a delight to see you,
blue and bright, not blighted with blood.
I wish I had a sky-hook to haul you down
and treat you with the care you deserve. I wish
I had the knowledge and skill to put you right.
You really need a magic spell, but so much myth
has disappeared and magic is banned from this land.
Who pierces you with planes, racks you with rockets?
I don't, not even on Firework Nights. Why do people
delight in bonfires that choke you with searing smoke?
Why do warriors delight in war planes as fast as light,
with weapons that assure our mutual destruction?
When we fought that war to end all wars, the one before,
the one before, the one before, the one before, that last one,
wasn't that the war that would make everything right?
"The wonderful subtle color of the universe arises to clothe everything. This is captured
in a phrase from William Blake: 'Colours are the wounds of light.'" John O'Donohue,
Anam Cara, p. 3.
UMBRA NIHILI By Roger Moore
Where do the deer go
when they leave their tracks
behind them and pass out of our sight?
We lose them when, like school children,
they scale the snow bank,
stop at the roadside, and look left,
right, and left again, then walk sedately,
one by one, across the road, and blend
into the dark woods opposite our house.
Too many friends have passed that way,
crossed the great divide, and lost themselves
in the great unknown that lies there, out of sight.
All too soon, I will be faced by that decision,
whether or not to cross. My path already tells me
where I'll go, but the hands of my body clock
have not yet pointed to the hour of it's happening.
"We have to go deeper into that emptiness; then we will find beneath nothingness the
flame of love waiting to warm us." John O'Donohue, Anam Cara, p. 12.
WORLD WITHIN By Roger Moore
I have rediscovered a world within me,
a secret world where I walked as a child,
a world that nobody else has ever seen.
When I was young, that world absorbed me.
In it, I went round and round on roundabouts,
and travelled high and low on swings and
swing boats, with their rough ropes.
Alas, as always, there were rainy days.
Then the sun would wear his hat and I knew
he would come out later and join my play.
Sometimes, in the summer, thunderstorms
would roll around and rattle our corrugated roof.
Dai Jones' cows would rush through the field,
seeking shelter from the wind and rain.
In those days, every cloud had a silver lining.
I weathered tough times, waiting patiently
for the sun to return and light up the world.
One day, I don't remember when, someone,
I don't know who, slammed the door and shut
me out from that world. I spent my whole life
searching for it, and now, I have found it again.
"It is precisely in awakening and exploring this rich and opaque inner landscape that the
anam-cara experience illuminates the mystery and kindness of the divine." John
O'Donohue. Anam Cara, pp. 14-15.
BALLAD OF STOBHACH GAELACH (During Covid) By Nancy King Schofield
(I)
It seems when living or dying
becomes ritualized
hope begins to dwindle
knots form in lines of connectivity
too tight
to squeeze through
viral fear destroys focus that inhibits creation
resistance to activity increases
until paralysis sets in
beneath a barrage
of media hype pandemic warnings
we must remember
to draw strength by recalling lives
of our ancestors
who suffered through war, famine and disease
mine from Ulster, Leinster
supporting each other by tradition
of respect
(2)
whenever our home became tainted
with negativity
my mother broke the spell
in her kitchen
by making stew Irish, of course
humming as she leaned
into the simmer
potatoes, onions carrots, meat
turning twisting in glorious broth
aromatic steam frosting
the window by the stove
flavour medley
that hugged
inviting the unexpected
someone to drop by
share stories laughter
and a piping bowl of home made
but no visitor knocks
when Covid lurks
though vegetables call a sound orchestra
romping rich and bubbly
one could dip bread
behind the cook in stew this thick
unnoticed
sitting alone now
her kitchen empty choked by silence
remembering only joy gifted gatherings
filled with her laughter ringing bells
by the stove
beauty to be savoured
with each revelation