National Tour: ADRIFT – by visual artist Els Dietvorst
Curated by Catherine Bowe and Karla Sánchez Zepeda.
Commissioned by Wexford Arts Centre.
Exhibition Dates: 1 July 2023 – 19 August 2023
Location: Highlanes Gallery, 36 St. Laurence Street, Drogheda, Co. Louth
Gallery Hours: Monday – Saturday 10.30am-5pm / Sundays from 2 July – 13 August 10:30am-3:30pm
Exhibition Talk: Regenerative Agriculture / Regenerative Arts on Wednesday 16th August at 1pm
A former shepherdess, Els, will talk to curator and farmer Karla Sánchez Zepeda about Regenerative Agriculture – what it is, why it is relevant now, and how it can influence culture at large in a positive way. Karla and Els will also be articulating their ideas about the "Regenerative Arts."
---
Wexford Arts Centre working collaboratively with the Highlanes Gallery and Uillinn – West Cork Arts Centre, and Wexford County Council will tour the work of Els Dietvorst throughout 2023-24. The tour, curated by Catherine Bowe and Karla Sánchez Zepeda, will present a coherent overview of her extensive and multifaceted oeuvre in addition to new works. It begins at the Highlanes Gallery, Drogheda running from Saturday 1 July to Saturday 19 August 2023, and travels to Uillinn – West Cork Arts Centre, Wexford Arts Centre and Wexford County Council in 2024.
Els Dietvorst's practice is remarkably diverse and comprises drawings, prints, sculptures, installations, films and documentaries, performative actions, and one-act plays. The motivating factor behind this activity is the desire to connect, develop relationships, and collaborate with others. As the artist states 'For me, creation is a collective process, inclusive and permeable to the world, to the living and the dead, to small neglected objects as well as to each other's ideas.' Towards this end, Dietvorst uses dialogue, experiment, intuition, and collaboration as artistic strategies.
The title Adrift is a metaphor for how the artist sees our contemporary world as being not anchored but floating freely without a sense of purpose or direction. Showing an appreciation for what we usually consider to be different, undesirable, or inferior, Dietvorst explores life histories, interpersonal dialogues, migration and cultural differences, human dreams and desires, and the human condition. She pays specific attention to the position of the outsider and focuses her gaze – sometimes over a period of several years – on people and events that would otherwise go unnoticed.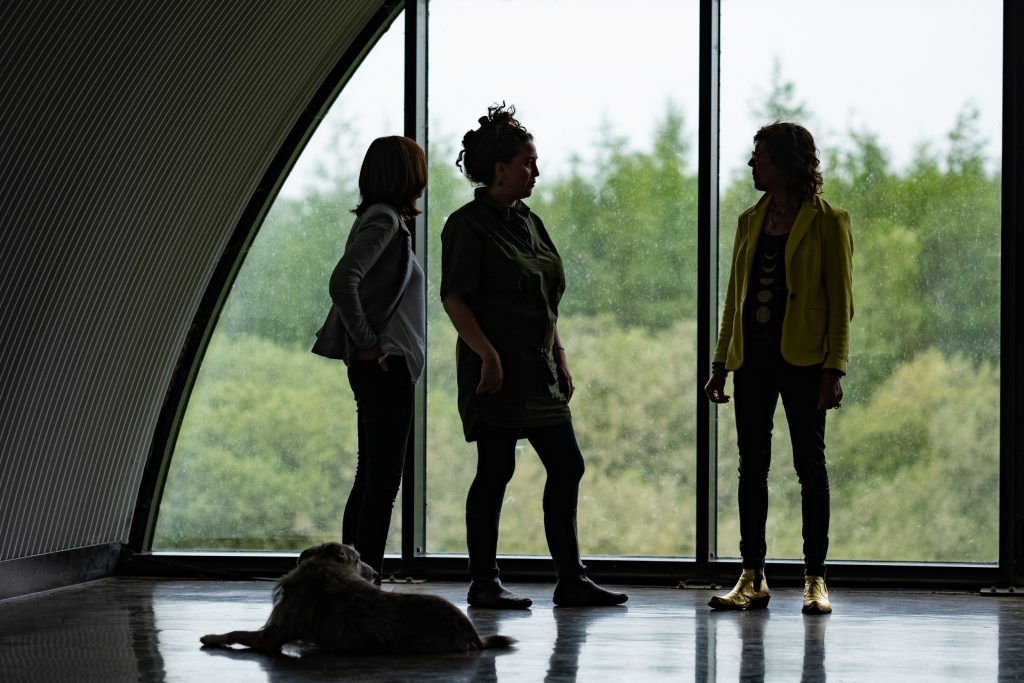 Els Dietvorst is a Belgian visual artist and filmmaker based in County Wexford. Her work has been shown and supported by organizations such as the Kaaitheatre, Brussels; Kunstenfestivaldesarts, Brussels; M HKA Museum of Modern Art, Antwerp; and BAK, Utrecht as well as internationally in New York, Casablanca, London, and Vienna. She has been awarded international prizes such as the Evens Arts Prize in 2017, and more recently the Belgian Art Prize. In 2021, as part of the Belgian Art Prize, she hosted two exhibitions concurrently – This is what you came for – in Bozar and CENTRALE for Contemporary Art, both in Brussels.
---
Catherine Bowe, in her role as curator, has overseen the development of the visual arts programme for Wexford Arts Centre and projects of note include the Living Arts Project, Emergence Visual Art Award, and MAKE/curate Programme. In terms of her curatorial approach, she is interested in examining how we interact with the natural world, exploring the internal and external factors that influence us as we try to make sense of this relationship. This interest resides in the potential of art to alter our imagination to see new ways of cohabiting.
Karla Sánchez Zepeda is an art historian, curator, and cultural producer. She has participated in numerous educational, research and curatorial projects in Ireland. Her research interests are the environment, art education, the role of art in contemporary society, interdisciplinary collaborative practices, and the construction of the rural. Karla, who is also a farmer (regenerative agriculture), is the co-founder of Blackbird Cultur-lab, an experimental culture-laboratory that aims to provide a space for agriculture and the arts to meet.
---
ADRIFT will run at Highlanes Gallery, Drogheda from 1 July to 19 August, and tours to Uillinn – West Cork Arts Centre, Wexford Arts Centre and Wexford County Council in 2024.
Highlanes Gallery
36 St. Laurence Street
Drogheda, Co. Louth
Tel: +353 (0)41 980 3341
Email: info@higlanes.ie
Web: www.highlanes.ie
Gallery hours: Monday – Saturday 10.30am-5pm / Sundays from 2 July – 13 August 10:30am-3:30pm
ADRIFT is supported by the Arts Council of Ireland and Flanders – State of the Art. It is run in association with ROSSINANT, Belgium.
For further information on ADRIFT or artist Els Dietvorst contact Aoife Ruane – Director/Curator, Higlanes Gallery, 36 St. Lawrence Street, Drogheda on +353 (0)41 980 3341 or info@highlane.ie.
Top Image: Giant's Feet, 2001, Els Dietvorst in collaboration with Marc Vannrunxt, MUHKA, Antwerp, installation shot.