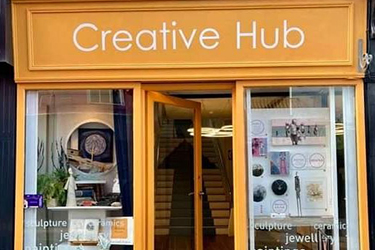 Creative Hub at ​Bull Ring Mall
Main Street/Mallin Street
Wexford
Welcome to the Creative Hub in the Bullring Mall.
​
This new Creative Hub is home to over 25 artists and craft makers as well as young musicians based in Wexford County. It comprises a mixture of working studios, exhibition, retail and workshop space for the creative sector, as well as being a focus point for artists to meet and to connect. Artists include painters, sculptors, craft makers, photographers , writers, musicians, film makers and much more.
Spearheaded by Wexford County Council in association with Wexford Arts Centre, this new Hub provides much needed subsidised space for the creative sector in the county. It is positioned in the heart of Wexford town's cultural spine, connecting Main Street to Mallin Street and The National Opera House, Wexford Library, Wexford Art Centre and Selskar Abbey.
Please feel free to visit and wander, meet the artists, view the exhibitions, take part in a workshop or purchase some arts and craft work.
Open to the public : 10am – 5.30pm daily.( Mon – Saturday ) or by appointment with the artists in advance . Extended hours during Wexford Festival Opera.
We hope you enjoy your visit, spread the word and come again!
All General Enquiries: Wexford Arts Centre : Tel 053 9123764 x 1 for Box Office and boxoffice@wexfordartscentre.ie
April 2022 – March 2023 Residents in Creative Hub
Ciaran Bowen CiaranBowen.Com
Fran Greene Fran Greene
Bernadette Doolan BernadetteDoolan.Com
Oonagh Latchford OonaghLatchford.Com
The Makers House The Makers House
Wexford Arts Hub The Arts Hub Wexford
Nadia Corridan NadiaCorridan.ie
Deirdre Meehan-Buttimer Rachel Druett Rachel Druett Artist