MEMORABLE NIGHT IN ENNISCORTHY
Presentation Centre, Enniscorthy
Report: Jackie Hayden – Friday 22nd April 2022
So where did it all go right on the right? Well, put a bill together with unofficial Dublin poet laureate Stephen James Smith, local provocateur Peter Murphy, the musicianly Basciville duo, the warmth of the Presentation Centre and stand well back.
Smith began with Brendan Kennelly's 'Begin', but for the rest of the gig delivered tracks from his new album See No Evil in the order they appear on that impressive release. The live experience confirms Smith as a first-rate poet best heard rather than read, and here he performs in his warmly expressive Dublin voice, avoiding both the Stage Dublin and DORT variants.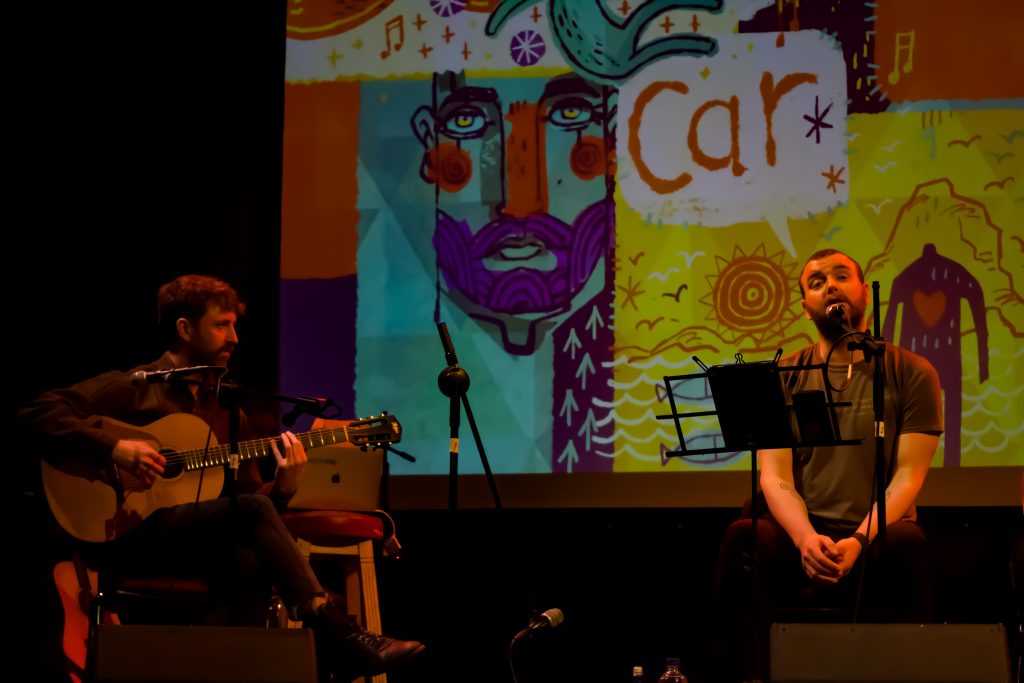 The short poem 'No Other Way' heartachingly evokes the vulnerability of a special needs boy. 'The Gardiner' is especially haunting as Smith explores family realities far removed from the dreamy poets of yore, more Patti Smith than Rod McEwan. Add in the title track, 'I've Had Lovers', 'Dublin You Are' and 'Saintly Sister' and you're in no doubt that you're listening to a poet who sees Ireland staring at him and dares to stare right back.
Each work was underpinned by a suitable electronic soundscape played live by Gareth QR and Thunderclap Murphy, with his emotional 'Ode to Tony McMahon's Dublin' featuring a trad-tinged backing. Throughout, Steven Simpson's live painting on a large backdrop added a further dimension. The gig showed why Smith has become the poster boy for Ireland's vibrant live poetry scene and that status was reflected in the turnout in Enniscorthy. Although he might benefit from a master-class in proper cursing and swearing from Roddy Doyle.
The Cursed Peter Murphy delivered an animated interlude with Basciville, including a poem with Cohenesque overtones that linked neatly back to the Brendan Kennelly opener and a track from his next album The Republic of Weird. It's exciting to see Irish poets finding their own inventive ways of delivering their works instead of unconvincingly aping the verbal tics and gestures of America rap. If only it could always be like this.
LOOKING FOR AMERICA
Presentation Centre, Enniscorthy
Report: Jackie Hayden – Friday 8th April 2022
Federico Julián González (aka Fede) and his monologue Looking for America came looking for us against the chilling backdrop of Russian troops that very day having murdered dozens of Ukrainian refugees, including mothers fleeing with their children from the savagery of Vladimir Putin. It was an unwelcome reminder that the travails overcome by Gonzalez in his enforced itinerant life do not belong to the past but are haunting our present too.
With little more than a symbolic suitcase in his hand and a screen with simple words, maps, images and occasional moving footage, he told his personal story as he stumbled from the civil war in his native El Salvador with his family at the age of five to neighbouring Latin American countries undergoing similar mayhem. His tale is broken into seven "chapters", each one divided by a mood-setting piece of Latino music with Fede casually dancing along. There's one exception. When the story moves to Ireland, where Gonzalez now lives and works as an Irish citizen, the music comes via Kila.
The search for America in the guise of a Salvadoran ex-Guerrilla fighter called América took Fede and his aged mother to Cuba, although you can't avoid imagining that escaping to that other America would have been as welcome. That issue could have been better clarified.
But the indomitable resilience of the human spirit shone through in his general good humour, and while his tale was stained with the blood of murder and torture there was room for him to marvel at the absurdity of life too. He details the twists and turns of his journey in a strikingly human way, not avoiding the gruesome discoveries en route, but not dwelling on them too long either. His journey mostly proceeds with a gleam of hope and with an unspoken assumption that going back is unlikely to be a safe option.
To his credit, Fede never overplays the victim card. He's been one of the lucky few, but, sadly, his story will not be the last.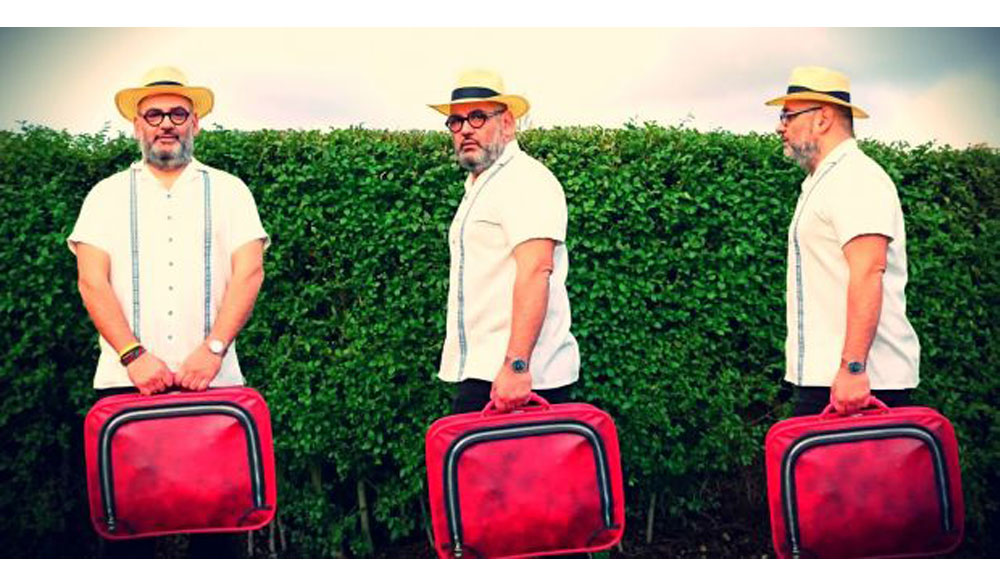 WEXFORD DRAMA GROUP SHINE WITH SHEPARD PLAY
Report: Liam Murphy – Friday 25th February 2022
Wexford Drama Group has an excellent reputation for exciting, memorable, and often controversial productions. Paul Walsh directed the visceral and savage Sam Shepard play A Lie of The Mind at Wexford Arts Centre prior to going on the circuit to get a nomination to the All-Ireland Drama Festival. A cast of eight supported by a ten-person crew laid down a powerful 'marker' to merit that nomination. This play will be a must-see on the circuit.
It comes from a group of Shepard plays that delves deep into the dysfunctionality of American families and the impact of war values on a nation that supported the right to possess firearms. Shepard had a love-hate relationship with his military father where discipline veered into abuse, and there was toxic masculinity. The play was Shepard's take on the Eugene O'Neill great family epics and his ambition to show the conflicts in American life. The disrespect shown to the American Flag added to the controversy, and it was a feature of plays about the Vietnam war.
It is complex, overwhelming, powerful and Paul Walsh exposed the savage mind of confused and damaged people, and his work with a stellar cast and crew showed his own ambitions to add to the cultural life of Wexford and theatre further afield.
It opened with a shock as a man pounded a phone against a kiosk, as he panicked and told his brother he had 'lost it' and killed his wife. Her screams in a hospital bed shocked the audience further to see the bruising and mental damage that was almost animal in its portrayal. This was Jake (Alan Fitzhenry) and his wife, Beth ( Danielle Fortune), and their story is horror, pity, and cruelty at the heart of an uncompromising love story.
It might be simplistic to categorise the women as being long-suffering and the males as swaggering masculinity with short fuses. However, this is a complex set of human interactions with passages near to madness, human love, unbridled lust, scalding family memories and a theatrical 'reality' that frightened the audience as well as confused them.
Ronan Berry was Mike the survivalist, deer hunter and his mood swings were powerful and scary. Hilda Conway played his mother with a muted scattiness while Andy Doyle was vital as the father, who displayed droll humour, which gave this production a light touch of contrast that was needed. Catherine Walsh was the excuse-maker, mother of Jake who knew the truth but didn't want to wash the family's rotten clothing. Seona O'Connor, as her daughter, gave a measured performance that impressed amid the savage histrionics of others. Her scene with Walsh was superb as they set out to burn the house and purge the memories. Eric McGuire was Jake's brother who wanted to do the right thing and suffered for it.
This play can be seen on the circuit 11 March at Ballyduff West Waterford Festival and 23 March at New Ross Drama Festival.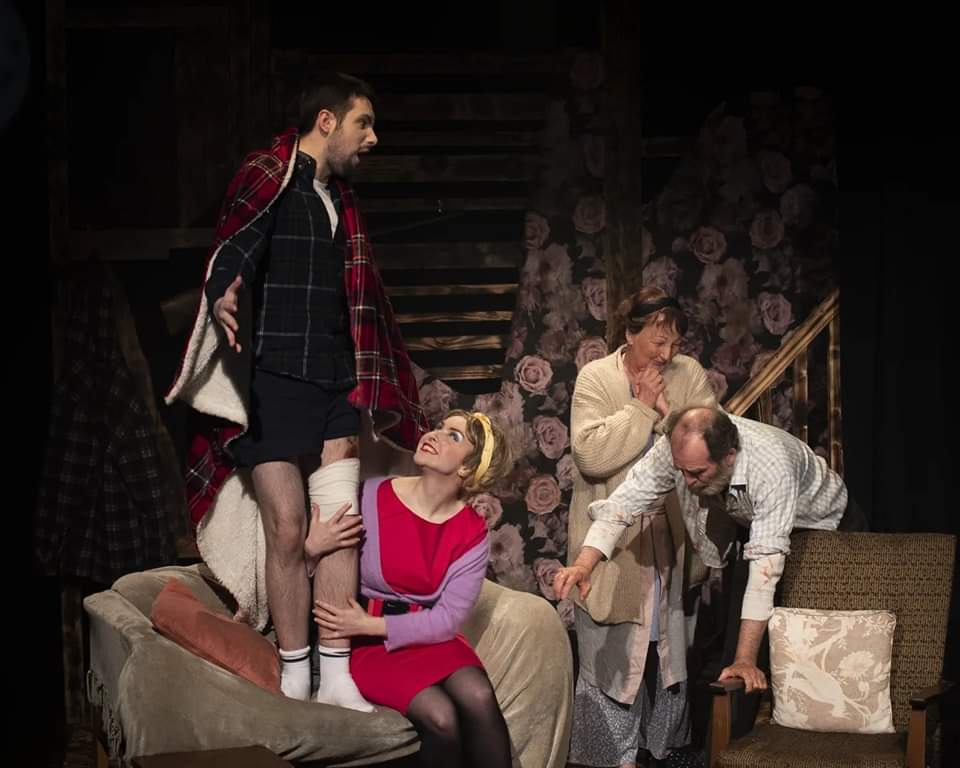 RAGING AGAINST THE LIGHT
Report: Jackie Hayden – Thursday 24th February 2022
There's a lot of relentless anger in Sam Shepard's eighties play A Lie of The Mind. It's been described as a masterpiece of theatre, but there are too many occasions when you're thinking, "Yeah, yeah, we know all that. Move on".
So, it's all to the credit of the award-gathering Wexford Drama Group that they broke their two-year downtime with a Wexford Arts Centre production that was so enthralling despite Shepard's stodgy bits. But then the play has served as a showcase for Harvey Keitel, Aidan Quinn and Geraldine Page.
The story is set in Montana and California, and centres around volatile husband Jake (Alan Fitzhenry) who thinks he's murdered his wife Beth (Danielle Fortune), although she's "only" brain-damaged. This event exposes a level of derangement throughout their respective families who seem incapable of communicating beyond confrontational rage.
Beth's father Baylor (Andy Doyle), a no-nonsense patriotic rancher, gets more laughs than you think the story might allow as both families try to deal with the situation amid the endless round of antagonism. Meanwhile Beth falls for her husband's brother Frankie (Eric McGuire) about which Beth's brother Mike (Ronan Berry) does not approve. Nor does Frankie.
So far, so Whitehall farce. But there are serious issues like mental illness at play here too. The deranged Jake is bring "cared for" by his mother Lorraine (Catherine Walsh), who's version of reality is worryingly unique, and his sister Sally (Seona O'Connor) who stoically bears her mother's hostility.
So, what does a person like Lorraine do in such circumstances? She sets her house ablaze and she and Sally prepare for a trip to Sligo in the old country. As you do. That link with Ireland is delivered too late to explain the on/off Irish/Celtic feel to the music played at various points, although the relevance of Bob Dylan's 'One More Cup of Coffee' was further beyond me and others in the loyal Wexford Arts Centre audience.
All in all, this not a case of the singer not the song, but of the cast not the play. So well done to the WDG and Director Paul Walsh for getting us through. And great also to see another full house at Wexford Arts Centre.
AS WE RETURN FROM LOCKDOWN TO LOCK-IN ….
Report: Jackie Hayden – Friday 21st January 2022
It may have been down to the happy coincidence that Carpet Theatre's presentation of Breath, an inventive music play by Ciarán Taylor with Karl Quinn and Steve Wickham, opened at the Wexford Arts Centre within the same hour that the government was setting us free from the lockdown restrictions that had curtailed our lives for the best part of two years.
That coincidence might also have made it so much easier to look back on that overcast period and see the humour in it amid all the worry, frustration, confusion, stress, illness and death. For Taylor's script captured much of that, and he was very ably served by Quinn, with the wicked Wickham always ready to chip in with some casual asides as well as some tasty musical interludes that included using a didgeridoo in a way its Australian inventors probably never envisaged. Indeed, his versatile contributions on fiddle would have been enjoyable on their own, but his mute asthmatic concertina not only gave us a few laughs but also encapsulated the core of the play.
But Quinn was the main focus of attention, playing the role of a family man trying to get to grips with juggling the household chores, working to earn his living and coping with zoom meetings while also frantically trying to keep up with the new rules and regulations. Sometimes you expected him to crack under the strain, but he just about scraped by with a spot of Yoga, and he even took time to entertain us with what in the sixties they used to call "idiot dancing". It was one of those performances that kept you riveted.
It's hard to predict at this stage to what extent memories of the lockdowns will play into future cultural and artistic works, but the socially-distanced audience at the WAC eagerly lapped up every subtle nuance of Breath and went out into the night with a smile on their faces, optimism on their minds and, I suspect, breathing a little easier.
Eden – a tale of lost innocence, lust and longing for more
Review By Rob Wiggins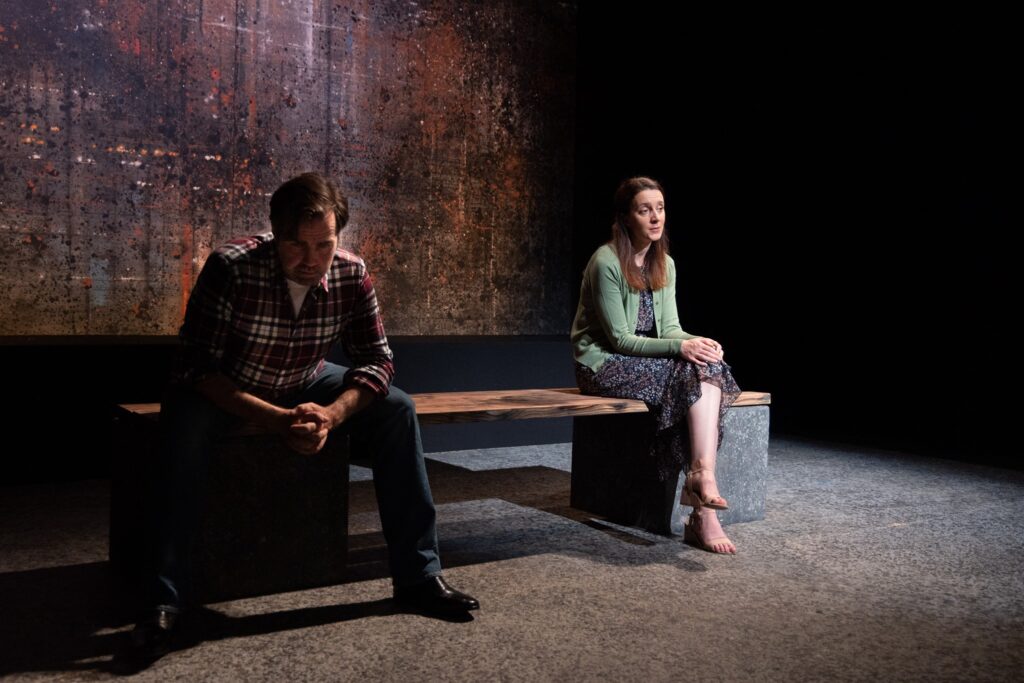 On the night of Thursday the 21st of October, 2021, the Wexford Arts Centre staged the acclaimed play, Eden, written by Eugene O'Brien, directed by Andrew Flynn and produced by the Decadent Theatre company.
The play tells the story of Billy and Breda, a married couple whose relationship is very much on the rocks, as they navigate the stormy seas of love over the course of an eventful night. Set in the rural Irish town of Edenderry sometime in the 1990's, Eden charts the despair, delusion and dramatics of Billy and Breda as they engage in their own private fantasies; leaving the audience to wonder – Will they stay together or go their own way?
The production, on the Wexford Arts Centre stage, is a strictly intimate affair. A long bench spans the stage with a sparse, almost granite like backdrop behind, designed by Ger Sweeney. The excellent set design and construction conveys a closeness, while also capturing a coldness and hostility – which perfectly reflects the flawed relationship depicted and aptly directed by Andrew Flynn on stage. The incandescent effect of lighting draws out the dominant emotions that bleed through this play – a lustful red for Billy, and a despairing blue for Breda developing into a wider palette of colours to reflect their changing emotional states. Ciaran Bagnall's lighting design along with his use of darkness and shadows helps to convey the brooding tone of the play and its visceral nature.
Billy and Breda are cast as the sole two characters on stage. Patrick Ryan delivers a stellar performance as Billy, a loose cannon, and a tormented figure, hell-bent on seducing a younger local, Imelda Egan. Maeve Fitzgerald offers us a wonderfully nuanced and layered performance of Breda, a troubled woman, who upon losing some weight, is gearing herself up to make a big comeback to social life at the pub.
The play functions as a set of two monologues – where one character will speak in turn, but never to each other. Both actors break the fourth wall, inviting the audience into their private lives and giving us two distinct perspectives on one fateful night. Billy and Breda circle the stage – always at a distance, backs to one another, and shrouded in darkness as the other spouse speaks. It's a bold concept and credit must be given to the actors, Ryan and Fitzgerald, for executing it brilliantly, holding your attention throughout and making you feel every emotion they feel, capturing the true essence of the Irish storytelling tradition.
Bored and unfulfilled by the monotony of their married life, the couple decide to indulge long held fantasies that only ourselves, the audience, are privy to. Billy longs to emulate his friend James Galway, the man with the 'golden flute', in engaging his teenage dream of casual sex. Having grown weary of his wife, he fancies himself as a player who can successfully seduce Imelda, the young woman who will play a starring role in his sexual fantasy. Breda by contrast, equally desperate and lonely, yearns to make her husband fall in love with her again after living out years in the romantic wilderness together. She's lost weight and has become more attractive looking – gaining the approval of her friends and onlookers at the pub – however, will it be enough for her to win back her man?
As the play progresses, their plans slowly begin to crumble on contact with reality. A good night out with friends at the pub soon unravels, shattering their illusions and breaking their hearts all at once. There are numerous biblical references to the Garden of Eden throughout. Namely, the 'tree' where Billy and Imelda will supposedly do the business and his line that one 'shouldn't be bringing apples to the orchard.' Much like Adam and Eve before them, Billy and Breda have fallen out of paradise, descending from a place of innocence and bliss to their present human condition of sin, misery and death to the life they once lived as newlyweds.
Overall, Eden stands out as an exemplary work of contemporary storytelling – which continues to engage and endear audiences, twenty years on from its debut. I would highly recommend a trip to the theatre to see it – and if you do, be prepared to be entertained, disturbed and enlightened all at once in what is a fantastic production by Decadent Theatre Company. Eden is running for two more nights on the 22nd and 23rd of October before continuing its national tour.
Rob Wiggins is a participant in Wexford Arts Centre's work experience programme as a freelance arts journalist and critic. For more information on his blogs visit robwiggins.net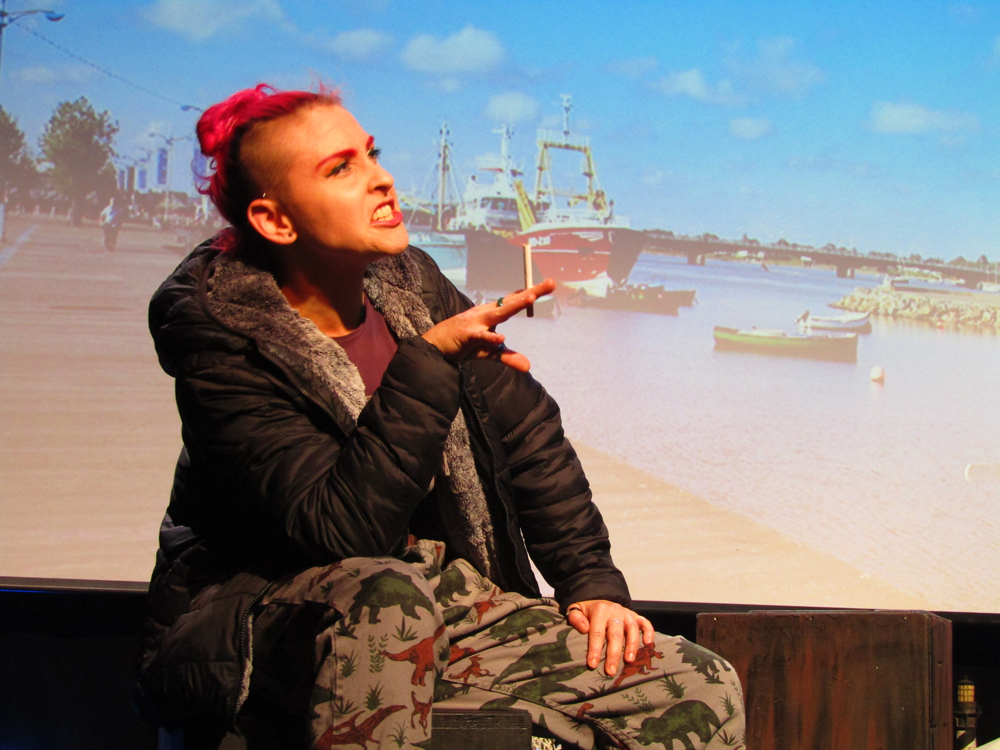 One Voice Festival: Tales from the Quay
Report: Tom Mooney – 13th August 2021
The One Voice Festival: Tales from the Quay at Wexford Arts Centre contributes abundantly to the long and rich tradition of the monologue on the Irish stage, seven writers – several new to the format – and seven performers who prove that composition and performance can be one and the same act.
Although the concept of personal stories waiting to erupt was conceived by director Paul Walsh seven years earlier, Covid 19 restrictions and lockdown have acted as a catalyst for bringing this project to fruition.
Two of Wexford Drama Group's senior stalwarts, Phil Lyons, and Andy Doyle, persuasively bookend an evening of introspection and reflection, rooted in original material suffused with the cornerstone of any good monologue, empathy.
Wexford Town (Hello in There) is a humorous though heartfelt lyrical paean by writer and performer Lyons to his adopted town, whereas Doyle in Thomas O'Leary's The Trip of a Lifetime eschews superfluous trimmings to confront the brass tacks of a pandemic: illness and loss. 'No pubs, no hurling, no travel,' he laments, resignation and irony laced with fortitude.
Wexford, specifically the harbour, is a central character. 'Ah the marina. Thank God, we have it,' says Doyle. Director Paul Walsh is keen for Wexford to be a strong personality in its own right, not merely a colourful backdrop, but throbbing with soul, refusing to age. Defiance is omnipresent.
These monologues are by writers steeped in an understanding of their own relationship to Wexford, performed by actors attuned to the nuances on the page and gifted in extemporisation before a masked audience. Strange times.
In Michelle Dooley Mahon's Boots – the only outlier because it is set in the 1990s – John Crosbie's edges are pared. He is embedded to his own patch like Beckett's Winnie, complete with bag (of beer), a man whose colourful history Crosbie conflates into a controlled flow.
The past is a foreign country in Tales from the Quay: wistful in Wexford Town; a house of horrors in Eoghan Rua Finn's Dei Gratia (with Jeanette Sidney Kelly); a lamentation in Boots; a suffocation in Carol Long's Living Like a Fugitive (with Mairead Ryan); indecisive in Heather Hadrill's Coming Home but dispatched like a frisbee by Danielle Fortune in Jack Matthew's Revenge.
Stasis is the enemy of electrifying monologue, so Fortune's Vikki roams the stage like it's a cage, her feral gait venomously dispatching great Matthew one-liners, recalling that she 'guts sea creatures for a living', and how she 'threw away her virginity on the quay.'
And because these are real lives there is betrayal and exits and entrances, specifically in Dei Gratia, Boots, A Method in Menapia – Paul Walsh's sitcom with a terrific Imelda McDonagh as social climber Pamela and a cast of dead paramours – Living Like a Fugitive and Coming Home, Stephen Byrne as Christopher nailing the swallow note of the migrant forever destined to return to the nest. Tales from the Quay is rich in character and incident, reconciling the past and the present, and unafraid to make the heart the centre of the world.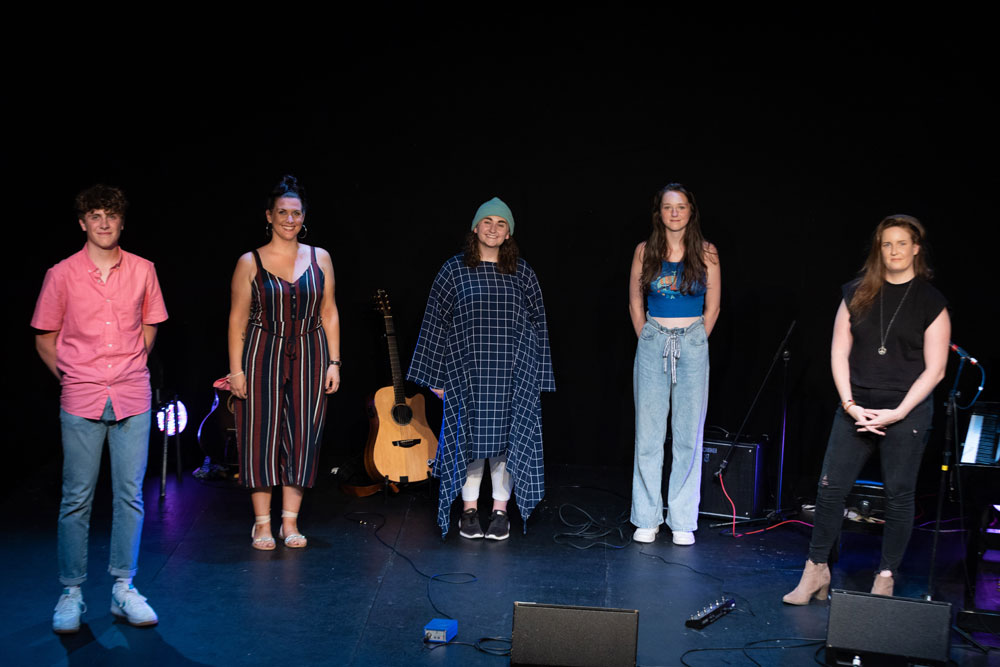 EMERGING STARS SHINE AS ARTS CENTRE REOPENS
Report: Jackie Hayden* – Thursday 22nd July 2021
The Wexford Arts Centre reopened for live music last Thursday doing what it does best, showcasing local teenage talent, this time under the banner of Summer Sessions – Young Voices in association with Music Generation. The first of a month of Thursday showcases, the opener featured a slightly earlier generation of singer-songwriters already making their mark but making room for two local artists making their debuts.
Not that you would think of them as novices to judge by their consummate confidence. First up was Lily Elizabeth, her grounded stage presence belying her 13 years. Slotting neatly into comparison with acts of the calibre of Lisa Hannigan and Susan O'Neill, she has the instinct of a Laura Marling in how she marries the right lyrics to the melodies they need. She delivered a beguiling performance with two fine originals, 'You Pull Up the Worst of Me' and 'I Love You' and was then joined by guitarist Kevin Weaver for a cool cover of 'Broken Halos' by American singer-songwriter Chris Stapleton. Lily will be well worth keeping an eye on as she moves up through the gears.
Next up was Taylor Dench who's first single 'Run Out' is up on Spotify for the world's delectation. It's about Lockdown 2020, and he applies to it a flexible voice that can do featherlight touches as required. He swapped his guitar for the piano for 'Alone', a powerful song about rejection, with space to showcase his accurate falsetto. He described his 'Collector' as "an accidental love song." If you want to know why, go see him next time he plays live.
The show was compered with a light touch by Rachel Grace, still a teenager with a fine track record already, including a slot at Electric Picnic. She gave us a captivating slow blues and a love song called 'Nancy'. Karen Alice Dunbar who teaches singing and song writing with Music Generation Wexford, is no stranger to the Wexford Arts Centre with classy songs like 'Almost' and 'Marionette'. Gayle Murphy, also a teacher with Music Generation Wexford, offered two covers, Hozier's 'Work Song' and Rihanna's 'Stay', before Rachel Grace closed with two more wistful originals.
So live music is back at the Wexford Arts Centre. Cue sighs of relief all round!
*Jackie Hayden is one of Ireland's most respected music writers. He spent 29 years with Hot Press, where he interviewed artists of the stature of Mick Taylor of The Rolling Stones, Christy Moore, Sinead O'Connor, Glen Campbell, Kenny Rogers, Ronnie Drew, Glen Hansard and Bob Geldof. He topped the Irish book charts with two editions of My Boy, his book about Philip Lynott. He has also written Love and Theft? Bob Dylan's Celtic Odyssey, The Winner In Me (his biography of Don Baker), and the CD/book A Map Of Love – Around Wales With Dylan Thomas. Prior to his writing career, he was marketing manager with Sony Music (then known as CBS), where he signed U2 to their first record contract. He has delivered witty and informative addresses to various seminars around Europe, and in his lecture Dylan, Dylan and Me, talks about discovering Dylan Thomas via Bob Dylan and The Beatles. He has written for many overseas publications, including Sunday Times, R2, The Lampeter University Review, and Ninnau in the USA. In 2015 he was "writer-in-residence" at Tranas Literary Centre in Sweden, and spoke about Dylan Thomas as part of World Poetry Day at the State Theatre in Uppsala.
HELENA MULKERNS HOSTS A BEWITCHING LIVE ZOOM EVENT : THE CÁCA MILIS SAMHAIN CABARET
This Halloween, Saturday October 31st @ 8PM, you are invited to join Helena as she hosts THE CÁCA MILIS SAMHAIN CABARET. Secure your place asap by registering here.
Once the kids have finished their virtual trick or treating next Saturday evening, parents might like a little Halloween treat themselves – and the "Cáca Milis Cabaret", presented by Dalkey local Helena Mulkerns, is set to provide a fun and bewitching evening of the arts via ZOOM!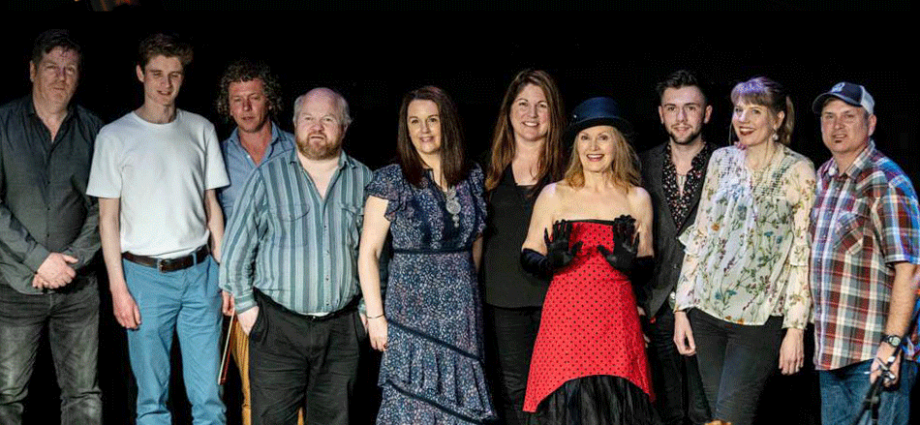 WHAT IS THE CÁCA MILIS CABARET?
Since 2009 Helena has hosted and coordinated The Cáca Milis Cabaret , which presents a blend of emerging and established artists in an eclectic evening of new music, literature, dance, spoken word, cabaret, circus arts, comedy, short film and more. Helena, as well as hosting and performing in the cabaret, is an author in her own right. Her first book, Ferenji, is published by Doire Press and is set in Africa and Afghanistan.
The Cáca Milis Cabaret was founded at the Wexford Arts Centre. The cabaret's Dublin base has been at Arthur's Blues and Jazz Club and it has featured at Electric Picnic and festivals around the country. This year, under Covid restrictions, you can see it from anywhere, now that its shows are live online via ZOOM. One of the recent cabarets featured Colm Tóibín, early music Diva Caitriona O'Leary, mime artist Carlo Jacucci and more. You can watch the video here.
THE FEATURED ARTISTS LINE-UP FOR THIS ENCHANTING EVENING
This Saturday at 8pm, watch out for a beautiful video made by Sandycove native Josh Johnston. A pianist and composer who is also the musical director at the Unitarian Church on St Stephens' Green, the video features music from his new CD, where we're standing now, and is filled with haunting visuals of Dun Laoghaire Rathdown!
Elsewhere on the bill, award-winning author June Caldwell reads spooky fiction, the Banshee screams from your screen in a short film by Conor McMahon, and there'll be dance from New York with Darrah Carr and music from Michigan with Enda Reilly as well as some classic cabaret.
All ticket sales go towards supporting cabaret artists and the continuing work of the Wexford Arts Centre, a registered charity, whose work is more important than ever at this time.
JOHN SHEAHAN AND DERMOT BOLGER IN CONVERSATION
Wexford Trad and Folk Weekend
Report: Jackie Hayden Greenacres -– Saturday 29th February 2020
We all heard the warnings – under no circumstances, except the most essential, should anyone venture outdoors during Storm Jorge.
But maybe the possibility of being entertained by Dubliner John Sheahan and poet and novelist Dermot Bolger having a chat and a laugh together could easily be regarded as an essential reason for travel.
And the sizeable crowd that turned up at Greenacres for the event, organised by Craobh Loch Garman Comhaltas Ceoltoiri Eireann and their PR man Senan O'Reilly, were royally rewarded for braving the weather with a ninety-minute mix of unscripted wit, humour, anecdotes, poems and stories, and, from Sheahan, some delightful music on tin-whistle and fiddle.
The two men clearly share an affinity, but maybe they work best together because they are different people too. Bolger has been a lifelong novelist and poet, with several accolades under his belt, while Sheahan has only came to poetry in recent years. Bolger is the more animated, almost becoming excited in his retelling of his upbringing and his connections with Wexford, his father working on steam packets plying out to sea from Wexford Quay. His poetry is generously long, with captivating twists and turns. By contrast, Sheahan is measured and laconic, his poetry crisp and focused, and his stories about the various members of The Dubliners never-ending.
He read poems about Ronnie Drew and told stories about the eccentricities of Barney McKenna. He was equally illuminating in explaining where tunes come from, demonstrating to the entranced audience how one tune started with him copying the four notes he heard from his son's sighing yawn, and which he was initially tempted to call 'The Yawning of The Day'. The audience hummed contentedly along to his renowned composition 'The Marino Waltz', and he displayed his dextrous fiddle-player by reinterpreting 'Happy Birthday to You' in a baroque classical style.
What was noticeable about both men was, despite their successes, a deep humility and an ability to laugh at themselves and each other. The audience at Greenacres laughed too and lapped it all up.
AS EASY AS APK
Report: Jackie Hayden – Saturday 15th February 2020
The third of a series of Jazz gigs organised by Kevin Lawlor at the Sky and The Ground saw the APK Trio, with Lawlor himself on drums, Alex O'Keeffe on electric guitar and Pat Molitor on keyboards, bring a jazz approach to a selection of modern popular music.
Active members of the Jazz Police look askance at the very idea of a jazz band tackling tunes by the likes of Gorillaz or Khalid, but to his credit, Lawlor has admirable form in this regard, with previous outing of his bands covering music by pop sensation Arianne Grande.
In reality, Lawlor's bands are only doing what jazz bands of the forties and fifties did, interpreting the pop hits of the day, so there's no need to be scared. In fact we could do with more of it, as for me, the highlight of the afternoon was APK's take on 'Dirty Harry' borrowed from Damon Albarn's semi-cartoon band Gorillaz. They brought a Snarky Puppy wah-wah funkiness to it, and the grunge anthem 'Smells Like Teen Spirit' by Nirvana probably had Kurt Cobain finger-clicking in his grave. Apart from its chorus it's melodically less distinctive in a jazz format than other options, but it still afforded the trio space for some conversational musical interaction, with Lawlor's intelligent playing bringing a playful wit to proceedings.
They turned Khalid's 'Talk' into a leisurely saunter, with all three turning in effortlessly appealing solos, with O'Keeffe's brittle guitar chording adding an extra dimension. To their credit, they made all these interlopers into the jazz realm work a treat,
Jimmy Smith's 'Lulu's Back In Town' got a more conventional treatment by comparison, and Jorja Smith's (no relation) 'Blue Light's was a fine example of light-touch jazz. They ended with Molitor's swampy organ starring throughout the perennial 'Green Onions'. The sound was at all times impeccable, and sizeable audience were riveted were visibly delighted to hear that Lawlor plans a similar series for the Summer. Meanwhile, he will be with Melanie O'Reilly at the Wexford Arts Centre on April 24, and on April 30 will launch his new album Stramash at the same venue.
BLUEGRASS PILGRIMAGE TO THE WEXFORD ARTS CENTRE
Report by Jackie Hayden – Saturday 1st February 2020
​The Wexford Arts Centre has seen and heard some terrific musical performances over the last couple of years, (Saxology, Pierce Turner, Billy Roche's band, Remedy Club, Kevin Lawlor's various combos) but last week's concert by Pilgrim Street was up there with the best.
The band hail from Navan, and with seven accomplished musicians toting a shopful of instruments, four of whom can sing solo or join in up-to-four part harmonies, they delivered a rich cocktail of Country, Bluegrass, Folk, Americana songs plus new originals by the band themselves.
That they did it all so effortlessly and with such good humour added to the pleasure, with nothing over-cooked and nothing underdone either. Brendan Kelly's accordion added plaintive tones to their own 'Jimmy's Deflation', with guitarist Peadar Farrelly unerring lead vocals , and Eugene Donegan on banjo and vocals lead the way on his own heartfelt 'Hurt People Hurt People' as the band built up a fine head of steam, with some tasty slide guitar from Mark Lynch to boot. Both songs are on their EP which also features a superb reworking of Thin Lizzy's 'Emerald' and serve as a taster for the album Pilgrim Street plan for this year.
Pilgrim Street also have an uncanny knack of picking the right covers. They reached far back into the American folk and gospel tradition for 'The Wayfaring Stranger', with Donegan's sturdy vocals and Kelly's accordion to the fore. Eoin McDonnell on mandolin and vocals took Albert Brumley's hymn 'I'll Fly Away' to another place, and the trusty favourites 'Will The Circle Be Unbroken' and 'Let Me Be Your Salty Dog' were additional outright winners before they dipped into Tom T Hall's back catalogue for 'That's How I Got To Memphis'.
The musicians named above had sterling support throughout from Cathal McQuaid on fiddle and Francis McGinn's electric bass. With a full house, standing room only, Pilgrim Street brought us music from the heart that touches the soul. It was a great night, but they'll be back, won't they?
JEFFREY FOUCAULT AT THE WAC
Report by Jackie Hayden – Saturday 25th January 2020
On the surface, Jeffrey Foucault comes on like standard-issue production line American folk-country singer-songwriter seasoned with dashes of blues and rock. But dig a little deeper and you'll appreciate the slightly wry humour and his ability to pick the telling details from the landscape of relationships. His apocalyptic 'War on the Radio' from his album Blood Brothers also shows an engagement with the real world that often bypasses his more romantic rivals. That 'Little Warble' has the line "We shovelled horse shit for an hour" doesn't take away from its power as an affectionate lovesong, and he pays his respects to his Dad in 'Cheap Suit'.
Nor do you expect to hear Shakespeare quoted at such a gig, but the man from Wisconsin does exactly that, explaining that his album title Salt Is Wolves comes from Othello where the full quotation is "As salt as wolves in pride, and fools as gross, as ignorance made drunk." He then delivers the song 'Slow Talker' from the album, a tasty track that reminded this listener of Mark Knopfler.
Foucault was accompanied by Ry Cavanaugh on harmony vocals and electric guitar. In the second half of the show they turned the heat up a little with some gritty, bluesy stuff, including a pointed version of Chrissie Hynde's 'Don't Get Me Wrong' and the slow and sultry 'Blues for Jessie Mae'. He uses his languid guitar style to flesh out Foucault's acoustic work without getting too flash or fussy. Earlier, Cavanaugh set the scene with tracks from his new album of songs composed by his late father, himself a country singer, with 'Cold Wind' a real treat.Both Foucault and Cavanagh have been spending time in Ireland and building up a staunch following for their fascinating take on American music and life in general. They both seem to like it here.
TURNER TURNS IT UP
Report: Jackie Hayden – 23rd December 2019
Pierce Turner's latest album Vinegar Hill, a reworking of eleven folk ballads, has divided opinion among his fans, some seeing it as a retrograde step and others applauding him for breathing new life into old songs with his maverick approach to the sacred canon.
With his sold-out gig at the Wexford Arts Centre, Turner proved that those versions fit seamlessly into his own impressive catalogue, with his fractured piano playing, heavily rhythmic guitaring and that voice that has enthralled people as diverse as Christy Moore and Will Ferrell.
He brought an appropriate air of respect to tunes of the vintage of 'The Parting Glass', 'The Gypsy Rover' and 'Bunclody'. If 'Monto' is unlikely to become an anthem of the MeToo movement, the men and women at the WAC sang along lustily all the same.
Of his own songs he delivered a version of 'The Boy to Be With' that was the pin drop moment of the night. 'Ball and Chain', 'Thunderstorm', 'The Sky and The Ground' and 'Moonbeam Josephine' were acute reminders of the strength of Turner's back catalogue, and his sense of wonder at the absurd foibles of humanity were to the fore too.
Turner switched back and forth from piano to guitar, abetted by the ever-inventive Mick Egan on electric guitar, electric keys and harmonica, the latter particularly effective on 'The Gypsy Rover'. For one extended intro the interplay between Egan and Turner was so mesmerising it deserved its own place in the set list.
I could have done without a perfunctory version of 'Rudolph, the Red-Nosed Reindeer", but as one man remarked to me on the way out, "I'll go back to the Vinegar Hill set now with renewed interest." And so, he should.
STORMY WEATHER OVER THE WEXFORD ARTS CENTRE
Report by Jackie Hayden – Thursday 6th December 2019
Before we took our seats for Brainstorm, billed as a new play about the teenage brain, members of the audience were given a card on which they were asked to write something to their teenage selves. With little time to reflect I jotted down my contribution, "But I was so much older then, I'm younger than that now" from Bob Dylan's song 'My Back Pages'.
As it turned out, those words often resonated with me through the show, consisting as it did of 14 world-weary teenage girls and boys struggling with their phones, mood swings, frustrations, parents, teachers, each other, their malfunctioning brainwear, bodies, truth and lies, and the rest of the world.
Of course, some parents of my acquaintance might regard the phrase "teenage brain" as a contradiction in terms, but recent dark developments, not least the crushing of young spirits by the ghouls on the Internet, have brought the real concerns of teenagers into the foreground. If there was one message coming from Planet Teens it was "please, listen to us", and maybe that's a plea that's taken a long while to come through. It was evident from the performances that teenagers are presented with an adult population who assume they're right, but the state the world is in now might suggest otherwise.
Presented by Bare Cheek Theatre Company and County Wexford Youth Theatre, Brainstorm focused on performers aged 13 to 18, and allowed about 75% of what they said to be personal and unscripted. That was a clever move, as it enabled the performers to make their points with remarkable confidence, honesty, anger and humour. The remaining 25% was written by Marnie McCleane-Fay, Ned Glasier and Emily Lim, with some energetic music, including Abba and The Cure, along the way. But one quibble. At times the background music was so loud as to distract from what the actors were saying.
There were also some moments of direct involvement with the eager Wexford Arts Centre audience, as if the adult world was being invaded by aliens, and the cast got a well-deserved standing ovation at the end.
Sure, teenagers aren't always right, but neither are adults.
TAKING THE CURE AT WEXFORD ARTS CENTRE
Report: Jackie Hayden – Friday 22nd November 2019
There's much of the bracing benefits of music in the material and stage presence of the Wexford-based duo Remedy Club, and it was clearly on view at The Wexford Arts Centre which they chose as the venue for their last gig of a very busy 2019 that included a tour of the UK and a trip to Nashville to record their new album.
Singer Aileen Mythen seems like she was born to live on-stage, and she has a way of not merely singing a song but living in it and probably re-arranging the furniture too. Her vocal strengths are matched by Kieran McEvoy who also shamelessly makes playing wonderful guitar in several styles look so easy. Their mostly original set on the night was a finely balanced mix of tracks from the new album, songs from their second album Lovers, Legends and Lost Causes, and some classy covers and stage favourites.
Most impressive of the new material were 'Sweet Little Lies', 'Sweet Symphony' and 'Fire and Gasoline', the last named written with their producer Ray Kennedy who has a CV that includes such luminaries as Steve Earle, John Prine, The Beach Boys and John Mellencamp. The selection sure whetted appetites for the album.
From their last album they included 'Bottom of The Hill' and 'Big Old Fancy', the latter capturing the worst aspects of the Celtic Collapse. They paid tribute to their musical heroes with 'Django', 'When Tom Waits Up' and 'Listenin' To Hank'. Further delights arrived with the Hank Williams classic, Tony Joe White's 'As the Crows Flies' and they displayed their blues credentials with Elmore James' 'It Hurts Me Too'. Those who can't wait for the next album should check out the new track 'True Hand, True Heart' on Spotify.
​
The show kicked off with another male/female duo Union Avenue, although this time it was the woman doing the tasty guitar fills. All four joined forces, with some audience guests, for a rousing run-through of Tom Waits' 'Come on Up to The House'. So, a fine night all round.
ELMORE GETS BACK ON TRACK
Report: Jackie Hayden – Saturday 16th November 2019
If ever evidence was needed to prove the healing power of music, it was available in abundance last week when Enniscorthy singer-songwriter Elmore stopped off at the Wexford Arts Centre as part of his current tour. Mid-way through a riveting performance he explained that his Resurrection Tour had been so named because he'd suffered a serious bout of depression and a loss of confidence as well as the death of his father, that seriously interrupted his musical adventures. Fortunately, he had been persuaded back on the road as part of a healing process and, as we could all see and hear, it was surely working.
Although showing influences from acts as diverse as Ed Sheeran, Hudson Taylor and The Lumineers, Elmore is quite his own man, with a bag of impressive original songs, an expressive voice and a stage persona that kept the sizeable Wexford Arts Centre firmly focused. Songs like 'Promise', I'm Still Here' and 'Close to You' are crisp and devoid of self-indulgent flab, while his version of Bruce Springsteen's 'Dancing in The Dark' showed he could take a cover to another place. His guitar accompaniment was more than adequate too. So now that he's back on his pop-rock career trail, fresh opportunities may lie in wait, not least with his plan for an album in the new year.
Elmore topped an all-male bill of solo artists with another local hero Josh Cahill first up. His highly personal takes on the Oasis hit 'Don't Look Back in Anger' and the John Martin classic 'May You Never' went down a treat, but an attempt to turn 'The Ould Triangle' into a singalong only partially worked.
In between those two acts we had two more, including Lou, with a fine high voice, tasty songs and bouts of percussive interplay on his guitar. The quartet was completed by Londoner Sam Ali on piano with another batch of fine originals. All in all, it was a fine night for solo Irish acts and the audience lapped it all up and then some.
SAFE SAX
Report: Jackie Hayden – Friday 1st November 2019
There was a tingling air of anticipation from the full house in the Wexford Arts Centre for Saxology's recital there last Friday lunchtime. This was the locally grown version of the saxophone quartet and not the variety of the same name from England.
They consist of Ann Wickham (alto), Patrick Lawler (tenor), Alan Mahon (baritone), and Louise Malone treble-jobbing on soprano, alto and public announcements. Indeed, Eagle-eared fans might be familiar with her deft contributions to local lad Ian Barry's album The Adventures of Angel, Slash and Gunga Din.
Saxology's lunchtime diet consisted of a healthy mix of classical, jazz, pop and rock, all delivered with aplomb and a generous helping of good humour, their take on 'Won't You Come Home, Bill Bailey' working as a tasty appetiser for what was to come. They did a slinky run-through of 'The Theme from the Pink Panther' and served up a refreshing sense of playfulness in their interpretation of The Beatles' 'When I'm Sixty-Four'. However, their version of the same source's 'Eleanor Rigby' was more predictable fare.
The quartet took tunes written for different types of ensembles and reinvigorated them with their upbeat tunefulness, in particular turning in a sparkling version of Wexfordman Liam Bates' 'Vivo'. It was written originally for strings but saxed up for the day by the composer himself who was present to hear the fruit of their combined talents. Like Louise Malone said, "no pressure, then."
​
But arguably the most adventurous treat was a riveting version of 'Paranoid Android' by rock superstars Radiohead in an arrangement generously donated by a Dublin-based quartet. Other noteworthy gems included J Matitia's 'Chinese Rag' and a piece from the soundtrack of the film 'La La Land'. The Wexford Arts Centre audience lapped it all up and left well sated. This indeed was lunchtime music with a smile on its face.
SESSION MEN AT THE WEXFORD ARTS CENTRE
Report by Jackie Hayden – Thursday 3rd October 2019
The world of Americana is often seen as insular, a blend of pure American folk, blues and country having little truck with the world beyond. So, let us praise the five men of the Boston-based Session Americana for confounding expectations by bringing to their set at the Wexford Arts Centre a mix of fine originals and covers that weren't the almost obligatory folksy efforts but were often drawn from odd corners of the rock world. In fact, only their reverential version of Gordon Lightfoot's 'The Wreck of the Edmund Fitzgerald' might have been predicted.
Session Americana are about the sheer joy of making music together. They gather centre-stage in a tight group that adds to their togetherness, while a casual offhandedness adds a delightful human dimension to their not inconsiderable solo and ensemble skills, both vocal and instrument-wise. They swapped seats and duties too with effortless aplomb to play a selection of drums, harmonica, guitars and variants thereof.
One of the surprise covers was Pixies Here Comes Your Man into which they allowed some breathing space not available in the original. Jonathan Richman's Roadrunner was another cool choice, and they also did songs by Jethro Tull and Morphine that fitted seamlessly into their set as snugly as Tom Rush's 'Merrimack County'.
One of their original songs, 'The One Skinners', was actually written on Inishowen in Ireland, and they slipped into a neat acoustic-electric groove for 'Helena'. An original love-song called 'Champagne' went down a treat with the ever-engaged Wexford Arts Centre audience, and they kicked up some dust on 'Mississippi Mud' and 'Making Hay'. Both the Irish and the Chinese are name-checked on 'Great Western Rail' which was boosted with some fine electric guitar and harmonica. Despite remaining chair bound throughout the set, this was a surprisingly lively gig, with a humour and a warmth that would probably have tamed Storm Lorenzo had it shown up.
ENNISCORTHY ROCK HEROES LAUNCH DEBUT SINGLE
review by Jackie Hayden – Saturday 30th August 2019
​All the rocky roads led to the Presentation Centre in Enniscorthy last week for the launch by four-piece local rockers Ten Ounce Mouse of their debut single 'Echoes'.
The single itself is also very much a local affair, having been recorded at the Orchard Recording Studio and mixed by Brendan Carthy.
'Echoes' is a fine slice of intelligent pop-rock, with engaging vocals from Luc Power, and some big, anthemic drumming from Michael O'Connor. They're both ably assisted by guitarist Brandon Murphy and Jags Denby Atkinson on bass. As if to prove that 'Echoes' is no fluke, they've coupled it on the CD with a classy live version of another original called 'Atom League'. In all, you get eight minutes of non-stop quality rock.
The noted publisher, and long-time IMRO board member Johnny Lappin was at the gig and as a big admirer of the band he hopes to sign a publishing deal with them shortly. As he explained, "The guys approached me, and they agreed to do a showcase gig in Holohan's live music venue in Enniscorthy. I was very impressed with their drive and enthusiasm, and I believe some of the songs showed great promise."
The launch of 'Echoes' was preceded on the night by live performances by The Elephant Room and Foot Squeaker. Ten Ounce Mouse have an impressive live repertoire of around 17 songs, the vast majority of which are originals. Drawing their influence from acts such as The Smiths, The pixies, Motown Records and Joy Division, they also include revitalized versions of Sultans of Ping's 'Where's Me Jumper' and U2's 'I Will Follow'.
In the coming months, the band will be touring extensively around the South East, including Golden Discs outlet (Oct 4th), The Spiegeltent (Oct 9th), 31 The Athenaeum (Oct 31st) and Rogue Gallery (Nov 15th).
Lawlor Combo in Winning Form at Sky and the Ground
review by Jackie Hayden – Saturday 24th August
A Kevin Lawlor gig at any time generates a certain frisson of anticipation as well as more than a little heat, but even when it also comes hot on the heels of his five-piece band just arriving back from a gig the previous night at the Aberjazz Festival in Fishguard, they still managed to push the temperature up a few degrees. And thus, it was at the Sky and The Ground last weekend where a fair sprinkling of local jazz heads and eager fans assembled for some jazz on a hot summer's day.
Lawlor gigs are often themed around legendary jazz figures of the calibre of John Coltrane or Wayne Shorter, but this gig consisted almost entirely of Lawlor's own works, including all four tracks from his latest album Last Days of Summer.
He was ably abetted by a quartet of musicians known to Wexford jazz fans, namely Kelan Walsh (tenor sax), Pat Molitor (keyboards), Colm Lindsay (guitar) and Jack-Rufus Kelly on bass. As they've proven on stage and often, each of them can stretch a tune out without ever (col)lapsing into self-indulgence, and they emphasise this again with lengthy workouts on 'Rise of The Right Wing' and 'Toucan Lullabye'. Meanwhile 'AK 97' comes with an infectious bass riff that invades your cranium and stays there forever. It all adds up to a gig brimful of loping rhythms, flurries of percussion and guitar fills, and swoonsome sax. A single tune can range from tightly controlled sections to expressive freeform, calling at all stations along the way.
The CD is very much a local creation too, superbly recorded by Ollie Dempsey at the Jerome Hynes Theatre in the National Opera House. And Lawlor has devised a clever marketing ploy, having released a limited quantity of numbered physical CDs before the album headed off to on-line streaming on platforms like Spotify.
​
Lawlor has been rightly credited with creating a vibrant jazz scene in Wexford, centred mostly on the Wexford Arts Centre. That he is attracting attention at national level and overseas is long overdue and well justified.
Aja – Steely Dan Tribute
Review by Jackie Hayden – Saturday 10th August 2019
Tribute band shows have a number of advantages. They enable fans to engage with some of their favourite material, and they allow newbies to imagine what a live concert by the band might have sounded like. This is even more important when one or more key members have departed, and so it was with the Steely Dan Aja tribute show at a packed Wexford Arts Centre last week.
​
A warm-up trio of band faves, including faithful run-throughs of 'Rikki Don't Lose That Number' and 'Green Earrings' whetted the eager audience's appetite for what was to come.
The highly skilled band moved to the centrepiece of the night's agenda and delivered a spot-on version of the entire Aja album in the order the songs were originally released on vinyl. Given the consistency of the playing and singing it might seem wrong to pick out individual tracks, but 'Deacon Blues', Aja' and 'I Got the News' (the latter dedicated to RTE's former Wexford newsreader Anne Doyle) still resonated the following day.​
But I'm not convinced that the sequence of tracks that works on a double-side vinyl release automatically translates into the right order on stage, and it might have worked better to have interspersed those songs with the other Dan tracks they rendered equally impeccably.
After the break they sampled nuggets for the Dan's significant catalogue, with 'Gaucho', 'My Old School' and 'Haitian Divorce' going down big with the Wexford Arts Centre audience. As the night approached its climax, we even had a spot of impromptu dancing. The fans joined in on 'Pretzel Logic' and luxuriated in 'Babylon Sisters' and a feisty version of 'Reelin' In the Years.'
Local hero Colm Lindsay on guitar was a more-than-capable replacement for the late Greg Boland, but the full ensemble had bassist/vocalist Tommy Moore, and lead vocals from Johnny Graham who had brilliant support from the underused Sinead Stone who did a fine job on 'Dirty Work'. Drummer Alan Cunningham, saxists Mark Wilde and Serge Stavila, and Gerard Farrelly on keyboards more earned their keep too.
Rabbit Hole – Wexford Drama Group
Review by Liam Murphy
​It's All-Ireland Drama Festival time for the next month or so, as amateur theatre and drama groups go on the 'circuit' to be adjudicated at regional festivals to gain the necessary points to compete in Athlone for the All-Ireland title. The word 'amateur' only applies to the fact that these performers and directors do not get paid, but their ambition and delivery is as professional as you might want.
Wexford Drama Group, one of the top ten groups in Ireland, are touring Rabbit Hole, an American Pulitzer Award-winning (2007) play by David Lindsay-Abaire ( he wrote the book and most of the lyrics for Shrek The Musical).
A cast of five under Stephen Byrne's direction explored the painful and often grief and guilt-laden story of the aftermath of a 4-year old boy, Danny, who chased the family dog into the street and was tragically killed by a car driven by a young student. The cast was impressive as the play in a very cluttered set at Wexford Arts Centre, where Danny's room was untouched was a painful reminder to the audience as well, of the shrines of memory people create online, on video or in photo albums of loved ones.
Very quickly the story moves with a good dollop of humour as the father and mother distance themselves with unspoken but visually obvious internal and external howls of rage, grief and bewilderment. The well-meaning advice of family and friends can be very toxic and perfunctory as people are at a loss and feel they should say something that becomes a painful cliche.
Theresa Boyle was in denial as if she was in a parallel universe (accessed via 'rabbit holes') as the mother Becca, cooking treats and washing children's clothes, trying to establish a coping normality. Danielle Reck played her younger sister, Izzy, newly pregnant by a possibly, ne're-do-well, musician boyfriend and brought spiky vitality to the play. Adrienne Meyler was their mother and her busy actions his how she coped with the death of a son from a drug's overdose. Some might say that this was very contrived in the writing, but Meyler drives home a poignant message with studied ease.
Michael O'Gorman played the young student, Jason, who drove the car and he was finding it difficult to cope and come to terms, and he wanted to explain to the family his remorse, regret, and wishes to write a story about Robots, dedicated to Danny. He is closest to the author's alter-ego, and Lindsay-Abaire was one of the writers on the animated Robots (2005) movie. O'Gorman was luminous in this difficult role.
Paul Walsh played the often bewildered husband, Howie, and this was an emotional pressure-cooker of a performance. He stood there, and the tension drained from his features and then his rages enabled the audience to reach out to comfort him. He was outstanding as he caught the pauses, the hesitations, that would have pleased Harold Pinter. This play got under my skin in a way that made me bluster, get angry and lapse into things I didn't want to remember.
The Scourge
Review by Clara Mallon
​Clara Mallon is a drama tutor/lecturer with the School of English, Drama and Film, University College Dublin.
"I have become a mother in a way I never thought possible". This is one of the main sentiments running through Michelle Dooley Mahon's one woman show, The Scourge, which comes to the Civic Theatre Tallaght as part of this year's First Fortnight Festival. Mahon's piece tackles the emotional complexity and often unspoken pain of caring for an elderly parent, in Mahon's case, her late mother Siobhan. The role-reversal of child to parent of our parent, is both touching and universal in its reach. But Mahon's personal tale is injected with a specific urgency, anguish and intricacy, as Siobhan suffered with the merciless and insuppressible Alzheimer's disease.
Mahon's autobiographical piece is an adaptation for stage from her first book (titled Scourged: A Memoir), yet the performance certainly doesn't suffer from a lack of theatricality. Ben Barnes' direction combines subtlety with gusto, as Mahon commands the nearly-bear stage, occupied only by a few props and a wardrobe. Though inspired from the page, her debut drama is marked by Mahon's unique stage presence, energy and delivery that warrants praise and admiration.
Like much autobiographical solo theatre, Mahon's piece is embedded in the realm of personal memory. Her monologue seamlessly takes us on a tempestuous voyage, weaving in and out of different places, spaces and times in both her and Siobhan's personal histories. From the family home, to the nursing home, car rides to birthday parties, Mahon's lyrical dialogue effectively transform the stage space into the deep pockets of her recollected consciousness. Alongside detailing the pains and torments of this progressive disease, Mahon's prime focus lies in her own struggles as care-giver. Bravely recounting her challenging yet tireless role as primary-carer during her mother's demise and death, Mahon poetically and aptly describes the experience as "losing a mother and a child at the same time".
The death of a parent is one of the most personal moments in anyone's life. The Scourge bridges the gap between private and public, as Mahon shares the finer details and intricate moments of her life during this intimate time. Fears of abandonment and death, life and issues of mental health, and youth and old age, combine as just some of the thematic concerns of the solo piece.
There is balance at the core of this one woman show. Finding humor in tragedy, Mahon's personal testimony creates a lightness in even the darkest hours. Tender moments of softness and pain are carefully juxtaposed with more lighthearted humor. Some of Mahon's unique descriptions remain seared into one's memory long after we have left the theatre.
Alzheimer's disease is one that ruthlessly strips everything from an individual, usually beginning with memory. One cannot help feeling that Mahon's performance is a courageous stance against this relentless disease. The solo piece gives voice to the unspeakable, and succeeds in keeping the touching memories of her beloved mother alive.
The Scourge
Review by Peter Crawley
When sorrows come, observes one Shakespearean character, they come not single spies, but in battalions. In the case of Michelle Dooley Mahon, who cared for her mother Siobhan, a Carlow woman, over 10 years as she suffered from Alzheimer's, while dealing with her own depression and diabetes, sorrows nestled themselves into sorrows. That, however, did not dim the wit and affection with which Dooley Mahon wrote of her experience in Scourged, a self-published autobiographical novel that recounts life in small-town rural Ireland with emotion and humour.
Last year, her memoir became the substance for a solo work for the stage, performed by the writer. Produced by Wexford Arts Centre and directed by Waterford Theatre Royal's artistic director Ben Barnes, the performance recreates the tone and tenor of a family struggling to cope with their mother's illness, one that has robbed her of her voice, visiting her in the nursing home where she has spent the last years of her life. Now the production returns to feature in the First Fortnight Europe Mental Health Arts Festival. Often a gruelling time for people with depression, the first weeks of the new year host a time to come together and share experiences, to dispel the chill of isolation with warmth and fellow-feeling.
The Scourge
Review by Frank L
Mahon has adapted her debut book "Scourged" to create this 80 minute piece for one actor. Its subject is the relationship between a mother and her daughter with the emphasis on the period where the relationship has become that of a person suffering from dementia and that of her carer. Mahon was the primary carer for her mother and kept a chronicle of the day-to-day happenings as her mother declined both at home and in institutional care. That careful chronicling has given her a fine text which is rich in detail. Mahon skilfully brings the audience on a panoply of emotions as she relates the story.
The set is unusual but it works. It consists of a large wardrobe with two doors, standing on one side of the stage. From it, Mahon emerges. Within it is a treasure trove of memorabilia which relate directly or indirectly to her mother including a folding table, a doll, a miniature chair and bed, a bunch of flowers, a half drunk bottle of Jameson and much else besides. Mahon disappears into the wardrobe from time to time to bring out onto the stage various cherished items. Although the objects are disparate they create the visual clues which illuminate the story. Mahon uses them to telling effect as the mother gradually succumbs to the complexities of dementia. The immense love of Mahon for her mother imbues the entire story but she does not shy away from the moments of fear and frustration which inevitably confronts an individual whose role is that of primary carer. There are many moments where the only sensible reaction is that of a benign smile.
Mahon in creating this piece wishes to encourage a wider discussion about individuals suffering from dementia or other mental illnesses. The sensitivity, intelligence and humour of Mahon's storytelling delivers a sound foundation on which to build just such a wider conversation. With the rise in longevity of life, it is increasingly likely that more people will face issues associated with mental illness. This is a loving piece of theatre which will help us to understand the everyday challenges that arise on this particular journey. It makes for an absorbing evening.
BAT THE FATHER RABBIT THE SON
Review by Jackie Hayden Thursday 22nd November 2018
Donal O'Kelly's one-man play Bat the Father Rabbit the Son, despite having celebrated its 30th birthday, is wearing extremely well. O'Kelly's catalogue of voices and faces enable him to splendidly and comically evoke the Haughey era, the world of commerce and a particular style of direct Dublin wit that can simultaneously express fondness and as abuse.
Rabbit and Bat are two of the characters O'Kelly brought to life on the Wexford Arts Centre audience before a fully-appreciative audience as the show flitted from scenes of unsentimental business dealings to comical banter, some ill-advised sailing around Dublin Bay and occasional touches of Joycean-style playing with language.
Rabbit is a self-made man in the haulage trade with little sympathy for those who haven't climbed the greasy pole as majestically as he did, an achievement that gives him carte blanche to belittle those less fortunate, including his hireling Keogh. Meanwhile his father Bat is dead, but no less a presence in Rabbit's life for all that. The sparse but effective stage props included an aluminium table and chair designed by Robert Ballagh that was imaginatively magicked into a punt to propel Rabbit and Keogh around the Bay.
Not that Bat the Father Rabbit the Son was a cosy return trip down Memory Lane. Many, if not all, of the issues that beset us back in 1988 are still with us, provoking the thought that they may be part of what we are.
O'Kelly's energetic and versatile performance offered ample evidence as to why the show had earned him Best Writer and Best Actor nominations in the Irish Theatre Awards. While others have praised the ending, I thought it a little abrupt and the use of a song struck me as a contrived way to bring such an imaginative piece to a conclusion, but maybe all endings are contrived anyway?
​TALKIN' BOUT OUR GENERATIONS
Review by Jackie Hayden – Saturday 17th November 2018
​Jilted Generations is not a documentary in the style of, say, a David Attenborough, but is instead a multi-disciplined disco-based sprint over half a century of tribal youth sub-cultures. Naturally the main focus is the music, backed with partly informative and often impressionistic back-projected film, some live guitar and vocals, and two active painters. The main participants at the Wexford Arts Centre were DJ Jeff Furlong, DJ Ronan Buggy, Andrew Kingshott and Mirona Mara, and they attracted a sizeable crowd, some of whom were even tempted to throw a few creative shapes on the dancefloor.
Naturally it would be impossible to attempt anything overly comprehensive in the time available, but Mods, Northern Soul, Punks, Disco, Dub Ragga, Soul Weekenders, alternative 80s massive, Hip Hop and various ravers got their slice of attention. Much of the visual footage featured street demonstrations involving fans at worst behaving badly, and the police from several countries like uncontrolled savages.
The night began with authoritarian warnings about the evils of jazz, appropriate since 20th century Ireland saw strenuous efforts by the Catholic Church, Leitrim priest Father Peter Conferey, and the ultra-conservative Gaelic League to ban on "the devil's music". In fact, one of the impressions you might have come away with was how decidedly non-threatening much of the music now sounds with the passing of time.
But the mix of fractured sounds and fragmented visuals created a fast-moving collage and served as a timely reminder of times when music, revolution and rebellion were regular bedfellows, establishment figures were scared of anything they didn't understand and fans were willing to risk beatings and worse by taking their feelings to the streets.
Much music that didn't impinge on disco culture was mostly ignored and the visuals came with their obligatory quota of intrusive apostrophes. But this is a concept that can grow. The sound quality at the Wexford Arts Centre was seamlessly terrific and in many ways Jilted Generations showed what can be achieved with wit, imagination, skill and hard work. I hope they do it again and again.
The Scourge
Review by: Richard Connolly Saturday October 20th 2018
I didn't want The Scourge to ever end.
In a humbling tour de force performance over 90 minutes MDM captivates her audience, blurring the lines between Mother and Child, and life imitating art imitating life.
The soundtrack should be on a CD.
The author's bipolar disorder was excellently depicted from the off, making her solo performance all the gutsier.
"The Scourge" – a play on the scourge of an illness and an affectionate nickname her parents gave her as a young child was skilfully paced and beautifully lit by director Ben Barnes who has created an unforgettable actress in her stage debut, the show bringing an audience a steady and balanced mix of pathos and humour and hitting all the right notes during the protagonists seamless switches of mood and costume.
A simple set which consists of a wardrobe, not only allowed fluidity of pace and action, but also placed focus solely on the performer.
In many ways Michelle is similar to the heroine "Lucy" in C.S. Lewis's classic novel, The Lion, the Witch and the Wardrobe as she steps in and out of a latter-day version of a magical Narnia. And also, her tales of a young girl and her siblings' adventures. Every time MDM emerges from the wardrobe, she takes the audience on a journey through a realm of her life, captivating them through her memories and her loving relationship with her ailing mother, Siobhan. The play has a childlike feel to it, with Siobhan– depicted as a doll – slumped in a small chair or lying in a tiny bed.
This very successfully illustrates the childlike and helpless state that afflicted sufferers succumb to. Dooley Mahon despite being 54 is childlike herself in an oversized dress and there are times when it feels almost invasive to be privy to such intimacy.
It is indeed rare for a production to get a standing ovation on a preview night however MDM achieved this in Wexford Arts Centre in March of this year.
Every time that she has performed it since the Premiere and now re-run it at The Wexford Festival Fringe the audience has stood, many in tears.
On the night I attended for the second time the whistling and shouts during the ovations were unrestrained for this extremely brave performance.
This is not only a testament to the power of the material and her delivery, but also an innate ability to connect with an audience, her main strengths being a gifted raconteur and comedienne, as well as possessing a genius for a comic turn of a phrase – ie: a face that would turn a funeral up a side street.
Her lampooning of institutions through humour serves to soften her rapier-like observations of same. During the course of the show Michelle articulates an incident from school which conveys the fact educational establishments in the 70's were unaware of how to deal with students who could not be classified.
Another example of institutional "bloody mindedness" is when she outlines her "Cuckoo's Nest" rebellion against some of the more preposterous edicts of the HSE and a Hospital, fighting tooth and nail for the rights of a vulnerable woman and becoming immersed in the life of the patients in the blue and white ward.
"On the 181st day you were gone to a ward like Mumbai when I came in to feed you and found your blue bed, empty"
Thus, on a deeper level the audience can see how the person can be ignored by people who subscribe to institutional norms: the uniqueness of each individual and their story becoming eclipsed by a one size fits all mentality.
This play has contemporary and universal resonance in view of the current state of the health service which alienates the individual, and in this case the patient. Thus, MDM's writing is very clever and layered, subliminally and overtly planting seeds in the audience's mind without hitting them, metaphorically, over the head with her points of view. Hence, despite the humour this is a deeply serious play that delineates the detrimental impact of illness upon the sufferer and their loved ones. The play is also full of philosophical musings that posit the notion that there is no white bearded God looking down on us and that the true nature of spirituality is the very air we breathe.
In that sense, The Scourge is a profoundly compassionate play that is not only a truly personal account of one's life, but also a celebration of our shared humanity, the beauty of imperfection which makes us human, and the "fragile temporal nature of all life"
It is also because of this, I believe, that audiences have connected so well with this work, giving her the standing ovations, she richly deserves.
Bravo!
Richard Connolly October 31st 2018 ©
Richard Connolly has reviewed regularly for The Wexford Echo. He holds a MPhil in Theatre Performance from Trinity College Dublin and a BA in Drama & Theatre Arts.
PROVOCATIVE PLAY EXPLORES CONCERNS OF TEENAGE GIRLS​
Review by: Jackie Hayden 8th October 2018
Although I've never been a 12-year-old girl, the power of the acting, the strength of the script by Marnie McCleane-Fay and the tautness of the production of Rate Me at the Wexford Arts Centre were all so honest and convincing that I feel I now have more of a handle as to what that world might be like.
In many ways it resembles a war zone, with kids at a most vulnerable age revolting against being in the firing line of abuse from parents, boy-friends, patriarchy, adults, the media, nonebrity culture, and the fashion and diet industries, but just as much from each other. Noticeably, and quite bizarrely, teachers are exempt from comment, never mind a hint of blame, as the girls trounce their perceived abusers with screeds of anger, menacing chants and the realistic use of foul language.
The performances by the teenage cast of 20 were remarkably assured and convincing, but the play focused primarily on four girls maturing from 12 to 18 and beyond in the tangled world of post-Catholic modern Ireland. They confront a bewildering array of issues, including lesbianism, girl-on-girl body-shaming, bullying, porn, self-harm, abortion, sexual assault, real and imagined sexual experiences, and that ugly pressure to conform in both body and mind.
The production by Bare Cheek Theatre Company was so compelling that you dared not miss a word or a gesture, yet amid the anger and rage there was room for humour and many tender moments, as well as a sprinkling of thoughtful music and outbreaks of liberating, joyful dancing.
It struck me as a pity that the Wexford Arts Centre audience was almost totally female, as men need to see these issues played out from a young female perspective, even if they find some of the angles one-sidedly simplistic. Either way, Rate Me is such a provocative work it should be staged in all boys' secondary schools. Sadly, it won't.
MAKING A MEAL OUT OF COMEDY
Review: Jackie Hayden – 25th September 2018 – Photo: Patrick Hogan
It's not often you go to a show at Wexford Arts Centre and end up eating some of the contents of the night's entertainment, but that's exactly what happened at the recent George Egg-DIY Chef show at the venue. As part of a very funny show, Egg cooked breakfast, lunch and dinner and kindly allowed the audience to eat them afterwards.
The premise of the entertainment is that George has taken refuge in the family shed where he applies considerable ingenuity to some basic ingredients and a range of DIY gadgetry, from a blowtorch and a wallpaper stripper to a coal shovel, the inside of a wine box, a paper shredder, plastic buckets and a toilet brush . With them he miraculously conjures up a trio of edible dishes, and all because he visited his doctor over some chest pains resulting in his wife banning him from using their kitchen.
Each key utensil is introduced to the audience like a proper guest star and given their full make and model number, such as the Energer ENB484 Wallpaper Stripper which he uses to steam a kipper and an egg sealed in bags like the ones you "buy drugs in". The blowtorch is applied to a beautiful steak and the meal requires a shovel to be used as an ersatz frying pan. It's all done so convincingly that a warning not to try this at home might actually spoil a lot of domestic fun.
In between, Egg treats us to a selection of poems with questionable sell-by dates, an endless stream of jokes and some quips about heavy metal bands. The Wexford Arts Centre lapped it all up, in some cases literally.
All in all, this is a hilarious and hugely inventive show, delivered by a truly chatty and witty man. And he's not a band cook either.​
EVA CASSIDY REMEMBERED
Review: Jackie Hayden – 20th September 2018
American songbird Eva Cassidy had such a versatile, appealing voice that it earned her a remarkable posthumous international reputation, and the attendance at the Wexford Arts Centre for Eva Cassidy The Story, a show in her honour presented by singer and guitarist Elsa Jean McTaggart, suggested that that appeal is still intact.
Cassidy sang songs she simply loved to sing, from standards to folk, blues, soul, heavy metal and country, her main concern being that the song worked for her. McTaggart, from Perthshire in Scotland, accurately evoked the quality of her heroine simply by using her own voice and deft guitar-playing in front of a backdrop of photos. Ably assisted by Mister Lister (her husband) on keyboards, instead of merely imitating Cassidy she, thankfully, allowed her to inspire her own singing, much to the credit of both.
In fact, the show hadn't gone too far when you became enthralled by McTaggart's own rejuvenation of such staples from the Cassidy repertoire as 'Autumn Leaves', 'Danny Boy' and 'True Colours'. 'Over the Rainbow' is the song Cassidy is probably most connected to, and McTaggart delivered a touching version of that standard. Switching easily from electric to acoustic guitar she did masterly work with virtually all of the songs, especially Sting's 'Fields of Gold', an emotional 'What a Wonderful World' (the last song Cassidy ever sang) and a funked-up 'Wade in The Water'. All went down a treat with the captivated Wexford Arts Centre audience.
McTaggart's narration retold Cassidy's life as a backdrop to her music, including her lack of confidence, being bullied and her dithering over which route to take with her music. But arguably the most poignant moment came when she sang harmony to a video of Cassidy singing a live version of Buffy Sainte-Marie's 'Tall Trees in Georgia.' I suspect spines are still tingling.
Cassidy died at only 33 from cancer, but her musical legacy looks certain to last for some time to come. If so, Elsa Jean McTaggart will have played a considerable part in that.
PADDY CASEY LIVE REVIEW
Review: Jackie Hayden – 28th July 2018 Photo: Patrick Hogan
The singer-songwriter genre comes with a reputation for deep reflection and introspection over serious issues, but Paddy Casey is one of its few practitioners who consistently breaks that mould. And so, it was with his recent gig at the Wexford Arts Centre in which he established a witty banter with the audience who went along with him all the way, making for much merriment all round.
Not that Casey's work is not to be taken seriously. Backed only by the versatile Fiona Melady (keyboards and backing vocals) who could have been given more room to shine, he and his guitar took the eager audience through a sizeable chunk of his catchy chorus-laden back catalogue. "Promised Land" animated the happy clappers early on, and he sparked many sing-a-longs, especially "Want It, Can't Have It" which had the full house on their feet and "Whatever Gets You True". Casey has the happy knack of endowing his songs with short and snappy choruses that embed them in your head forever, and he delivered 'The Lucky One', 'Fear', 'It's Over Now', 'Livin', 'Hold On' and the rest with his characteristic wit and aplomb.
With 'There will be Love' and the Paul Simon-tinged 'Sweet Suburban Sky' Casey showed he can do the finger-picking thing too, but his real skill came to the fore with 'Times are Tough'. It's from his forthcoming album and, while dealing with the realities of the modern world also had the fans singing along for what sounded like a potential radio winner.
PWC Spotlight artist Alice Lynskey opened proceedings with a quartet of songs, including her new single 'Lovesick Rollercoaster', a tantalising, slow love song with a twist. Her Red-Handed Woman' is a graphic self-penned murder ballad about love gone tragically wrong. Alice had actually kicked off with her recent single 'The Devil In Me'. Given that it received generous airplay from RTE Radio 1 and a thumbs up review from Hot Press, maybe Alice could stop apologising and just enjoy her not inconsiderable talent as much as her Wexford Art Centre audiences do?
BARNES AND PARLE IN FINE FORM AT WEXFORD ARTS CENTRE
Review: Jackie Hayden – 14th July 2018 Photo Credit: Patrick Hogan
Internationally-acclaimed guitarist Clive Barnes and award-winning singer/songwriter Luan Parle have enjoyed considerable success as solo acts, both on record and in live performance, but their emergence as a duo has introduced us to an act that takes their solo career adventures in new directions while remaining steadfast to their individual roots .
The initial sections of both halves of their recent Wexford Arts Centre showed Parle offering convincing evidence that her absorption into the pop and rock mainstream has obscured her talent as a creative country music performer of considerable power and expression. Indeed, her vocal style runs the gamut from Dolly Parton to Emmylou Harris, with some self-effacing and humorous chat in between.
'Roll The Dice' was one of the highlights, a smooth uptempo country-rock offering par excellence, with Barnes' coaxing delicious complementary phrases from his electric guitar while Parle showed how to give a song a decent night out. They repeated that formula for such winners as the sturdy 'Day Is Done', 'Losing My Mind', from her recent EP, and 'Why Baby Why' with its subtle nods towards Buddy Holly. Her 'You Don't Get It' is an acerbic take on her unhappy encounters with the music industry, proving there's more on her lyrical palette than issues of love either lost and won, and they duetted lustily on Bruce Springsteen's 'I'm On Fire'.
Barnes took a solo run that showcased his riveting bottleneck guitar playing, especially when he shifted up several gears on 'Kitty Twist'. He dedicated 'Lawn Dogs' to fellow local musician Gordon Barry, and along the way regaled us with some of his trademark tall tales, even admitting that he had once broken part of the Wexford Arts Centre stage while in a heavy metal band. His fluid guitar playing on both slide and conventional guitar made a serious case for him as this country's leading guitar man, but he also exercised his trademark smoky vocals on 'Highway 61 Blues' from the canon of the blues legend Mississippi Fred McDowell. For the Wexford Arts Centre patrons who had sacrificed the beach, this was a rewarding musical night.
CURSED MURPHY AT WEXFORD ARTS CENTRE
Review: Jackie Hayden – 13th July 2018 Photo Credit: Patrick Hogan
If you needed a break from predictable guitar band fare, singer-songwriter angst or pop nonebrities, the place to be last Friday night was the Wexford Arts Centre for the latest outburst from Cursed Murphy, with his accomplices Dan Comerford on electric guitar and Bloco Gorman, a four-person drum crew.
Murphy – alias music writer novelist Peter Murphy – set the mood with an intense performance of Louis MacNeice's poem 'Prayer Before Birth' that leapt off the page and thoroughly rattled and hummed through the venue. From his novel Shall We Gather at the River the Cursed One gave us a forlorn extract called 'Lost Alice', abetted by Comerford's chiming guitar while the drums added a mix of menace and awe.
Later, a spoken piece took us into a rap and drum-driven 'Foxhole Prayer' that may be destined to become the central focus of Murphy's stage outings. It took us somewhere beyond despair, teased out with Comerford's jagged guitar and a nod to Beckett. And it didn't get any lighter either. 'We Are Dead Stars' enveloped us in a post sci-fi world that offered little relief, but then if we'd wanted sunshine and hope we'd have gone to the beach.
Murphy has become a magnetic performer who enables us to marvel at the generally unacknowledged celebratory power of the written word when performed rather than merely read. There are even rumours of an album in the making. Now there's something to be hopeful about.
He was followed by the Cork-based American Lady Grew, a multi-tasking act who takes in rap, comedy and song. Much of her material is inspired by her life in the sex industry, and she's an eloquent champion of sex workers' rights in Ireland. She started off with a biology class about the differences between male and female bodies, and then sang a song about a BDSM session that went wrong. Her artistry reflects a freshly irreverent strand of Feminism that may not earn many gold stars from the bully-girls currently demeaning that admirable movement. That aside, she could also do well with those who binge on re-runs of Benny Hill.
JOSH JOHNSTON IN HIS OWN RIGHT
Review By: Jackie Hayden – 30th June 2018 Photo Credit: Patrick Hogan
​Well known to Wexford and national music fans via his sterling work with the Caca Milis Cabaret and artists of the stature of Stewart Agnew and Pierce Turner in a career stretching over two decades, last week it was Josh Johnston's turn to enjoy a spell in the spotlight at the Wexford Arts Centre.
The heatwave and the World Cup conspired to affect audience numbers, but he still gave us an intriguing set that included several items from his new album The Art of Saving Lives. The Dublin pianist and singer-songwriter was joined for most of the set by guitarist Eoin O'Brien, and occasionally by singer Carol Keogh, both of whom make valuable contributions to the album.
But Johnston launched proceedings with a solo dreamy Elton John-ish piano piece leading into a thoughtful re-working of Bob Dylan's 'It Ain't Me Babe'. That wasn't the only cover on the night, as they gave us an impressively languid interpretation of Loudon Wainwright's 'Strange Weirdos' and Chris Wood's atheist spiritual 'Come Down Jehovah'. But the rest of the set focused on songs by Johnston, either solo or in collaboration with O'Brien, Doug Kinch and SJ McArdle. The combination of punchy guitar and fluid piano worked a treat for 'Moon Landing', and Keogh added exquisite vocals to 'Missed Her on the Road', 'Completely' and 'Rain', the latter inspired after Johnston got caught in a downpour in Paris. She also took the lead for 'Silent Harbour', from Johnston's album about Dun Laoghaire. Meanwhile, O'Brien added understated touches on both electric and acoustic guitars throughout the evening, most notably on 'Midsummer with Anja'. All three combined for some tasty harmonies on the semi-confessional 'Scattered', and O'Brien got a chance to exercise his solo tonsils with his own song 'The Legend of Slim Slick Sly' delivered with a convincing American accent.
All told it was a pleasant set that made its mark on the Wexford Arts Centre audience who seemed much taken with Johnston's admirably downhome, non-showbiz style.
The Diary Of Maynard Perdu​
​Review By: Liam Murphy – June 2018
​
The premiere of a Billy Roche play The Diary Of Maynard Perdu at Wexford Arts Centre was a high energy occasion. The auditorium was reconfigured into seating on three sides like in the old Garter Lane original set up. This diary was a fantasy work full of theatrical tricks, misdirections, fakery and fun. Peter McCamley brought a manic energy to the role as the narrative ranged from a circus tent in Amsterdam to the port of Wexford and other places where tall tales have truth, and lies and trickery are the entertainment.
Billy Roche also directed this fifty-minute production that has a great use of lyrical, declamatory and farcical asides as well as music and singing (essentials in a Roche play). At one stage, the setting was a ship in a storm and McCamley was high up on a mast like Robin Williams in Popeye and his performance was crazy out. He went up the mast somewhere between Amsterdam or Marrakesh and when he came down he was in Wexford.
The changes came with mindblowing rapidity and a trunk full of hats was like a cornucopia of entertainment.
Maynard Perdu was a force of nature, a 'Jack the Lad' or in this case 'Jim the Boyo'.. Mark Redmond's inventive set was a revelation of drawers, compartments, little mirrors, nooks of wonder and crannies of deceit and legerdemain. McCamley's dexterity, physically and verbally, was of a high order and I laughed a lot.
This was a show about a showman and McCamley excelled and entertained. I hope this play gets to tour to festivals and it could be a wow in a tent or in the open air.
A DRAMATIC TRIUMPH FOR BILLY AND PETE
Review: Jackie Hayden – June 2018
Oscar Wilde said, "Man is least himself when he talks in his own person. … Give a man a mask and he'll tell you the truth." Well, sometimes, but his words occurred to me during the staging of The Diary of Maynard Perdu at the Wexford Arts Centre as a one-man show based on Billy Roche's novella of the same name.
To describe it as a mere one-man show understates the versatility and flexibility of actor Peter McCamley, coincidentally the equally multi-tasking drummer in Billy's band. His ability not only to remember 90-minutes of fast-paced dialogue but also all the gestures, singing, changes of accents, endless bits of stage business, conflicting moods and whatnot was a feat to behold.
McCamley played at least two versions of the eponymous main character, and left you wondering which was the real one, or even if there was a real one. Was it the charming chancer who fancied himself as a genius in various endeavours, not least in his ability to attract a beautiful woman, after having matured into a cultured, articulate performer from low beginnings? Or had he always been that downbeat, under-confident peasant who merely hammed his way through his adopted bohemian vagabond lifestyle in order to gain whatever he desired, be it status, work, or the oft-mentioned beautiful woman?
Roche's script played with the audience as much as with the characters, locating the play in the Spiegeltent familiar to us from its annual appearance on Wexford Quay. But this time the mirrors were ​
SOME GUITAR PLAYING AT WEXFORD ARTS CENTRE
Review: Jackie Hayden – 31st May 2018
​A Remi Harris live gig is akin to a visit to a well-stocked guitar shop. No mere jazzman, Harris comes with a shopful of styles and genres that stretch way beyond that simple description.
Aided and encouraged by double-bassist Mark Green and second guitarist Steve Astin, Harris took the Wexford Arts Centre audience on an exhilarating journey through a set-list that stretched from straighahead jazz interpretations of well-known tunes to flashes of gypsy swing, all on acoustic guitar, while also diversifying for some remarkable electric blues. That they'd finally pitched up in Wexford after a gruelling tour schedule that had started out in the Yardbird Arts Club in the Worcestershire countryside at the end of February, was evident in a sense of mutual confidence that enabled them to take the audience with them all the way.
It seemed that no matter what style Harris turned his fingers to he could still make magic, including when he lovingly introduced his ukulele for 'All Of Me'. The trio's brisk take on Lennon-McCartney's 'Can't Buy Me Love' and a slinky version of 'Here, There and Everywhere' underscored the Fab Two's melodic gifts, and The Meters' percussive swamp-funk tune 'Cissy Strut' was given a tasteful make-over too.
Harris drew subtleties from his electric guitar that we rarely get to hear, not least on a version of the Peter Green-era Fleetwood Mac's 'Need Your Love So Bad' that was so brimful of solid blues-rock that you didn't notice the lack of a drummer. He took to his 12-string guitar for a casual, but no less mesmerising, run-through of the Nat King Cole hit 'Nature Boy'.
Harris comes across as a modest, generous man, and for 'Pennies From Heaven' he created space for Mark Green to own the spotlight for a while and managed to slip in a snippet from 'Duelling Banjos' too. Whereas some jazz soloists reduce the music to a mere exercise in speed-playing, Harris uses his nimble fingers to serve the music. No wonder the Wexford Arts Centre audience stayed on message through this gig so as not to miss the fluid flourishes that also evoked Django Reinhardt, Jimi Hendrix and even Charlie Parker. He's some player and it was some gig.
IMPRESSIVE TURN-OUT FOR BILLY'S ALBUM LAUNCH
Review: Jackie Hayden – 18th May 2018
An impressive cross-section of Wexford's finest turned out at Wexford Arts Centre last weekend for the launch of Billy Roche's new CD album Dead Man's Shoes.
In a generous move, Billy gave a complimentary copy of the CD "to everyone in the audience", and then delivered superb live versions of most of the tracks in cahoots with Mike Odlum and Pete McCamley. Inventively fleshing out the sound behind Billy's impressive guitar and voice, the boys turned their hands to a shopful of instruments, including bass, keyboards, various items of percussion and flute, as well as adding impressive vocal harmonies.
Odlum used a tamboura to add a touch of Indian magic when Billy felt the urge to head east on the infectious 'I'm Gonna Take You Home'. There's more than a hint of the Orient about 'Three Wheels' and his open string playing on 'Yearning'. Meanwhile, the eerily catchy murder ballad 'Three Lovely Ladies' has all the sinister menace of an old style melodrama, and Billy's famous red guitar came into its own on 'Lost'.
In spite of his reputation as a wordsmith across novels, plays and tv dramas, Roche's songs are no mere vehicles for his lyrics, but come brimful of infectiously catchy melodies, as with the delicious Beatlesque 'Lisa Lullaby'. He can also bring an intimacy to universal themes such as the impassioned pleading of the dramatic 'Don't Go Down'.
The Dead Man's Shoes CD has these tracks and more, a cohesive work lightly buffed to a studio sheen that never masks the core of the songs. And the night wasn't all about the album, as the trio's generous set had the audience singing lustily along to 'That's All Right When You're Young'. Billy threw in some nice slide guitar touches as they turned up the heat for 'Sweet Little Lady', and the bluesy 'Napoleon' was suitably driven by McCamley's martial drumming.
​
Billy's songs don't hang about either. They say what they have to say and then vacate the stage, leaving the Wexford Arts Centre audience with a pocketful of good vibes and memories of a thoroughly magical experience.
JMA BRING YOUNG AND DYLAN TO ENNISCORTHY
REVIEW: JACKIE HAYDEN – 11th May 2018
The high ceiling in the concert room of the Presentation Centre in Enniscorthy can make it a hard venue for some acts to fill, but there were no such problems for JMA for their tribute night to Neil Young and Bob Dylan last week. With the tight harmonies of Anne and James Meyler, the incendiary guitar playing of Mick Egan (who added tasty harmonica and gutsy vocals too) as well as the thundering tight back two of drumsman Keith Devereux and fluid bassist Mick O'Brien they filled the hall, and then some.
After previous gigs by this impressive outfit I expressed the view that I thought they did Young better than Dylan, perhaps because Egan's no-holds-barred approach to the guitar seems to suit the former's songs better. But this was a more seamless set, with such a sense of cohesion to the sound throughout the performance that you could barely see the join between one classic songwriter and the other. It was almost as if they had decided to do Dylan as Neil Young would. I could ask them but they might not tell me, but whatever it was it worked from start to glorious finish.
​
In truth it would be hard to nominate stand-out songs, but from the Neil Young canon 'Cinnamon Girl', 'Cortez the Killer' and 'Like A Hurricane' were especially dynamic, and the great slabs of guitar washes that Egan tore from his guitar during 'Powderfinger' drew enthusiastic bursts of applause from an appreciative audience. From Dylan's back pages they plucked 'One More Cup of Coffee' and 'Oh Sister', but the outfit proved they were willing to go even further beyond the obvious with a superb shot at 'Senor (Tales of Yankee Power'). Egan and Anne Meyler harmonised splendidly on an emotional 'Just Like A Woman', while James Meyler took masterful control of 'Forever Young'.
So with the Presentation Centre's stained-glass window as a backdrop, JAM delivered a two-hour set of music that was made from pure crystal.
SNOWPOETRY AT WEXFORD ARTS CENTRE
Ironically, Snowpoet's concert originally scheduled for the Wexford Arts Centre earlier this year was kiboshed by the snow, thus becoming more a case of Nopoet, but the sextet fronted by Lauren Kinsella insisted on returning and we're now so glad they did.
There's something tastefully subdued and politely restrained in Snowpoet's approach to their brand of indie-jazz fusion, as if they can say all they want to musically without resorting to grandstanding. Kinsella's vocal is often mixed into the ensemble sound like another instrument rather than the band merely functioning as her backing outfit. And they made a formidable team, Kinsella plus multi-instrumentalist Chris Hyson, Josh Arcoleo (saxophone and bass), Nick Costley-White (guitar), Matt Robinson (piano) and Dave Hamblett (drums).
The absence of song titles in Kinsella's stage announcements had the strange effect of luring the listener into each piece without pre-conceptions, and the similar mood in most of the works almost created a sense of them comprising one complete piece, each individual work a stop along the route through a succession of beguilingly delicate soundscapes.
Fittingly, 'Snow' was one of the stand-out tracks on their second album Thought You Knew, and live it grew to its full stature. It's short and compact, yet brimming with nutritional goodness. 'Pixel' was another real gem, deliciously gentle guitars opening a widescreen backdrop and Kinsella's voice at its most convincingly expressive. 'Waves', with which they opened, comes from their self-titled debut album, and it allowed Kinsella's voice to weave in and around guitar figures that drew one towards a whirling centre that touched the enthralled Wexford Arts Centre audience. The folksy 'Little Moon Man' is taken at a friskier pace and makes the most of their twin keyboards.
Kinsella's vocals are appealingly edgy and expressively rich, and often evoke Liz Fraser's contributions to The Cocteau Twins or Bjork at her less mental. Where similar ensembles can rarely resist the temptation to overdo it, there's a collective discipline to Snowpoet that kept the playing on message at all times. That policy suggested a desire to use music as a means of communication rather than as an opportunity to show off. I suspect that's what the Wexford audience liked most about it.
A NIGHT OF TUNEFULNESS AT WEXFORD ARTS CENTRE
There was more than a dash of magic to Liam Merriman's gig at the Wexford Arts Centre with his impressive bag of tuneful tracks, mostly from his recently- released sixth album Acoustic Rivers. All were delivered with his assured melodic vocal style and backed by the tasty interplay of his guitar with that of Bill Stuart. Stuart is a serious new find, his dexterous fingerplay often drawing magical fills from his fretboard, while also adding his vocal harmonies in support of Merriman for a match made in musical heaven.
The impeccable opener 'It Could Be So Good' laid down a standard for a set that included 'Mizzy Mizzy', a jaunty song about busking, while there's a clever cyclical logic to 'Girl on A Train'. 'Miss You' has the ghost of Tir na nOg about it, and 'The Bicycle Song', complete with an outburst of whistling from Merriman, has a cheery outdoor feel. Inspired by his boyhood holidays in Kilmore Quay, the instrumental 'Summer and The Boy' neatly marries two trad tunes, and their instrumental take on Jimmy MacCarthy's 'Bright Blue Rose' lets new light into a familiar work.
The duo then gave the stage to Jody McStravick who was visiting Ireland from his domicile in France, and he brought with him a mix of original songs and covers and one in French (which he might actually have given us more of). His covers included fine interpretations of 'Wonderful Baby' by Don McLean, Shay Healy's 'Just Another Year' and the Louis Armstrong hit 'Wonderful World'. McStravick has a warm voice which he also applied to some of his own songs, many of which are inspired by real life. 'Talking' is about just that, and his 'Paris Blue' is a classy evocation of that city and a perfect fit for his forceful but flexible voice. 'True Love' was inspired by an old movie, and he added tasty guitar fills to 'London' too.
​
As an encore, all three joined forces for a relaxed sing-song that the Wexford Arts Centre audience lapped up, ranging from David Bowie's 'Space Oddity' to 'Paul Simon's 'Song for America'. It was a suitable way to end a night that had tunefulness all over it.
​​QUINTESSENCE AT WEXFORD ARTS CENTRE
Review; Jackie Hayden
After spending most of the last year with various ensembles paying tribute to giants of jazz such as Miles Davis, John Coltrane, Wayne Shorter and the famous Blue Note catalogue, drummer Kevin Lawlor was this time back at Wexford Arts Centre with his quintet and a bunch of mostly original tunes for a concert that in jazz terms was as good as it gets. That Wexford Arts Centre was full to standing room only is further proof of the growing number of disciples Lawlor is attracting.
Matters kicked off in promising style with the County Wexford School of Music Jazz Ensemble delivering a laudable take on 'Bohemia after Dark' by Oscar Pettiford by way of Cannonball Adderley that only hinted at the delights to come.
​
Lawlor's instinct for picking apt sidemen has truly paid off, and with Colm Lindsay (guitar), Pat Molitor (keyboards), Adam Nolan (sax), and Jack Rufus Kelly (bass) he demonstrated his own ability to coax and cajole the best out of them without ever becoming overly intrusive or dominant. Most of their set were Lawlor originals, with 'AK97' boasting a truly infectious bas riff in search of a Pink Panther-style soundtrack. It was arguably the outstanding piece on the night, not least for Lindsey's biting guitar, Molitor finally getting a chance to stretch and the band clearly enjoying it as much as the audience were.
Another original, 'Exodus' from Lawlor's first album, set a smouldering mood which the drummer stoked along with remarkable subtlety, while there was a languid, bluesy feel to 'Bag of Cans' that took us close to modern rock territory. 'Last Days of Summer' drifted and floated with touches of 'Favourite Things'-era Coltrane, Nolan's sax brought a Charles Lloyd mood to 'Toucan Lullabye', and there was an appropriately ominously relentless martial undercurrent to 'Rise of the Right Wing'.
Covers included a frisky take on the Ariana Grande hit 'One Last Time', with the ensemble blowing hot and cool as the mood took them. Lawlor's next outing is to Tinahely Courthouse on May 4th with his quartet when they'll reprise their rather excellent tribute to John Coltrane.
​TELLING TALL TALES AT WEXFORD ARTS CENTRE
Review: Jackie Hayden
Perhaps without always appreciating it, we're surrounded by stories. Not only are television dramas, plays, films, interviews and even news broadcasts and documentaries ultimately based on stories of one kind or another, but most of our daily conversations are too. But there's a knack to the art of storytelling, particularly of the fictional kind, that often reaches uncharted heights when we're taken into the company of a live Irish Seanchai such as Feélim Ó Flaithulach (superbly played by Gary Lombard) as he delivers Eamonn Colfer's new show at Wexford Arts Centre.
Immersed in Colfer's vivid material, Lombard has the ability to make you feel he's taking you, and only you, into his confidence as he unfolds enthralling, eccentric, and occasionally ribald, tall stories. Indeed, Lombard's approach recalls the all-time great Seanchai Eamon Kelly, with a twinkle in both eyes and a charmingly unhealthy liking for devilment. He talks about Jaco, a versatile shepherd who trebles as a ballet dancer and a relentless pursuer of women, as if he knew him intimately. He follows that with a story about a Peeping Tom indulging in a spot of masturbation, literally behind the scenes, as the would-be lothario observes the delectable Rita, the disrobing actress. Could that be a first in the Seanchai tradition?
His final story, 'The Completionist', is a little longer than the first two and has a quaint quirkiness a la Flann O'Brien, as we follow the adventures of a man who takes on the job of putting the finishing touches to such supposedly incomplete objects as the Eiffel Tower and the Mona Lisa. As for how he ends up, I'm not telling.
What's arguably most illuminating about the show is that a truly captivating story needs neither fancy technology nor stage trickery to carry you off to wherever an imaginative writer like Colfer wants to take you. The equally gifted Lombard was ably supported by harmonica wizard John Murphy who played majestically between stories.
Only one complaint. It was too short.
MOTHER COURAGE AT WEXFORD ARTS CENTRE
Review: Jackie Hayden
See Video of The Scourge
For me, the overwhelming factor in Michelle Dooley Mahon's one-woman show The
Scourge at Wexford Arts Centre is her courage. Based on her factual book Scourged, the stage version sees Dooley Mahon face fearlessly and head-on into her feelings as she struggles with her mother Siobhan's descent into Alzheimer's and death, but she also has the courage to expose her own battles across several fault-lines.
Elizabeth Whyte's production and Ben Barnes' direction make maximum use of a
minimalist set, using an on-stage wardrobe for costume changes and a few small items in including a symbolic doll. They also break up the narrative with snatches of evocative recordings by Bob Dylan, Van Morrison, The Pogues, The Stunning, The Beatles,Peter Gabriel, Pink Floyd among others.
Dooley-Mahon's sometimes scattershot delivery demands you stay focused, and her
descriptive language of hospitals and care homes veers from chilling accuracy to
hilarity. And while you can only sympathise with her experiences, you marvel at her
resilience and her relentless efforts to see that neither herself nor Siobhan succumb
through indifference. In fact, Dooley Mahon doesn't do indifference about anything,
and some of her wistful asides about growing up in Wexford are a characteristic blend of wit and wicked powers of observation, and all delivered in a language that is at times quite poetic. And in there too is a stimulating mix of a heart-aching sadness, anger, and despair, all tempered again by her indomitable humour.
It's sadly arguable that few families could not relate to the issues of health and the
elderly, so despite the Wexford setting, there is a universality to Dooley Mahon's
narrative that suggests that this is not just a magnificent local work but one that will
resonate nationally and internationally too. At times you feel she could be a truculent
customer, but a likeable one for all that. And it's no harm to be reminded that some
situations demand a serious level of truculence.
Dooley-Mahon is the kind of compassionate and feisty woman you'd want on your
side when the chips are down, as they often were for both her and Siobhan, together and alone. But as for The Scourge, the only way is up.
The Scourge
Review by Tom Mooney – The Rest is Jazz
therestisjazz.com
Have words, will travel.
Before the premiere of Under Milk Wood in New York, Dylan Thomas chided his fraught cast. 'Love the words.' Michelle Dooley Mahon loves words. Her eponymous book, from which The Scourge is adapted, is a paean to language. Given free rein, her verbosity has the cyclic rate of fire of a Kalashnikov. The Scourge that we know is an unbridled pyrotechnic flow of metaphor and onomatopoeia, bookended by covers. But she had to up her game remoulding The Scourge for the stage, because this is not a play. This is real life. The quotidian morsels of everyday living laid bare.
The curtains pulled back.
Hesitancy occurs in the writer's performance at Wexford Arts Centre, but that's natural. She can't help but smile at her own humour, and then remembers she's on stage. Playing a part. Or is she? Ben Barnes' biggest challenge as director must have been curbing that infectious enthusiasm, like lunging a horse before hacking out.
The wardrobe is Narnia's portal, from which the paraphernalia associated with the theme of The Scourge, a long day's journey into death, emerge. They are Dooley Mahon's Songlines, a personal braille to maintain the confluence of her story, and time. And yet I could picture her sitting on a stool, like Dave Allen, alone under a light, glass of whiskey in hand, but without the props and the Desert Island discs, and being demonstrably as effective.
Because Dooley Mahon, in a hugely courageous performance, reminds us that art and life co-exist and emerge from a single source to assemble coherence. To stand guard against chaos, said Kenneth Tynan. This is flesh and blood writing, sentient and animate, rooted in grief. And as Dooley Mahon knows only two well, grief has two acts: loss, followed by the remaking of a life.
'What good amid these?' asked Whitman. Dooley Mahon provides an answer, ensuring that the powerful play goes on.
The Scourge
Review by Liam Murphy Munster Express
This afternoon in Wexford Arts Centre I was moved and almost overcome by the humanity, hilarity and heart rending of The Scourge. Written and performed by Michelle Dooley Mahon this eighty minute performance without interval raised me up and plunged me down on an emotional rollercoaster. A wonderful set of a large wardrobe that contained performer, props and costumes with a sound design by Jamie Beamish worked so well as Michelle (named after a Beatles song not a saint) told a poignant tale of her mother's twilight seven years of Alzheimer's.
People cried in the theatre.
I came out in a daze after that surge of emotion and a standing ovation.
Ben Barnes directed with control and artistry. I hope this play tours and makes it to WATERFORD.
Running until 7 April.
Risk pays off with 'The Scourge'Raw, witty and poetic, Michelle Dooley Mahon's 'The Scourge' had a huge impact, says Anna Hayes
​A large crowd gathered for opening night of Michelle Dooley Mahon's one-woman play 'The Scourge', which was performed at Wexford Arts Centre for ten days.
The show was commissioned by Wexford Arts Centre with support from Artlinks. 'The Scourge', which is directed by Ben Barnes and stars the playwright, focuses on the relationship between mother, Siobhan, and daughter, Michelle, and the effects that Alzheimer's disease has on both of them.
Based on a memoir, the play is deeply personal, made all the more impactful by the fact that Michelle takes on the role herself, recreating her memories with a rawness that could only be portrayed by someone who has already lived through them.
There aren't too many people who don't know Michelle – if you didn't, she, with her whirlwind personality, would make sure you did by the end of the evening! With that in mind, it's intriguing to watch how stripped back her performance is. While the colour and artistry of her language remains, it is tempered with the calmness of someone who has made sense of the world around her.
As the play progresses, we are guided through Michelle's journey, as influenced by what is happening to Siobhan – as her mother's mind slips away, Michelle's goes into overdrive, not so much quelling as overpowering her fears through various coping mechanisms. There is a certain profoundness to her emergence at the other side and her reflection that the dead do not disappear, but become part of those around them, is a poignant observation.
The wit and poetry of Michelle's language is there in spades – her descriptions of events, places and people are vivid and unique to the point of hilarity – she has a gift for turning five words into 40, but makes you appreciate the fact that she did.
Speaking at the reception afterwards, producer of the play, and Executive Director of Wexford Arts Centre, Elizabeth Whyte said the play had come to life because people had been willing to take creative risks – Michelle had the courage to bear her soul in the initial biography 'Scourged', Elizabeth had read the book and decided it needed to be adapted for stage, Ben Barnes had come on board as director, Artlinks had granted funding for it, and the Board of the Arts Centre had backed it for production.
She remarked that the personal nature of the piece, for Michelle, and for audiences that had experienced similar moments in their lives, meant that it became a requiem for many.
Michelle expressed her own thanks to those gathered, joking that everyone had already heard enough from her that night!
​
She thanked those who had supported her along her journey and paid tribute to her family and father Tom, who was watching from the audience that night.
Gorey Guardian/Independent.ie
THUNDER OVER THE ARTS CENTRE
Review: Jackie Hayden
It's a relatively rare occurrence for any venue in Ireland to capture a new jazz band so early in its formative years, so full marks to Wexford Arts Centre for snaring Thunderblender from their base in Belgium as part of their first Irish tour. The trio is lead by Dubliner Sam Comerford on tenor sax and its underused bass cousin, and he was here last year with the impressive multi-national Swiss-based quintet Aerie. This time out he was joined by the Belgians Hendrik Lasure on piano, and Jens Bouttery on drums, and they took a captivated audience through a bewildering array of sounds and noises arising from the space provided by Comerford's adventurous compositions.
Throughout the set the trio moved between extremes of exquisite melodiousness and dense distortion. Indeed, Comerford wrought sounds from his bass sax that had probably never been heard in the Wexford Arts Centre, and such playfulness brought many delights as tunes rambled around and bumped into each other and yet never quite got lost their way home.
The piece 'Kwakzalver' was a good example, with Comerford flushing sounds from the nether regions of his bass sax amid Bouttery's battery of thunderous drumrolls. Lasure's piano spat chords along the way and all three ventured off on their explorations until joining forces in a strident, but tight ending.
​
Bouttery made his skittish brushes pay for their keep in 'Toetje', creating an undertow that allowed Lasure to roam free as the fancy took him and Comerford joining both for some precision unison riffing. That piece, and many of Thunderblender's other delights, came from free-form outings of other tracks on Last Minute Panic, their debut album from last year. It was equally clear that while some parts of their repertoire are rehearsed with precision, the beauty and the exhilaration they bring to the stage comes from the freedom to improvise with no apparent boundaries. And no matter how far out it got, a beguiling melody was never too far away, and the Wexford Arts Centre audience went the full distance with them anyway.
LAWLOR TRIO TEASER GIG AT SKY AND THE GROUND
Review: Jackie Hayden
Last week's gig by the Kevin Lawlor Trio at the Sky and The Ground, (supported by Wexford Arts Centre) served as a tasty and timely teaser for the drummer's upcoming Quintet outing at the Wexford Arts Centre on Saturday, April 14, when the fluid trio will be joined by Adam Nolan on sax and Pat Molitor on keyboards.
The Sky and The Ground Upstairs setting makes for an intimate and relaxed environment at any time, and Lawlor's trio made full use of it, turning in a more obviously funky set than they usually deliver, with an appreciate audience soaking up every note and nuance offered by Lawlor with Alex O'Keeffe on guitar and Jack Rufus Kelly on bass.
Both halves of the gig opened with John Scofield tunes, 'Over Big Top' and 'Bag'. With the former, the trio slipped into an easy groove straight from the off, with O'Keeffe limbering up with some pungent soloing. When they followed it by stretching out via an inventive take on Lennon-McCartney's 'Yesterday' that revealed new depths in a very familiar melody, the audience knew they were in safe hands. Kenny Burrell's 'Midnight Blue' was taken at a frisky pace, enlivened by Lawlor's energised drumming, before bringing a heavier beat and Kelly's snarling bass to Joshua Redman's 'Greasy G'. Kelly's speed-walking bass was to the fore on Wes Montgomery's 'Fried Pies', before the first set closed with a helping of funky interplay from all three on Lawlor's own composition 'AK97'.
And so it continued with a second half that was equally captivating, during which, among other highlights, the trio uncovered new and unexpected subtleties in a brisk run-through of the Ariana Grande hit 'One Last Time', not obvious jazz fare by any means. The sound throughout the gig was impeccably clear, and there was much anticipatory murmuring in the bar afterwards following the news that Lawlor has another album set for release very soon.
THE LOST BROTHERS FOUND AT WAC
Review: Jackie Hayden
Hot on the heels of an enthusiastic 8/10 review in Hot Press for their fifth album Halfway Towards a Healing, The Lost Brothers brought their tantalising blend of Country, Blues, Bluegrass, and Folk to Wexford Arts Centre for a memorable full-house concert.
Oisin Leech and Mark McCausland are neither brothers nor lost, having found their niche as buskers in Liverpool, an apprenticeship that helped teach the Irish pair how to write and deliver songs that get to the point and never overstay their welcome. Their close harmonies owe a major debt to Simon and Garfunkel, as do much of their melodic phrasing. That they were joined for the night by Steve Wickham on fiddle, banjo and concertina was an extra treat. As an accompanist Wickham knows when not to play, thus making his contributions ever more telling, especially on songs like the delicate 'Echoes in The Wind', 'Iron Road' and 'More Than I Can Comprehend'.
The duo have an appealingly sombre work in 'Soldier's Song' about poet Francis Ledwidge, while Leech's harmonica brought a fresh flavour to 'Cry For A Sparrow'. And just as I was thinking that this was all like Dylan going electric never happened, McCausland picked up his electric guitar to add some further sparkle to proceedings, especially on 'Come Tomorrow' and the road weary 'Halfway Towards a Healing'. Another tributee was Leonard Cohen in the suitably moody 'Where the Shadow Goes'.
Their own wonderful songs stood proud among covers of The Everly Brothers, Jimmy Reed and 'In Spite of All the Danger', the only McCartney-Harrison song in the Beatles canon. The knowledgeable Wexford Arts Centre lapped it all up, before the lads encored with a tasty run at Dylan's 'Corinna, Corinna'.
Earlier, the PwC Spotlight artist Megan Kate Doolan premiered her new EP Wait Another Day with captivating performances of four songs to which she applied her wispy and vulnerable voice. She also has a winning way with a melody, and 'For You' and 'Falling' were especially welcomed by the attentive audience. She's surely one to catch whenever you get the chance.
Brighton
Review: Liam Murphy, Munster Express
The Wexford company, Raven Theatre, staged the somewhat underrated, Jim Nolan play, Brighton, at Wexford Arts Centre. Director Aine Gannon added more humanity than in the original that premiered in Waterford, by using other actors as stage crew, playing residents in the Sisters of Calvary Nursing Home in London. There was less isolation or alienation in a production that hardly faltered in its balancing act of the fears of death and the resilience of the human spirit. There was much natural laughter and the audience understood the all too human drama taking place on that stage and echoing aspects of their lives as well.
Even a happy outing to Brighton had a poignancy as the play poised on several 'theatrical moments' that impressed with their painful accuracy. It is a curious play that confounds cliché and expectation, as we spend two hours with three fine characters who coped with uncertainty, incapacity, and terminal illness, and still had time for others. Bridget Scully impressed as the 'mammy of all mammy's', Lily Thompson, who coped with terminal illness and still had time for others as she cheered and encouraged as she gathered her memories into her laptop.
Michael Conway was excellent as the grumpy actor, Jack Dunhill, confined to a wheelchair and angry at the ending of his successful theatrical career. Ben Mac Caoilte was splendid as Dave the Care Assistant whose love life was a gossipy mess. His 'excessive enthusiasm' and 'gathering doubts' were excellently expressed, facially, vocally, and emotionally.
Once again, the ability of Jim Nolan to 'people the stage' with characters who were only referred to but never seen was much in evidence here.
At the end of March, Wexford Arts Centre will stage the world premiere of The Scourge, written and performed by Michelle Dooley Mahon and directed by Ben Barnes who is a director of both Theatre Royal and Wexford Arts Centre.
BRIGHTON COMES TO WEXFORD
Brighton is a play by Waterford dramatist Jim Nolan that tackles head on many of the burning issues of the day, especially those that affect people in nursing homes. It's set in the Sisters of Calvary home in London and focuses mainly on three finely-developed characters. Lily (Bridget Scully) is a loyal, good-natured Catholic whose faith dominates her life and thinking. The recent arrival Jack (Michael Conway) is a well-known actor now confined to a wheel-chair following an accident and contemplating assisted suicide, while David (Ben Mac Caoilte) is a gay (in both senses of the word), decent carer and a rabid Arsenal football fan.
David and Lily connect through their mutual interest in football (she's a Fulham supporter) evoking much amusing friendly banter between them. Jack has a liking for backing horses and soon has Lily at it too, to mixed results. Dave is also involved in a not-quite-working affair with his wayward boyfriend.
Initially, Brighton feels a bit staid and twee, but a planned trip to Brighton brings on a number of issues that ramps up the tension and challenges the characters to come to terms with their respective problems. Jack has a female partner who wants him to live with her, Dave plans to force his partner into marriage and Lily has her cancer to deal with.
As with the film The Drummer and The Keeper, shown recently at the Wexford Arts Centre, Brighton infiltrates a sense of humour and humanity into topics that are serious and life-changing. It could easily have tipped over the line into schmaltz, but under Aine Gannon's direction it maintains its grip on reality. The main characters are played sensitively and convincingly, but Mac Caoilte particularly impressed with the accuracy and consistency of his London accent.
The size of the audience and their warm reception also made it yet one more drama triumph for both Raven Theatre and the Wexford Arts Centre.
CAROLE NELSON TRIO RAISE THE SPIRITS AT WEXFORD ARTS CENTRE
Review by Jackie Hayden
There was a point during the Carole Nelson Trio's stimulating concert at the Wexford Arts Centre when keyboardist Nelson introduced 'The Sky Darkens' from her new album One Day in Winter. The poem/tune was inspired by Leonard Cohen's death and his love of Zen Buddhism. She'd written the lyrics while meditating on ageing and death, and her rendition of them in spoken form with the trio brought the spirit of Cohen to the venue, with Dominick Mullen's martial drumming adding an appropriately sombre touch.
But there was a Zen feel to much of the fine music the trio offered throughout the night, with a tendency for the Carlow-based Nelson and her sidekicks (Mullen plus Cormac O'Brien on bass) to make every note and every space count to the maximum.
It was one of two spoken vocals, the other being 'Snow Is Falling' to which they brought a suitably wistfulness. 'Cold Rushing River' enabled all three to stretch out and 'Sun Rising Over The Blackstair' began in languid style before shifting up the gears. They'd opened proceedings with 'Beata Viscera', Nelson's re-invention of a hymn from the 13th century by Pérotin, setting the scene for an evening dominated by Nelson's fluid playing, and her tendency to ease notes effortlessly from her instrument. Much of One Day In Winter is inspired by the natural environs of her home, and it was exhilarating to hear its compositions come alive before our very ears in such an intimate setting. Full marks to sound engineer Olchan Kirwan for his work too.
​
The night's adventures began with local singer Alice Lynskey performing as part of Wexford Arts Centre's new music artist support initiative PwC Spotlight. She sang with a guitarist and proved that not only is she an assured singer with a confident stage presence, but she also writes melodic songs with a compelling lyrical maturity. Particularly striking was her 'Love to Heal', about the pressures of being an outsider, as was the winning 'Red Headed Woman' with its narrative about a woman surviving an attempted rape to murder her assailant, before finishing with a taut version of her imminent debut single 'Devil in Me'.
PwC SPOTLIGHT PROGRAMME SWITCHES ON IN STYLE
Review: Jackie Hayden
Wexford Arts Centre's new music artist support initiative PwC Spotlight got off to a promising start with one of the selected artists, Gorey singer-songwriter Karen Alice Dunbar, bagging the coveted support slot for last week's Radiant Arcadia concert. As part of the initiative, four artists form a pool from which visiting acts can choose a support act, the other three being Megan-Kate Doolan, Alice Lynskey and Stone Blind State.
Dunbar has a delicious voice which she weaves around a delicate guitar style that goes beyond the few basic chords. Her own song 'Liar In My Bed' is a feisty take on infidelity and loss of trust, while her 'Marionette' waves the flag for individualism in the face of social pressures. She also delivered a tasty cover of 'The Lakes of Ponchartrain' with aplomb and was a clear hit with the audience too.
Radiant Arcadia are an all-female outfit based in Denmark and drawn from different cultural backgrounds. They perform music from the Jewish, Muslim, Christian, Danish, Arabic, and Sufi traditions, and in a variety of languages. Tonight they added an Irish singer, Aoife Scott for versions of 'Grace' and 'Bean Phaidin'. The playing of electric violinist Anne Eltard was exhilarating, and accordionist Maren Hallberg Larsen wasn't far behind, but what appeared to most captivate the audience was the remarkable throat-singing of Faridah Busemann and the almost scary operatic prowess of Karen Jørgensen. And yes, the Arts Centre roof is still there.
The ensemble gave us a stirring rendition of Ustad Nusrat Fateh Ali Khan's 'Alla Hoo', and the Russian Yiddish folk song 'Tumbalalaika' sparked an outbreak of audience singing and vigorous hand-clapping. In a world that seems to become increasingly divisive by each news bulletin, this was truly a Wexford Arts Centre performance to remember, not just for the magnificent music but for the audacity of these people to defy such daunting barriers.
FILM BRINGS INSIGHT AND SYMPATHY TO MENTAL HEALTH ISSUES
Review Jackie Hayden
The imminent debut album by the band MUDA, lead by Gorey vocalist Dave Lavelle, lyrically addresses issues that have been covered across all media, but are not so easy to find in our rock music, with some exceptions. So I welcome musician Nick Kelly's graphic and sensitive film The Drummer and The Keeper as it embeds those issues firmly in a rock world has bequeath us a trail of broken lives.
The film asks whether deep-seated emotional matters can be successfully tackled through creative activity, and while the depiction of a naive rock band heading for the top has been much overdone, it serves as a suitable background against which the issues can be played out. The bi-polar Gabriel, the Drummer in the band and of the title, is played convincingly by Dermot Murphy. His fellow musicians and sister Alice (Aoibhinn McGinnity) are rapidly losing patience with his erratic behaviour, unreliability, and penchant for setting fire to things. But he loves the band so much he reluctantly agrees to be medicated and to play football with some disabled guys as part of his treatment.
He falteringly develops a friendship with The Keeper Christopher (Jacob McCarthy) who has Asperger Syndrome and is obsessed with goalkeepers and Lego. Christopher becomes a highly efficient roadie for the band, but things fall apart when they dump Gabriel for a new bloke. But it's not over yet …
​
Unlike Nick Kelly, who has an autistic son, I have thankfully had no immediate experience of such matters, so his film helped me understand the trials and pressures on those who have. Others expressed the exact same response. It might seem crass to see it also as a hugely entertaining work with lots of the kind of rock noises I like, but maybe that's one way to break on through to the other side.
Mental health matters are not easy to make fun of, but The Drummer and The Keeper is played with such sympathy that you laugh with the characters. So maybe we've come a long way since John Lennon's gauche parodies of those with disabilities. Maybe.
ANOTHER JAZZ TRIUMPH IN A REWARDING YEAR FOR FANS
Review: Jackie Hayden
The past year has seen the establishment of the Wexford Arts Centre as a key staging post on the European jazz circuit. This has come about partly as a result of Elizabeth Whyte's imaginative programming and the sterling efforts of local jazzman-activist Kevin Lawlor.
The year has seen superb gigs by the Swiss-based Aerie who featured two Irish band members, the Miles Davis tribute night that included Tomos Williams and Dave Jones from Wales, the Ronan Guilfoyle band, and Lawlor's night dedicated to John Coltrane. What's more, all of the afore-mentioned attracted decent numbers. So, it was fitting that the jazz year came to an end with another stunner, with Berlin pianist Marie Kruttli leading her trio featuring two Swiss blokes, Lukas Traxel on double-bass and Martin Perret (drums).
Despite the apparent complexity of the music, all three played with effortless fluidity yet managed a remarkably precise synchronicity during the ensemble passages. Drawing much of their repertoire from their most recent album Running After the Sun, Kruttli shows remarkable maturity for a player only in her late twenties, and while her upbringing in a classical household brought her a love of such classical composers as Debussy and Stravinsky, others have detected elements of Miles Davis, Chick Corea and Herbie Hancock, and she wears those influences and her considerable talent with a nonchalant lightness.
The Wexford Arts Centre outing had Kruttli kicking off her contribution to 'Istanbul Dort' with an appealing melody leading into a phase that took on a somewhat discordant aspect and then led into a more funked-up section. As if to head off any notions that this was all that lay ahead, they took a more reflective, melodic approach with 'Pocahontas'. 'Running After the Sun' developed a looser faster feel and driven by an inventive contribution from Perret they brooded their way through the more introspective 'Balancing on A Wall'.
​
And so, it continued in a sequence of delightful surprises in which 'Contemplative Birds' and 'Sailing Day' struck emotional chords with the Wexford Arts centre audience. As we've observed in the past, complex music and musical dexterity can often obstruct the communication of human emotion, but not with these guys.
ELECTRIFYING TRIBUTES TO YOUNG AND DYLAN AT WEXFORD ARTS CENTRE
Anyone needing somewhere to take shelter from the icy weather last Friday night could hardly have found a cosier place to warm their souls than the Wexford Arts Centre for JMA's night of Classic Songs by Bob Dylan and Neil Young.
As with their visit to the same venue with the same show early this year, the core trio of Mick Egan and James Meyler, both on vocals and guitars, and Anne Meyler on vocals and tambourine, were augmented for the occasion by the sturdy drumming of Keith Devereux and the fluid bass of Mick O'Brien for a night of guitar-drenched rock music that left the standing-room-only audience eager for more.
JMA bring a flexible and comfortably loose approach to their rock format that fits perfectly with the often maverick live performing of both Dylan and Young. Combining the two in one tribute show also makes much musical sense in that their styles often overlap, they've performed together on stage and Neil is a self-confessed admirer of Bob.
Of the two, JMA's approach feels more comfortable in the company of Young's songs, and there were powerhouse performances to-night on such staples as 'Cinnamon Girl', 'Cortez the Killer' and 'The Needle and The Damage Done', while Egan's harmonica contribution to 'Heart of Gold' gave it an added lift.
On the Dylan front the full band also delivered stand-out versions of Dylan's lesser-known 'Senor (Tales of Yankee Power') and 'Baby Please Stop Crying'. With the finishing straight with their sights they coasted towards a triumphant closure with Dylan's 'I Shall Be Released' and concluded with a stunning version of 'Like A Rolling Stone' that will help eradicate some of the more misguided attempts at that particular song we've heard at the Arts Centre over the years. Appropriately, they sandwiched Young's 'Like A Hurricane' in between.
​
Along the way, Egan got a few laughs from a supersized harmonica which he pretended to play and which he admitted he'd found in Trax. Much credit for a memorable night must also go to the Wexford Arts Centre's soundman Olchan Kirwin. As expected, Mick Egan's incendiary electric guitar playing was the dominant feature, but his compadres were no slouches either. Can't help suspecting they'll be back again next year.
DOWN AND OUT WITH GEORGE ORWELL IN WEXFORD
Review: Jackie Hayden
Photo Credit: Patrick Hogan
own and Out in Paris and London is actor Phelim Drew's imaginative monologue
adaptation of George Orwell's first book, depicting his experiences of life-sapping
poverty and degradation in those two cities in the 1930s.
With thoughts of inhuman Irish living conditions still fresh in our minds, not to forget
our daily engagement with the issue of homelessness, this work has a resonance in to-day's Ireland that might have been less pointed in the Celtic Tiger era. Indeed, there's a telling moment when Drew/Orwell refers to the way poverty annihilates the future.
Drew makes for a convincing Orwell too, and, apart from this show being an impressive feat of memory, he uses his vivid mimicry skills to evoke a selection of the array of characters Orwell met when he was down, but never actually out, and even fits in a bout of singing.
The Wexford stage was set with nothing more than two simple chairs, a table and a
glass of wine, and he was supported by a minimal amount of sound effects, yet he
somehow conjured the claustrophobia of Orwell's existence in the two capitals. His
Orwell comes across as a compassionate, stoical figure who enjoyed the company of
people for their own sake, while enduring the foibles and faults of waiters, landladies
and those eccentrics who added colourful relief to his situation, and the sizeable
Wexford Arts Centre gave him their full engagement. That such a precarious existence could also elicit a few laughs was a tribute to both Drew and Orwell.
Orwell's acute powers of observation demolish the romantic view of the starving artist as he defiantly recalls the endless hours of boredom and the pain of starvation. His experience of the real world as related in Down and Out in Paris and London partly explains his later engagement with politics, rejecting imperialism to champion the proletariat, and this timely production was a stark reminder that there is still much work to be done.
Let's hope that a few of our government ministers get to see this thought-provoking
show as it makes it rounds.
DUBLINERS IN WEXFORD
Review: Jackie Hayden
There's a general assumption that most theatregoers are female, and this was borne out at a full Wexford Arts Centre last weekend with the staging of The New Theatre's production of Dubliners Women, adapted from James Joyce's classic short story collection.
Director Sarah Baxter and adapter Katie O'Kelly presented 'The Boarding House', 'Clay' and 'Eveline' in one continuous piece, with the individual stories delineated by the actors writing each title on a small, old-style blackboard. Each story focuses on the plight of a woman in different circumstances.
Amid elements of farce and slapstick, Madi O'Carroll and Katie O'Kelly carry on a selection of luggage and a heavy chest that, when opened, reveals the third actor Gordon Quigley. All three are wearing old-style underwear and dress themselves from items in the luggage. O'Carroll becomes the ever-watchful landlady, Mrs Mooney whose much put-upon young daughter Polly is played by O'Kelly, while Quigley is Mr. Doran, one of their respectable boarders. Mrs Mooney soon suspects a liaison between them from which Polly could be pregnant, and decides the only honourable solution is marriage.
For 'Clay' they move swiftly and seamlessly into their new characters, with O'Kelly becoming the single and timid Maria who works as a laundrywoman for the nuns. She sets off across Dublin to visit friends, losing a specially-bought cake along the way, and suffering much discomfort when she gets there. Simple props are effectively used, as for instance, to indicate the swaying of a tram. In 'Eveline' we see a woman too daunted to escape a violent home life to go to South America with her sailor man, with the boat evoked by a simple rope on the stage floor.
Baxter paints vignettes of a long dead Dublin/Ireland in which each citizen knew their place and behaved accordingly, and we get a clear idea of the inner thoughts of each character. The stories are imbued with more humour than might be obvious from Joyce's writings, and pieces of music and song add colour to a highly entertaining work that the audience at Wexford Arts Centre thoroughly enjoyed. If it sends us back to read the originals, it will have done more than enough.
TAKING THE 'TRANE TO WEXFORD ARTS CENTRE
Review: Jackie Hayden
The current status of live jazz in Wexford can be gauged from the fact that the stage area at the Wexford Arts Centre had to be reduced to accommodate all those who wished to attend last week's Music of John Coltrane by the Kevin Lawlor Quartet. The credit for this development must go to Lawlor himself for turning in high quality gigs at regular intervals, and also to Wexford Arts Centre for having the vision to stage what would never have been seen as sure-fire commercial hits.
Coltrane was the latest in a series of impressive shows that followed similar tributes to Miles Davis, Wayne Shorter and the legendary Blue Note label, and the Lawlor Quartet brought us a vintage show that gave ample evidence as to why Coltrane in a short career had a similar game-changing impact on jazz saxophone as Jimi Hendrix had on the electric rock guitar.
​
The night kicked off with each of the four musicians taking it in turn to solo on 'Blue Train' from Coletrane's early phase, with Adam Nolan (tenor sax), Pat Molitor on piano, Andrew Csibi's unerring double-bass and the ever-efficient Lawlor offering samples of the delights to come. Much of Coltrane's music is physically and musically demanding, but with Nolan on the frontline and Molitor chasing him around the scales, we got a jazz gig as high on musical acrobatics as it was on melodic passion and emotion.
They lent an elegance to the Duke Ellington tune 'In a Sentimental Mood' and stretched out on both 'So What', from Miles Davis' towering Kind of Blue album ,and the ground-breaking 'Giant Steps'. It's been said that anyone who doesn't quite get jazz should listen to Coletrane's version of 'My Favourite Things' (yes, from The Sound of Music!) and the we heard a slightly more aggressive version than Coletrane's, one that certainly struck several chords with the audience.
Given the predominance of racism in the USA, there was a poignancy to the inclusion of Coletrane's 'Alabama', a sombre piece composed after four black girls were murdered in the fire-burning of a church in Montgomery. Before the end, we were taken to another high with the 'Resolution' part of Coletrane's Love Supreme. It was a great night that left an eager audience wondering where might Lawlor take us to next?
​Billy Roche – The Red Guitar Tour
BILLY ROCHE TRIUMPHS AT WEXFORD ARTS CENTRE
Review: Jackie Hayden
It was standing room only when Billy Roche brought his neat band and his red guitar to the Wexford Arts Centre last week. A small number of recent gigs had suggested that Billy's successes as a writer and playwright had been the music scene's loss, so this Red Guitar Tour gives us a chance to make up for lost time.
Roche's unique style not only stems from his expressive singing voice but his open-tuning guitar technique enables him to blend traditional folk elements with touches of sixties/seventies psychedelia and eastern overtones. Added to his already established deft way with words he has now created a body of finely-wrought songs that held the audience spellbound throughout.
Billy was aided and abetted by long-term Roach B and sidekick Mike Odlum on bass and keyboards, and comparative newbie Pete McCamley on percussion and anything else that came to hand, including a klaxon, a harmonica and a flute, and when the voices of all three combined they made a stirring whole. As you might expect, Billy's wit and some inter-band banter added to the gaiety of the occasion, as did some chat about the latest football scores.
But there was also much serious work to be done. 'Julia' has a delicate seventies prog-folk feel to it, while the murder ballad 'Three Lovely Ladies' was delivered with appropriate aplomb and just a little menace. 'On The Run' had echoes of Mike Heron' of Incredible String Band fame, 'Lost' is a plaintive song that evoked memories of Al Stewart and benefitted from Odlum's subtle piano contributions, and 'Yearning' left space for that droning open-tuning guitar style too.
But when Billy delivered a solo 'I Thought I Heard The Robin Sing' it was so deliciously sweet it needed nothing extra. The uptempo 'That's All Right When You're Young' had a fuller band sound that clearly appealed to the Wexford Arts centre audience, while Napoleon' and 'Dead Man's Shoe's were laced with different kinds of foreboding. ​
All in all, this was a good-humored night that never lost sight of the quality of the songs and musicianship on offer.
LOCAL GIRLS SHINE AT WEXFORD ARTS CENTRE ARTS CENTRE
Review: Jackie Hayden
Local Photo credits Patrick Hogan
The audience at the Wexford Arts Centre last week for the flamboyant American violinist and singer-songwriter Deni Bonet were also fed two surprise local treats in solo support acts Megan Kate and Rachel Grace. Both sing their own songs and play guitars, but Clancy is the more experienced and hence more assured performer. In 'Scream Out Loud' she has a terrific song that confronts the issue of mental health, an area few of our songwriters venture into, Jimi Cullen being a notable exception. That song contains a startling line about "no politics in suicide". She delivered a heartfelt song about her grandmother 'Nancy' and brought a neat bluesy undercurrent to the acerbic 'Nice Knowing You' before closing with a convincing version of Bob Dylan's 'To Make You Feel My Love'.
Earlier, the remarkably young Megan Kate applied her light and expressive pop voice to her melodically-captivating songs and proved she's a natural and articulate performer very much at home on stage. Watch out for her.
All of which created a positive Wexford Arts Centre mood for bill-topper Bonet who has added her virtuosic violin skills to recordings with REM, Cyndi Lauper, and the Scissor Sisters. She was accompanied on the night by guitar-players, Matt and Bob, who also contributed occasional vocal harmonies. At times Bonet brought a furious rock energy to her classically-trained talent that was more Jimi Hendrix than Yehudi Menuhin.
Many of the tunes came from her new instrumental album Bright Shiny Objects , with the title track, 'Einstein's Brain', and 'Primal Dream' especially impressing, but she really cut loose on 'Palisades' with some adventurous and exhilarating violin playing we could have done with more of. Of the songs from previous albums she gave us 'Cynical Girl', 'How Far Can I Push You', 'Get On With It' and the YouTube hit 'One In A Million'. The trio also fitted in an inventive revamp of The Beatles' 'Please Please Me', but there was a pointlessness to their untidy take on The Traveling Wilbury's 'Handle With Care'.
Given that this was Bonet's first visit to the Wexford Arts Centre she attracted a decent-sized audience, including visitors from Belgium, who hung on every note and thoroughly enjoyed themselves. Better still, she'll probably be back in Wexford early next year.
THE MAN FROM CLARE
Review: Jackie Hayden
The Man From Clare is hardly the jewel in the crown of
​John B Keane's caipin, but under Alan Corcoran's lucid direction for the Wexford Drama Group at the Wexford Arts Centre it provided a couple of hours of fun and games, and a few tears as well.
With the All-Irelands on the horizon this was a good time of year for a play loosely based around a GAA football match between local teams from Kerry and Clare, with all the souped-up rivalry and bragging that such encounters tend to encourage as tribal insecurities float to the surface.
​
The Man From Clare first emerged in 1962, so it's one of John B's early works. It focuses on match-winning footballer Padraic O'Dea, the man of the title who in his mid-thirties is expected to lead his team Cuas in Clare to victory against the home team of Bealabawn, located just across the Shannon in Kerry. The match brings O'Dea the sudden discovery that he no longer has the skills and strength to stay on top of his game. The role is convincingly played by John Crosby as he struggles to accept that his place as top dog is being taken by the younger and fitter man, Jim Flynn, energetically played by Simon O'Carroll.
Meanwhile the lads are invited after the match to stay a while in the house of Morisheen Brick, with Eugene McLoughlin wringing all the laughs from his role as the father of single ex-nun Nellie. Her stoic diffidence is finely captured by Louise Dillon as Morisheen tries, with no degree of subtlety, to get her married off to Jim so that he himself can pursue the woman of his dreams. She has to endure insults about her appearance from O'Dea's father Daigan (Michael Murphy). Meanwhile Flynn and O'Dea indulge in a bout of fisticuffs while the rest of the team are out drinking and chasing women like proper footballers.
​
The sound and lighting at the Wexford Arts Centre (designed by Pat Jackman and Cian Redmond respectively) added to the pleasure of the occasion for the full house on the night, and the appreciative audience were riveted throughout. If you want to catch The Man From Clare it has four more nights to run until August 26th.