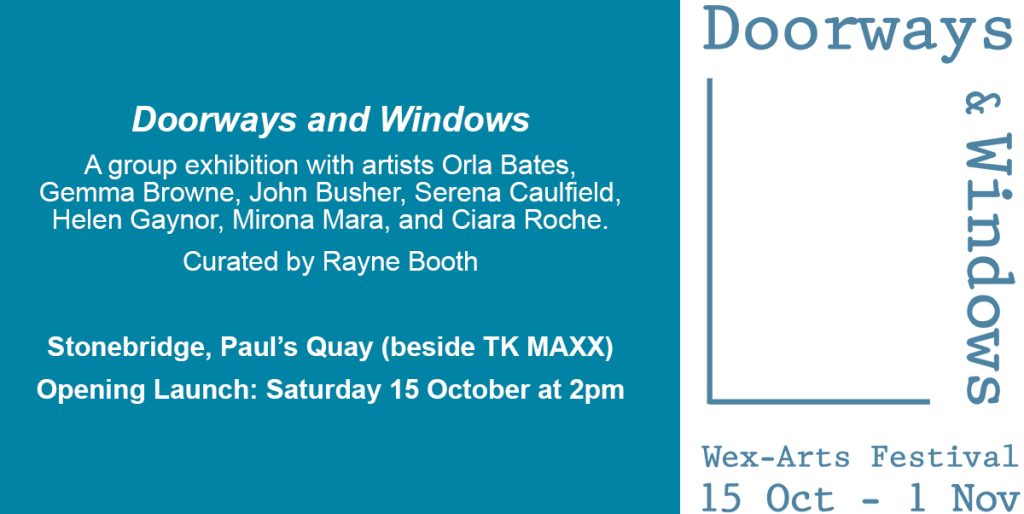 Wex-Arts Festival in partnership with Wexford County Council and Wexford Arts Centre are pleased to present Doorways and Windows, a group exhibition at Paul Quay, Wexford Town. The exhibition will open on Saturday 15 October at 2pm and all are welcome to attend.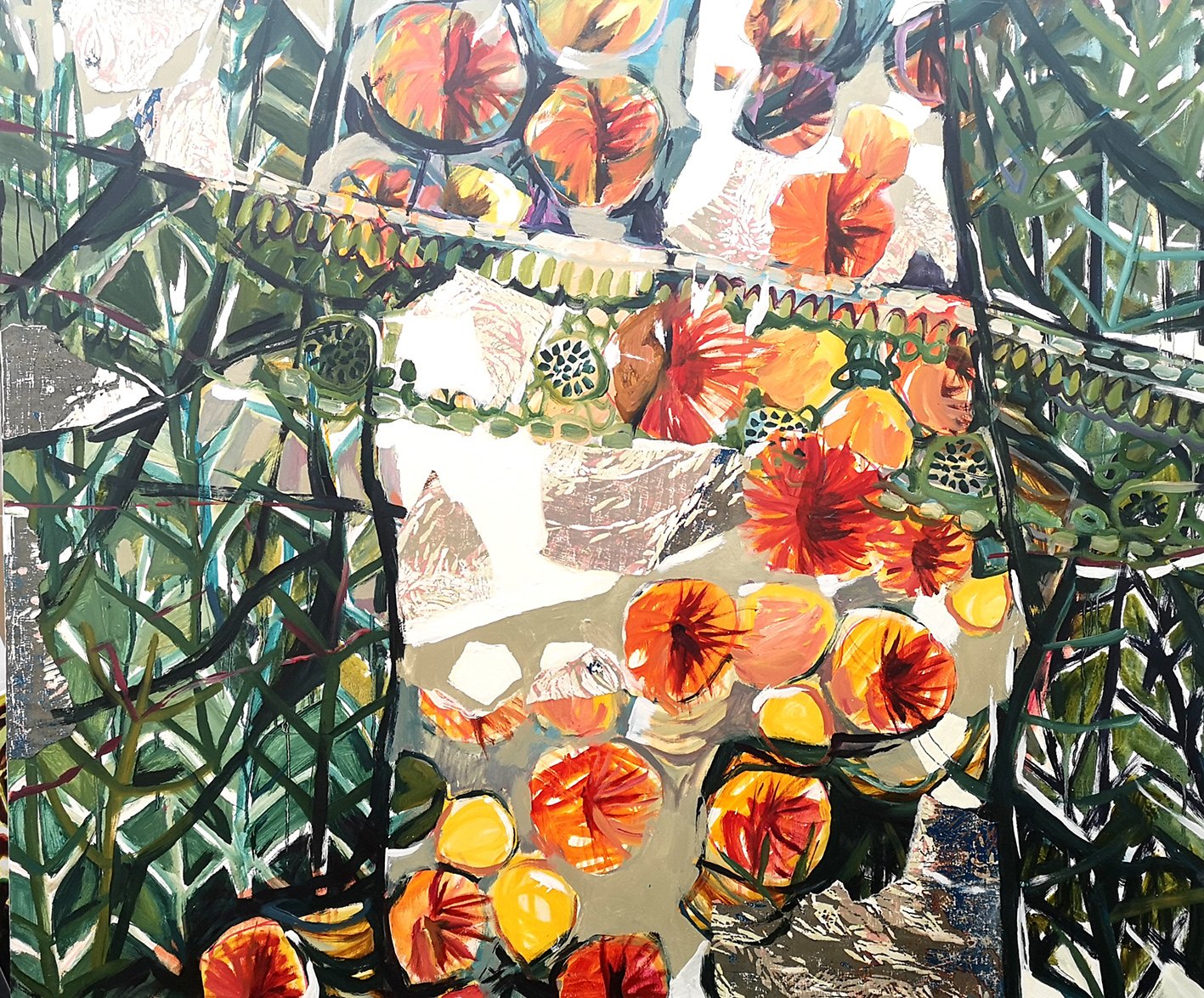 'Go and open the door.
Maybe a dog's rummaging.
Maybe you'll see a face,
or an eye,
or the picture
of a picture.'
Except from The Door by Miroslav Holub
Doorways and Windows is an exhibition featuring seven artists whose work is realised through painting and drawing. Almost all of the artists in this exhibition are based in or are from Wexford, and their work brings together themes of, place, memory, process, and the creation of worlds, both natural and psychological. Every painting might be seen as a window to look through or as a doorway inviting the viewer to step into another space. This exhibition invites viewers into the narrative practices of seven contemporary Irish artists, each of whom has their own particular and striking way of seeing and interpreting the world.
Órla Bates' drawings are created through an intuitive process of observation and imagination. She creates mainly figurative drawings in charcoal, pastel and pencil on paper. She works from observation, memory and from film stills, setting up structural limitations for herself such as time limits or working through chance. As well as figures in space, her work features place and architecture evoking a certain dream-like space in which line and surface as well as narrative can be explored.
John Busher works in paint, printing and drawing as well as sculpture and ceramics. His works use layering of colour and imagery to evoke place and memory. In his paintings, diverse architecture such as bridges, archways, windows and cabins are overlaid with figures in dreamlike circumstances. In his most recent body of work, he has referenced the infrastructures of the industrial revolution, in particular docks and dockworkers, warehouses and ships. His work is process driven and his painting practice uses chance and the intrinsic properties of the medium to create and recontextualize the narratives brought about by the imagery he chooses to portray.
Gemma Browne creates paintings which feature themes such as dolls, dollhouses, theatres, flowers, dresses, bows and vases. The use of ornate and beautiful motifs alongside her exuberant colour palette contrasts with undercurrents of disquietude and defiance that can be detected in her subjects. Through her work she considers how women perform traditional roles, displaying their beauty and femininity and perhaps proffering a fake, doll-like smile and a brave face, but the doll's glass-like gaze suggests a feeling of being trapped. Windows and lace and fabric curtains also feature in these paintings, and Gemma Browne is interested in their ornate, often florid patterns as well as in what private activities they may be covering.
Serena Caulfield works in paint to portray scenes inspired by local places and the stories that go with them. Her paintings reference folklore around animals as well as the ways in which animals and mythologies have been shown in art history. Her work is strongly influenced by the artistic collection of her great grandfather and childhood memories of one particular painting. Through her work she attempts to recreate this fascinating art collection, reframing it through her own memory, vision and embodied knowledge. She brings in elements of local landscape and objects that are at once familiar and slightly skewed through her particular use of scale and colour.
Helen Gaynor's works are exuberant homages to the natural world. She is fascinated by plant forms, and uses colours and patterns that replicate in organic structures. She creates assemblages which use layering of paint and text to explore the natural world and process the anxiety that comes with the prospect of losing it to climate change. Helen draws inspiration from what is left after forest fires have ravaged landscapes, and the wonder of nature and how it can repair itself in the face of these catastrophes.
Mirona Mara works alone and collaboratively with a focus on drawing and animation. Using charcoal as her medium, she explores psychology and the inner landscapes of the mind. She uses storytelling to process and face raw emotions and understand the various shades of human nature, creating large drawings in charcoal which become the basis for intricate stop motion animations in which the image is erased and redrawn countless times to create a visual narrative. She also creates graphic novels by photographing her sequential charcoal drawings, spinning out tales with her imagined characters and scenarios.
Ciara Roche creates small but intricate paintings that take as their subjects the shiny trappings of our capitalist society. Her work shows the interiors of retail spaces such as department stores and car dealerships, and it pays strong attention to the products they display, such as SMEG appliances and Mini Cooper cars. Taking inspiration from the visual language of cinematography, she seeks to portray these polished spaces in as desirable a light as possible. By spending time painting these aspirational objects and spaces, Ciara dampens her own need to consume and bypasses the psychological trickery that we as a society are subjected to.
---
Rayne Booth is a freelance visual art curator and producer. Throughout her career, she has curated and produced ambitious projects including exhibitions, national tours, major arts festivals, artist-run spaces and artists films. Currently, she is Curator / Director of Superprojects, an initiative for young audiences that generates possibilities for creative encounters with contemporary art and artists. She is also curating and producing a major country-wide tour of the work of Brazilian/Irish artistic duo Wagner / De Burca, running throughout 2022 and 23. Recent freelance roles include Producer of TULCA's 2020- 2021 programme 'UnSelfing', and Curator of the 2021 graduate showcase of the National College of Art and Design. In January 2020, she curated an exhibition of the work of Wagner/de Burca at Galerias Municipais in Lisbon. Rayne was Programme Curator at Temple Bar Gallery and Studios between 2011 and 2018 and founder/Director of Dublin Gallery Weekend 2015 – 2017.
The exhibition runs to Tuesday 1 November at Unit 2 Paul Quay, Wexford Town (beside TK Maxx) and opening hours are Monday to Sunday, 12-4pm.
The Wex-Arts Festival is supported by the Arts Council, Wexford County Council and Wexford Arts Centre.
For further information on Doorways and Windows and the exhibiting artists please log on to www.wexfordartscentre.ie.
---
Images:
Helen Gaynor, The Turn, 2021, oil and mixed media on canvas, 100 x120cm
Serena Caulfield, A Study of Two Monkeys, 2020, oil on canvas, 25 x 30cm