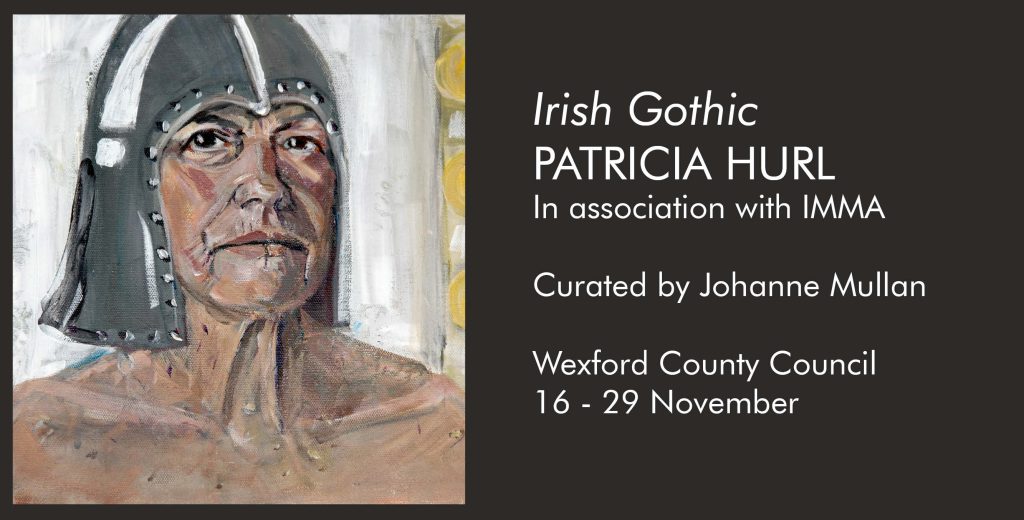 Opening Launch: Thursday 19 October at 6pm
Guest Speaker: Writer & Activist Ailbhe Smyth
Followed by a wine reception – all welcome to attend.
---
Wexford County Council and Wexford Arts Centre in partnership with the Irish Museum of Modern Art (IMMA) are pleased to present Irish Gothic by artist Patricia Hurl.
The exhibition, selected from a major retrospective hosted by IMMA earlier this year, presents one of Ireland's most accomplished artists. Hurl's work is by its nature political, and traverses the disciplines of painting, multi-media and collaborative art practice. Since the 1970s, she has created work that deals with loss, pain, frustration and loneliness.
The exhibition demonstrates Hurl's characteristic use of highly expressionistic layered brushstrokes that tend to blur distinctions between the figurative and abstraction. This stylistic blend intensifies the visceral qualities and emotion in Hurl's work in paintings such as The Company Wife (1986) which comprises a group of men in suits gathered as a jovial unit, juxtaposed with the solitary figure of a seated woman. Typically, of Hurl's early work the faces are obscured, and the paint is applied with an urgency that hints at the emotion felt by a woman living in a male-dominated society.
While dealing with a range of difficult topics, humour is often deployed. This can come through in the titles of the artworks, as well as in the absurdity of imagery such as Sunday Ritual (1989) depicting an ordinary domestic dining room scene – in closer inspection the viewer realises the mother's head is protruding from the body of the turkey, the mother is literally being served up for Sunday dinner.
Sketchbooks, diaries, magazines, and newspaper cuttings are central to Hurl's practice and an integral part of her process, a selection of which is included in the exhibition. The catalyst for the ongoing Warrior series came from media coverage surrounding the treatment of women internationally and closer to home, such as the Belfast rape trial of 2018. Creating helmets as props Hurl set about producing a series of portraits where her face is partially obscured by the helmet, but the eyes convey a tremendous strength. Hurl portrays women as warriors; mothers, sisters, friends are all affected by horrific acts but often powerless to ease the suffering of loved ones.
Smaller in scale than earlier works, paintings such as Warrior VI (2022) present a close view of the head. The close-up view and tight framing are characteristics of Hurl's recent work, with the protagonist looking directly at the viewer encouraging engagement in a strong though nonaggressive manner. Throughout her career Hurl courageously uses her own body as a vehicle and site for her political statement, avoiding the need to ask permission, while furthering artistic freedom.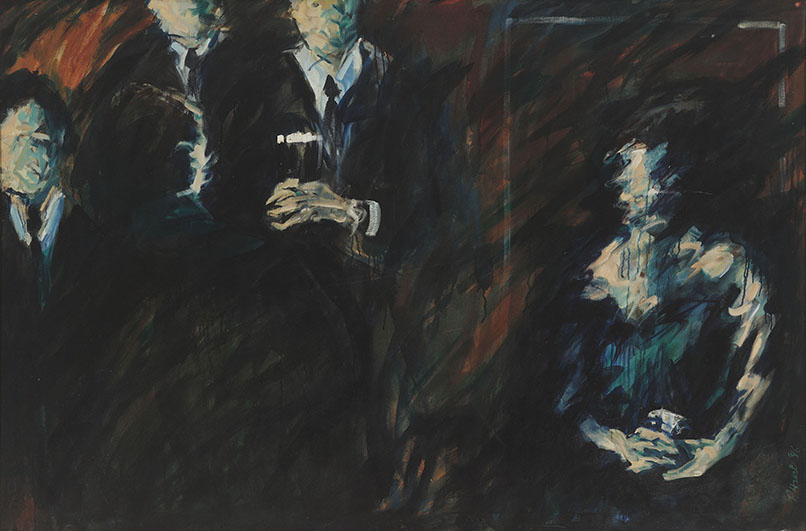 Originally from Dublin and a former member of Temple Bar Galleries and Studios, Dublin Patricia Hurl often works in collaboration with artist Therry Rudin. Hurl was a lecturer in Fine Art Painting at the Dublin Institute of Technology and studied at the National College of Art and Design,1975 and at Dun Laoghaire School of Art and Design,1984. Hurl previously ran the Damer House Gallery in Co. Tipperary along with Therry Rudin. In 1984, she won the Norah Mc Guinness award for painting.
Hurl's work was recently included in The Narrow Gate of the Here and Now: IMMA 30 Years of the Global Contemporary: Queer Embodiment; IMMA, Dublin 2021 – 2022; Elliptical Affinities: Irish Women Artists and the Politics of the Body, 1984 to the present, Highlanes Gallery, Drogheda, Co Louth and Limerick City Art Gallery, 2019 – 2020. Hurl has exhibited in selected group and solo shows and has represented Ireland in symposiums in Atlanta USA, Caversham, S.A., and Zaragossa, Spain.
As an older artist, her work increasingly deals with issues of isolation and loneliness. She is part of the Na Cailleacha  collective of eight older women, which embraces artists from various European destinations and includes a musician, two film-makers and a writer, as well as visual artists.
---
The exhibition is run in association with Irish Museum of Modern Art and supported by the Arts Council.
For further information on Irish Gothic or artist Patricia Hurl please contact Curator Catherine Bowe, Wexford Arts Centre, Cornmarket, Wexford on +353 (0)53 9123764 or email info@wexfordartscentre.ie.
Opening hours: Monday to Friday from 9am-5pm.
Image Credit:The Company Wife, 1986, oil on canvas, 124.5 x 186 x 10cm, IMMA Collection