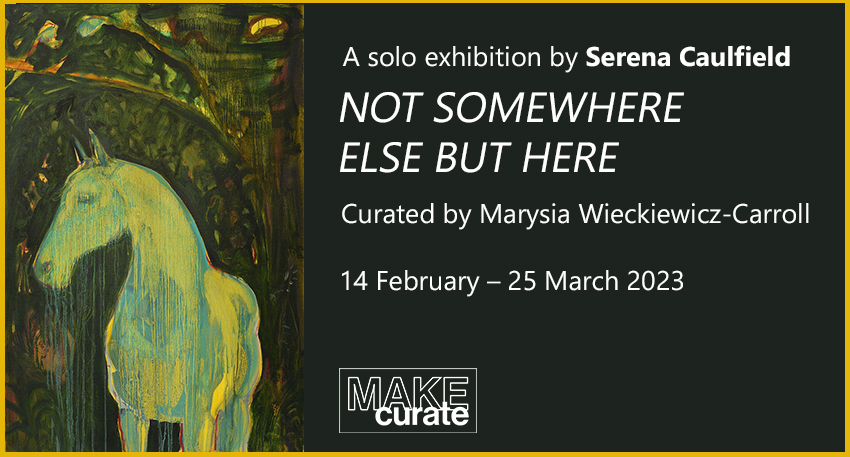 EXHIBITION EXTENDED TO SATURDAY 25 MARCH
Opening Launch: Saturday 11 February, 3pm
Guest Speaker: Prof. Kevin Rafter, Chair of the Arts Council

Exhibition Talk: Saturday 11 March, 3pm
Artist Serena Caulfield in conversation with Curator Marysia Wieckiewicz-Carroll
---
Wexford Arts Centre is pleased to present Not somewhere else but here, an exhibition of new paintings by artist Serena Caulfield. The exhibition will run in the lower and upper galleries from Tuesday 14 February to Thursday 23 March, 2023.
Serena Caulfield was selected to take part in the MAKE/curate programme, a partnership initiative between Wexford Arts Centre and the Arts Department of Wexford County Council. The aim of the programme is to provide artists working regionally with an opportunity to work with national curators to critique their practice and introduce other areas of interest or specialists. Over the course of two years, Caulfield worked with Curators Marysia Wieckiewicz-Carroll and Cliodhna Shaffrey toward her solo exhibition at Wexford Arts Centre. Distinct from the curatorial support, mentorship was also facilitated by artist Sinead Ni Mhaonaigh.
"Not somewhere else but here" is a line taken from Adrienne Rich's poem "What Kind of Times are These". The poem deals with uncertain and dangerous times but more importantly, its message is the responsibility to speak out against injustice and to listen when we hear others doing the same. Caulfield felt that it was all too appropriate for our current climate, despite being written nearly thirty years ago. This repurposing of the established is one of the most inventive and engaging features of her work.
Caulfield blends the traditionally patriarchal field of classical art with a fresh, current approach and a distinctly feminine vantage point. Her work includes re-imaginings of many classical artists' works, including Jan Brueghel the elder, Frans Snyders, and Eugene Delacroix. A subject that arises through this referencing, is memory and specifically the gradual distortion of memory. A number of paintings provoke a sense of déjà and viewing the work can feel like straining for a childhood memory that you can only recall in broken, faceless fragments with key elements missing. The fallibility of memory is given a dreamlike quality through Caulfield's inclusion of local myths and the landscape of her home in County Wexford. The depiction of animals with night-time backdrops in particular, have an ethereal quality often found through dream or warped recollection.
Along with contemplating the reliability of human memory, comes the challenge to our notion of linear time. The reference to classical paintings contradicts the usual straightforward conception we have of development. Blending past and present together with such dexterity, Caulfield's works show that art can transcend and be adapted beyond both time and gender. As the artist states; "My sources range from classical artworks to children's drawing books, aural histories to local myths. Disobeying a linear art history while reclaiming it somehow in the present, I repurpose art history to play with its power, both visually and conceptually, imbuing the anachronisms of the past with the attitudes of the present."
---
Being able to visit an artist's studio over long stretches of time allows for a certain intimacy of viewing; one gets to see the work 'happening' in real-time, as it slowly emerges, develops, takes shape. You see blank canvas getting stretched and primed; numerous paintings getting started, arriving at their assumed end point, to be replaced by a new work 'on the go'. Some of the artworks vanished to emerge again, this time re-worked, with only faint traces of their past life on the surface. Not somewhere else but here went through its various stages of reincarnation, with different elements brought to life or faded away. For a while a large, white rabbit was there, resting on the horse's back that is now consumed by fire. That same rabbit can be spotted in a number of Serena's earlier works: and Creatures Dream (2021)among them.
A white rabbit is a creature of dreams – a conduit to the world of magic. Its presence re-enforces the dream-like, surrealist quality in Caulfield's work. It marks a clear departure from depicting the traditional, or more precisely, the rational vision of life in favour of dreamscapes that capture the uncanny and unleash the potential of the unconscious.
The white rabbit also anchors the work in a local context, bringing back to life, or reviving the memory of an old myth of a white hare that used to appear in the artist's four hundred-year-old garden. The uncovering of such a myth suggests an act of looking closely at your surroundings, seeking out information that helps you better understand and relate to a place.
On myth / on belonging
Excerpt from exhibition essay by Curator Marysia Wieckiewicz-Carroll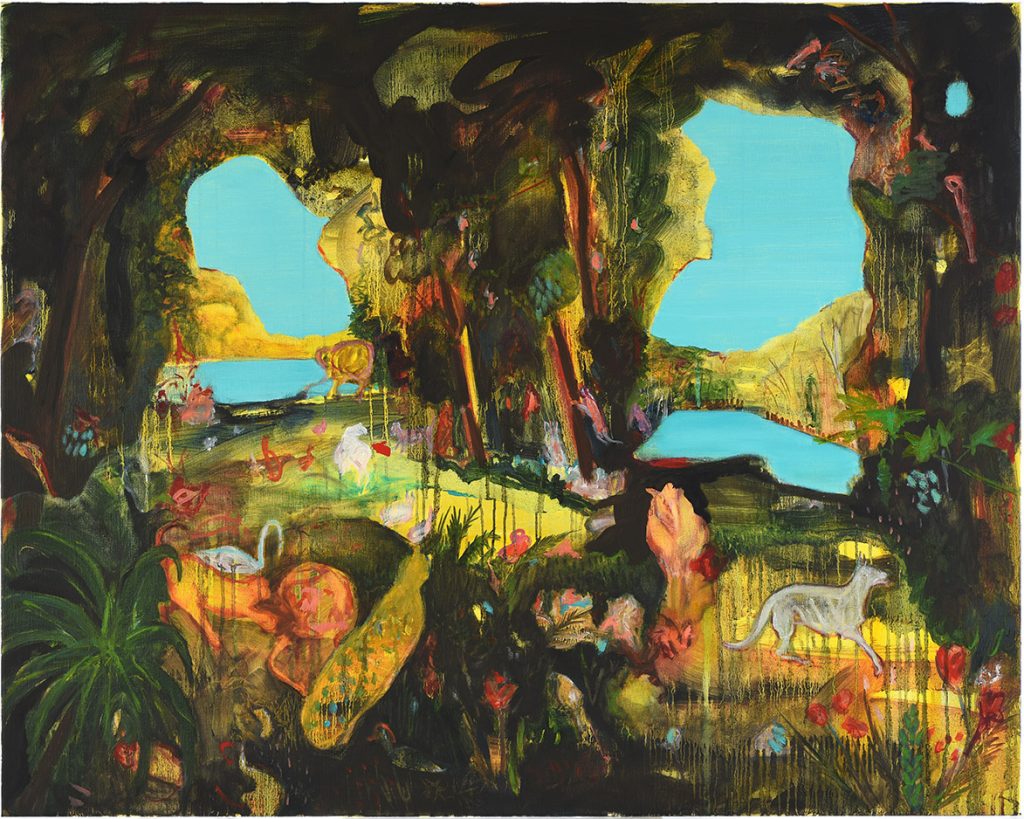 Serena Caulfield is a painter living and working in Wexford, Ireland. She is a recipient of the Arts Council of Ireland Visual Arts Bursary, an Artlinks Visual Arts Bursary, Platform 31, and an Arts Council Agility Award. She has exhibited regionally and nationally. Recent group shows include the Zurich Painting Prize, 2021 at the National Gallery of Ireland and Crawford Art Gallery, Cork (2021); Generation 2022 – New Irish Painting, Butler Gallery, Kilkenny (2022); 140th Annual Royal Ulster Academy Exhibition, Belfast (2021), Crossings, King House, Boyle Arts Festival (2021), and MEET, Periphery Space, Gorey School of Art, (2021).
Marysia Wieckiewicz-Carroll is an independent curator and art writer. She has curated a number of exhibitions and projects in Ireland and abroad, most recently New Considerations of Familiar Settings at Newbridge House, Donabate as an inaugural guest curator in collaboration with Fingal County Council Arts Office. She worked as Assistant Curator at Dublin City Gallery The Hugh Lane and was one of the co-editors of Paper Visual Art Journal between 2014-2018. Marysia was the founding director of Berlin Opticians Gallery – a contemporary art gallery that operated both online and in physical spaces. Together with Nathan O'Donnell she co-edits Numbered Editions – a new imprint for artists' writing across forms.
---
Not somewhere else but here will run at Wexford Arts Centre from Tuesday 14 February to Thursday 23 March 2023. The exhibition is supported by the Arts Department of Wexford County Council in partnership with Wexford Arts Centre through the Make/Curate Programme.
Image: A Distance Between Us, 2022, oil on canvas, 70 x 100cm.
Photo Credit: Lar O'Toole, courtesy of Wexford Arts Centre.
Wexford Arts Centre, Cornmarket, Wexford
Tel: +353 (0)53 912 3674
Email: info@wexfordartscentre.ie
Wexford Arts Centre is supported by the Arts Council and Wexford County Council.
For further information on Not somewhere else but here or artist Serena Caulfield please contact Catherine Bowe – Curator, Wexford Arts Centre, Cornmarket, Wexford on +353 (0)53 91 23764 or email catherine@wexfordartscentre.ie. For more information on the MAKE/curate Programme please log onto www.wexfordartscentre.ie/makecurate.