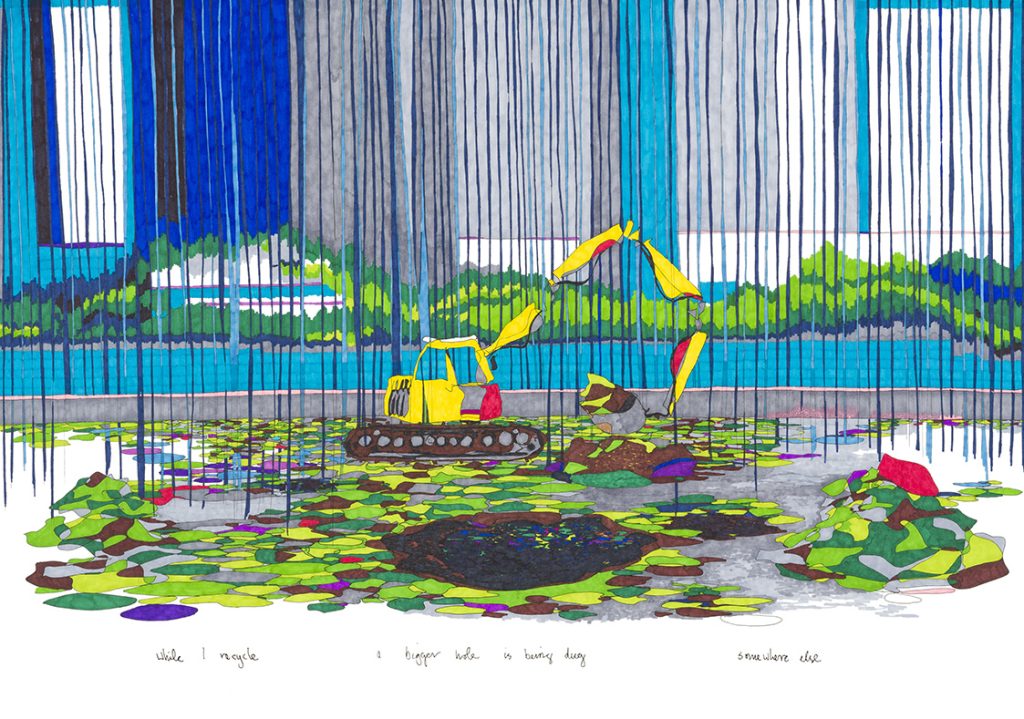 RIGHT-OF-WAY
A solo exhibition by Laura Fitzgerald
EMERGENCE Award Winner 2019
Wexford Arts Centre
16 October – 3 December 2022
Opening Launch: Saturday 15 October, 4pm
Guest Speaker: Progra1mme Director of Art at SETU, Wexford, Dr. Ciara Healy
---
Wexford Arts Centre and Wexford County Council Arts Department in partnership with South East Technological University are pleased to present RIGHT-OF-WAY by EMERGENCE Visual Art Award recipient Laura Fitzgerald.
Autobiographical and fictional narratives are explored in Laura's practice through drawing, text, video and sound. Her work references her own rural background and general anxieties of what it means to be an artist. In this exhibition, Laura considers how she is situated as an early career artist, bringing together past and recent works in an installation. In the work, she looks at how she might claim territory as an artist (an ongoing exercise), how to push oneself forward (an infinite exploration) and also how she might remain on dry land as the encroaching waters threaten to soak the works altogether (paper is incredibly unarchivable).
For the EMERGENCE Award, Laura also worked collaboratively with recent graduates and students of South East Technological University through a series of art writing workshops to develop an artist survival manual titled Ah Surviving. The manual containing drawings, prose and instructional texts, raises questions on what you need to survive as an artist and how to navigate the art world. Participating artists in Ah Surviving include: Gemma Barlow, Alan Davis, Fergus Doyle, Éimear Murphy, Tara McGinn, Tiola O'Rafferty, Padraig Sinnott, and Amanda Usher.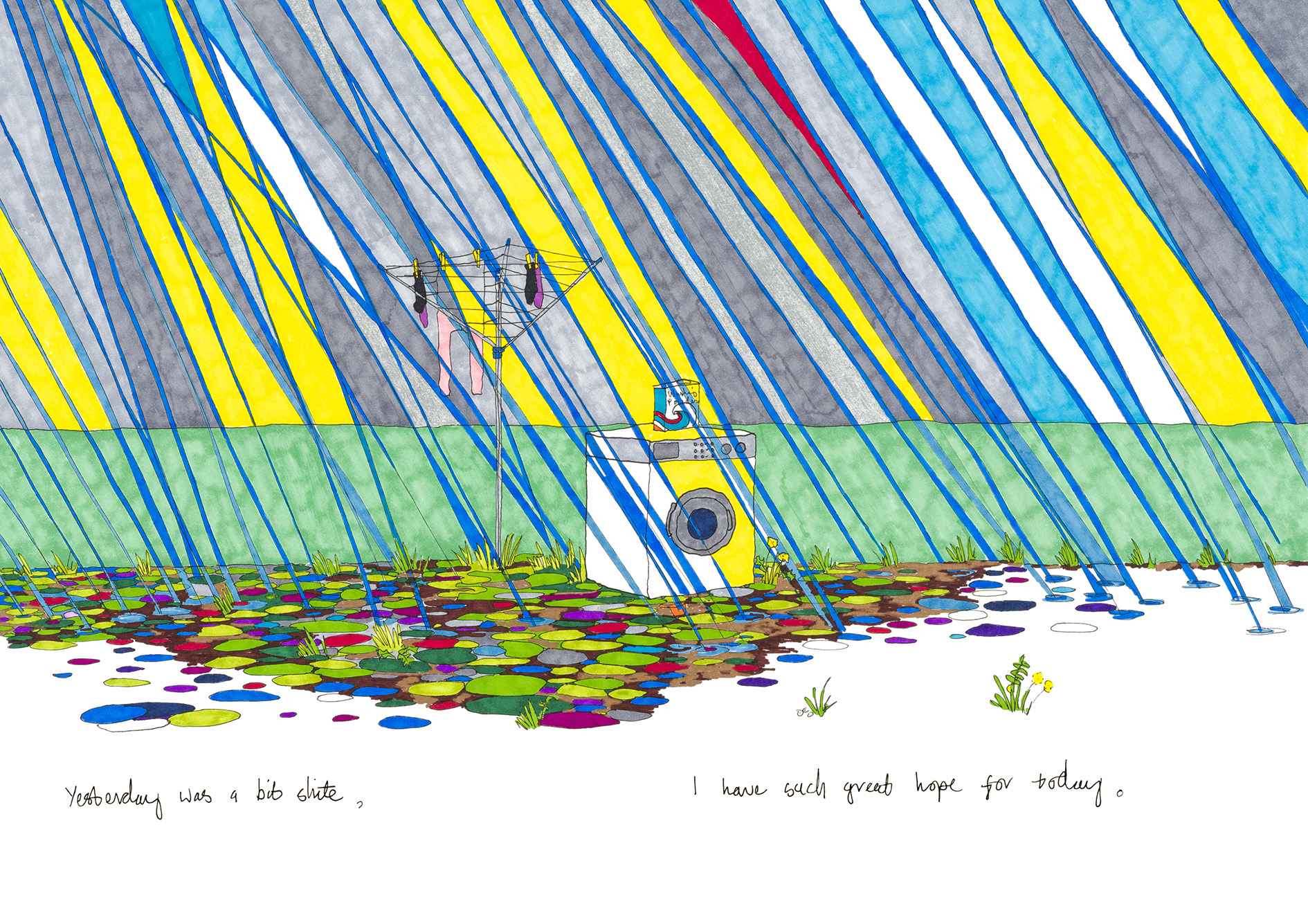 Laura Fitzgerald is a visual artist working in drawing, painting, installation, video, and text. A graduate of both the National College of Art and Design, Dublin and the Royal College of Art, London, she is a recipient of the Visual Arts Bursary Award (Arts Council of Ireland) for 2021- 22. Recent exhibitions include participation in the 39th EVA International with Fantasy Farming (2020) at Limerick City Gallery of Art, the site-specific mountain-based artwork Cosmic Granny (2019) in Inch, Co. Kerry, and Lucian's Neighbours (2018) at the Irish Museum of Modern Art, Dublin. She received a 2021 Golden Fleece Award to create a studio on her father's land in Kerry. (Easier said than done she says).
Her latest body of work I have made a place, was exhibited at the Crawford Art Gallery Art, Cork City from June – September 2021, curated by Michael Waldron. She also recently participated in the group show A Growing Enquiry: Art, Agriculture, reconciling values at the RHA gallery and presented work at Supermarket Art Fair Stockholm, Sweden in May 2022 with Ormston House and at Roscommon Art Centre (May 2022) with artists Miriam O'Connor and Marian Balfe. In Spring 2023, Laura will participate in the Bemis Center for Contemporary Arts residency program, in Omaha USA. Laura Fitzgerald is 38.
Wexford Arts Centre, Wexford County Council and artist Laura Fitzgerald would like to thank Anna Bak, Orla Barry, Oliver Comerford, Colm McAuliffe, James Merrigan, Mick O'Hara, and Meadhbh McNutt for their contribution to the exhibition and writing workshops.
Essay:
The Weather Looks Threatening Today
by Dr. Ciara Healy
---
Image (top):
Hole, 2022, pen and Sharpie marker on cartridge paper, 42 x 59.4cm
Image (bottom)
Bad day for a wash or a war, 2022, pen and Sharpie marker on cartridge paper, 42 x 59.4cm
For further information on Right-of-Way or artist Laura Fitzgerald contact Catherine Bowe – Curator, Wexford Arts Centre, Cornmarket, Wexford on +353 (0)53 91 23764 or email catherine@wexfordartscentre.ie.
Gallery opening hours are Tuesday to Saturday from 10am – 5pm.
For further information on the EMERGENCE Visual Art Award please log on to www.emergenceaward.ie.

Wexford County Council
Carricklawn, Wexford, Y35 WY93
+353 (0)53 9196369
arts@wexfordcoco.ie
www.wexfordcoco.ie
Opening hours: Monday to Friday from 9am-5pm
---