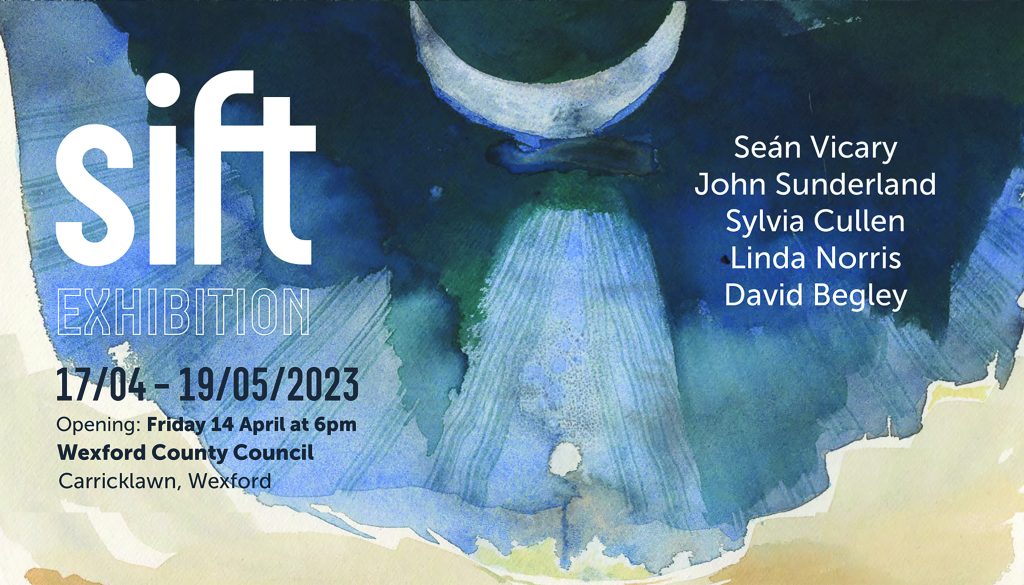 Sift – a touring exhibition of new multi-media artwork by artists from east Ireland and west Wales commissioned by Ancient Connections.
Wexford County Council, Carricklawn, Wexford
Monday 17 April – Friday 19 May 2023

Exhibition Launch: Friday 14 April, 6pm
Opening hours: Monday – Friday, 9am – 6pm
Opening Speaker: Barry Lacey
Archaeologist and Historian in Residence with Wexford County Council
Wexford County Council in partnership with Wexford Arts Centre is delighted to present Sift – a touring exhibition of new multi-media artwork by artists from east Ireland and west Wales commissioned by the Ancient Connections Ireland Wales co-operation programme. The exhibition, featuring new work by David Begley, Sylvia Cullen, Linda Norris, John Sunderland, and Seán Vicary, developed over the last two years and travelled from Oriel Y Parc and the Refectory, St, David's Cathedral, Wales. Sift will run in Wexford County Council from Monday 17 April to Friday 19 May 2023.
The exhibition weaves together the themes of journeying, sacred places, ancestral heritage, storytelling and longing for home through photography, animation, sound, text, story, glass and light. The artists have been inspired by the findings of the Ancient Connections wider project. Historical research, folklore and story gathering have revealed deep connections between these two regions and the archaeological excavations and geophysical surveys at Whitesands and in Ferns, Wexford tell a story of travel and connection between Wexford and Pembrokeshire from pre-history to the modern day.
Writer Sylvia Cullen, based in Wexford said "It is the sea which connects us" – These were the words which resonated most deeply with me, when researching this commission. Writing and recording a quartet of new short stories in response to several of the Ancient Connections themes, was the focus of my work. Most of the characters and worlds which emerged, were informed by lives and events connected to the seawaters linking Pembrokeshire and North Wexford.'
Multi-media artist Seán Vicary has created a new video installation and said 'My work responds to a month spent working alongside Dyfed Archaeological Trust during the excavation of an early medieval cemetery threatened by imminent coastal erosion at St Patrick's Chapel, Whitesands. Although initially occupying the role of outside observer, I gradually became more directly involved with the dig, until eventually joining the archaeologists and other volunteers in helping to uncover and remove burials.'
David Begley has been artist in Residence with Ancient Connections since 2020. His research into medieval farming practices, St Aidan of Ferns, medicinal plants, medieval manuscript and ink making, as well as contemporary farming and healing practices in Ferns have inspired David's current body of work Small Finds in drawing, painting and video.
Linda Norris has created a light and glass installation featuring a virtual dresser that incorporates poetry written by participants from Pembrokeshire and Ireland inspired by found ceramic shards and sandblasted onto glass pieces. Linda says 'In essence, the work imaginatively investigates powerful human connections across time and landscapes. These tiny shards provide a portal into other lives and places, and journeying there inspires us to reflect on our own.'
In his series of lightboxes titled Unheimlich, John Sunderland documents the new pilgrimage route from Ferns to St. David's, imagining how someone from the medieval period would have reacted to these landscapes, as they were and how they are today, photographing scenes that epitomise these reflections.
Ancient Connections Project Officer Ruth Jones stated 'We are delighted to be finally able to present to the public the remarkable work these artists have been engaged with in the last two years. They have delved deep into the themes of the Ancient Connections project and audiences will be rewarded by their creative responses. They have made potent and meaningful connections between places, human experiences and histories that have shaped landscapes as well as cultural experiences of the people of Wexford and Pembrokeshire.'
Wexford County Council Arts Officer, Liz Burns said 'It's an honour to host this exhibition in Wexford County Council, and to present to the public these wonderful artworks, that imaginatively explore, speculate on, as well as celebrate the ancient connections between Wexford and Wales. I'd like to congratulate all the artists and our Welsh partners, whom it's been a pleasure to work with on the Ancient Connections programme over the last few years.'
---
Ancient Connections is funded by the European Regional Development Fund through the Ireland Wales co-operation programme and led by Pembrokeshire County Council, together with partners Wexford County Council, Pembrokeshire Coast National Park Authority and Visit Wexford.
For further information on the exhibition or Ancient Connections please contact Catriona O'Sullivan, Assistant Staff Officer, Arts Department, Wexford County Council on +353 (0)53 9196369 or arts@wexfordcoco.ie.
Image: David Begley, Aed's Vision, 2023, alder cone with watercolour on Fabriano Tiepolo, 20 x 25cm.