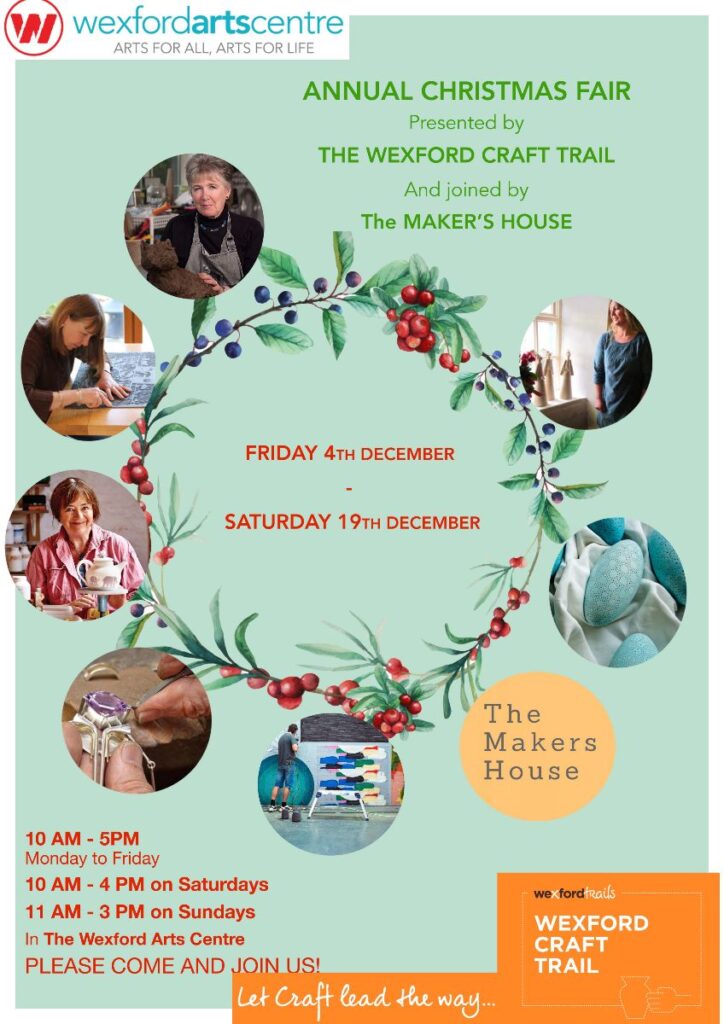 Opening Times
Monday – Friday 10am – 5pm
Saturday 10am – 4pm
Sunday 11am – 3pm
The Annual Christmas Craft Fair will open on Friday 4th December and run until Saturday 19th December.
We are delighted to once again welcome the Wexford Craft Trail joined this year by the Makers House into the lower gallery at Wexford Arts Centre for their Annual Christmas Craft Fair.

Crafts from Ceadogan Rugs, The Potter's Yard, the Blue Egg Gallery, The Maker's House, Martin Doyle, Gilly Thomas Sculpture, Mairead Stafford, Rebecca Homfray, Patricia Howard and the Wexford Craft Trail will be displaying their most unique artisan crafts in the lower gallery and will be bringing along some much needed festive cheer!
The Annual Christmas Craft Fair provides an excellent opportunity to see exquisite handmade crafts made locally here in County Wexford. It is also an ideal time to support local crafters.
Wexford Craft Trail embraces much of the fine workmanship to be found countywide. Make your own rich discovery of the authentic handcrafts to be found in the area whilst enjoying a visit to Wexford Arts Centre and D'Lush Cafe from Friday 4th December.
Opening Times

The Christmas Craft Fair is open from Friday 4th December at Wexford Arts Centre from 10am – 5pm from Monday – Friday and from 10am -4pm on Saturday and now from 11am – 3pm on Sunday!
Christmas is that magical time of year when we all look for something special for the ones we love. The Christmas Craft Fair at Wexford Arts Centre is the place to find that unique present. There will be a beautiful selection of handmade gifts including hand-thrown pots, fused glass mirrors and sun catchers, unique jewellery designs, lamps and lampshades or sculpture for that special corner at home. Also tapestries, wall hangings, hats, scarves and many other unique gifts. A very exciting choice – so many things to treasure.
​
Please note that COVID protocols must be adhered to while visiting the Centre. You can find information on all our protocols on our website here.