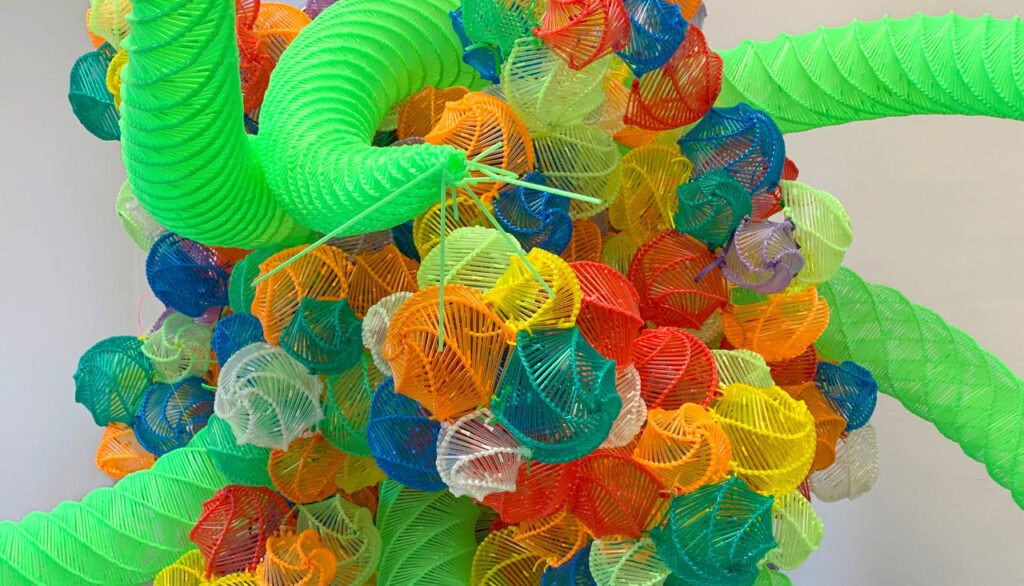 TOTEM YOKES / Maria McKinney
Curated by Oonagh Young
Wexford County Council Offices 
18 October – 3 December 2021
---
Maria McKinney works in sculpture, photography and film that primarily investigates agricultural practices and the science that informs various methods of food production. She is interested in the underlying complexities experienced by all those connected with the land and farms as sites where these practices take place. For this new body of work, commissioned by Wexford County Council for the M11 Per Cent for Art Scheme*, *McKinney shows a series of new sculptures inspired by agrarian practices and pastoral traditions of six farms currently operating in the Wexford countryside. The artist visited the farms and listened to how certain practices, histories and stories have led to particular modes of food production in these townlands.
Her aesthetic responses in terms of materials and style are motivated by a commitment to the subject matter. While suggestive of craft-making through the use of weaving, carving, polishing, printing and building, these techniques are primarily derived from ethnographic research and reflect the multi-faceted skills required on a farm. Her materials and the complex ecologies of which they are a part, enhance the connection to the farm and to associated scientific procedures such as semen straws used for AI, jute rope and organic wool, to name a few. The resulting sculptural objects are made to be worn, highlighting the connection that food is fuel for the body and the methods employed by these farmers have a direct connection to the corporeal. The allusion to the spiritual and the scientific is ever present in these specific materials chosen by the artist and in the totemic display of the works.
Derived from a story told by one farmer, Bolinaspick Jacobs armour is based in on his grandfather who produced wheat that went to the Jacobs factory where hard-tack, a six-time baked bread ration was produced for soldiers' and sailors during the World Wars.
Drumgold holly embryo transfer evolved where the farmer had a bunch of holly hanging from the rafters of the barn to protect the cattle from ringworm. Similar folk traditions subsequently investigated have been found to hold true clinical application. Collintaggart transgenic horns makes reference to an old farm practice of using spiderwebs to help heal bleeding wounds from dehorning calfs as the high vitamin k content and strength of spider silk has long been understood by the farming community, but since been investigated and used for scientific purposes.
All the sculptures in Totem Yokes are accompanied by photographs of the artist wearing the work on the farms that served as inspiration. This playful engagement is rooted in  the serious underlying connections between a wide variety of influences on food production and consumption that literally gets under your skin.
Maria McKinney is an artist based in Dublin, Ireland. In 2019 she realised a new project on the island of Jersey including a live sculptural intervention at the annual cattle show. She also produced new work in collaboration with genomic researchers at the EU Joint Research Centre in Italy, exhibited on site and then at Bozar in Brussels. Other recent work considered the use of genomics in modern cattle-breeding, collaborating with genetic scientists and a pedigree bull-stud farm, and supported by a Wellcome Trust arts award.
Previous solo exhibitions include the Museum of English Rural Life (2019), RHA, Dublin, Lokaal 01, Antwerp, Belgium (both 2016), La Permanence, Clermont-Ferrand, France (2015), the MAC, Belfast (2012) and the Lab Gallery, Dublin (2010). Her work was included in the four person exhibition Somewhere in Between at the Welcome Collection, London UK in 2018. She was shortlisted for the MAC International Prize 2014, selected by Judith Nesbitt, Francesco Bonami and Hugh Mulholland.
* The M11Gorey to Enniscorthy PPP Per Cent for Art Scheme is funded through Transport Infrastructure Ireland (TII) and managed by Wexford County Council's Arts Office.
For further information on the exhibition please contact Catriona O'Sullivan, Assistant Staff Officer, The Arts Department, Wexford County Council, Carricklawn, Wexford on +353 (0)53 9196369 or email catriona.osullivan@wexfordcoco.ie.
---
Wexford County Council
Carricklawn, Wexford, Y35 WY93
T: +353 (0)53 9196369
E: catriona.osullivan@wexfordcoco.ie
W: www.wexfordcoco.ie Opening hours: Monday to Friday from 9am-5pm