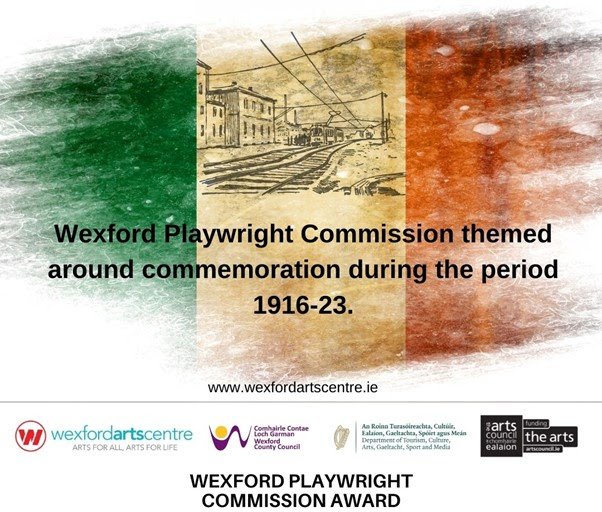 Wexford County Council, in partnership with Wexford Arts Centre, is delighted to announce Eoghan Rua Finn as the recipient of the Wexford Playwright Commission Award themed around commemoration of the period 1916-23.
This award provides a €10,000 bursary to the playwright to research and develop a new theatre work, addressing themes of commemoration of the period 1916 – 23. This commission forms part of Wexford County Council's Decade of Centenaries Programme (2012- 2023) and is funded by the Department of Tourism, Culture, Arts, Gaeltacht, Sport and Media under their Community Strand.
The aim of this new work is to respond, with sensitivity, to the historical context of the revolutionary period in County Wexford and to promote a deeper understanding of the significant historical events of one hundred years ago. The new work will encourage reflection today about the multiple identities, traditions and perspectives that are part of the overall Irish historical experience.
Eoghan Rua Finn was chosen as the recipient of the award from an open call attracting a significant number of very strong submissions. Eoghan's play centres around Seán Walsh, a Wexford school teacher researching for a project with his students around the 50th anniversary of the War of Independence and discovering his mother's links to Cumann na Mban and being a Connollyite. Through his research and access to his mother's diaries, he learns shocking truths about the revolution and the ensuing civil war, and the role his mother and another mysteriously referenced woman played in operations on the Killurin railway line, the burning of Wilton Castle, and the price some women paid for their efforts. The reality is more devastating than Seán could have imagined and questions what commemoration means when it doesn't mean truth.
Eoghan Rua's prior work includes The Kill God at National Opera House directed by Laura Way (Red Rock, Eastenders, Blood) supported by Arts Council bursary, The Blackstairs Trilogy premiered in The Athenaeum Enniscorthy and toured to Wexford Arts Centre, Sons of thunder commissioned by South East Radio to commemorate Wexford's role in the 1916 Rising and aired on radio in March 2016 and Come Along the Road Until You Stop Dead, produced by Newline Theatre in 2014. In 2020, Eoghan Rua was one of eight writers selected for the Wexford Playwrights Studio at Wexford Arts Centre in association with Arts Department, Wexford County Council, including mentorship with Billy Roche, Ben Barnes, Deirdre Kinehan and Thomas Conway. His most recent short play Dei Gratia was part of One Voice festival: Tales from the Quay produced by Paul Walsh productions in association with Wexford Arts Centre and the recording of the production was selected as part of the Origin 1st Irish Theatre Festival 2022 online in New York. Eoghan also recently completed a residency at Tyrone Guthrie centre supported by a Wexford County Council bursary.
Over the year Eoghan will further research and develop his script in relation to historical context of the period in County Wexford and will have full access to Wexford County Council Library and Archives with their extensive digital archives relating to this period. In addition, Eoghan will have access to work produced by Barry Lacey, Wexford Public Library Service's Historian in Residence during this commemoration period. Eoghan's script will also receive further development support from Ben Barnes former Abbey Theatre Director and Director of Four Rivers production company leading towards a workshop reading by end of year and a full production to be produced in 2023 in association with Wexford Arts Centre and Wexford County Council.
We look forward to following Eoghan's progress on the development of this script commemorating this revolutionary period in County Wexford and through partnership provide support for a very talented local playwright and an opportunity for the local community to reflect on the significant historical events of one hundred years ago through the development and production of this play.